---
---
There never seems to be enough counter space in a kitchen especially if you live in an apartment or a smaller house. Kitchen islands can free up the counter space you do have by creating task specific stations for food preparation, rolling outpastry, or housing small appliances such as a microwave or a toaster. Kitchen carts were originally used as casual teacarts or as a way of transporting snacks from the kitchen to the living or family room. They have evolved into stylish "must have" kitchen furniture pieces featuring shelves, drawers, stemware and/or wine racks and cabinet storage. Some kitchen islands even include serving compartments with heating elements to keep food warm. An island or kitchen cart can help you organize your accessories and cooking utensils. When buying a kitchen island or kitchen cart, choose one that will complement your existing décor. To help you decide what kind of island or cart you will need, here are few basic suggestions.
Before You Begin
Since kitchen carts and kitchen islands come in a wide range of styles and sizes, decide where it will go and then take measurements; you don't want to end up with a unit that's too big or too small.
Do you prefer portable or stationary? Kitchen carts almost always have wheels or casters and tend to be smaller in size and more compact than kitchen islands. Some brands and models of carts have casters that can be locked into place. They can be moved easily around the kitchen or from one room to another. Kitchen islands that are not permanent (built-in) are available in both stationary and portable models.
What are you using it for? Consider the features you want your island or cart to have. If you are purchasing a kitchen island specifically for baking or food prep purposes, you might want one that includes a number of adjustable shelves. Or if you want to use one predominately for additional storage, select a kitchen island or cart with large drawers and/or cabinets.
What Type of Kitchen Cart Do I Need?
Versatility and mobility make rolling carts attractive when entertaining guests, transporting food from the kitchen to the dining room or surprising someone with a birthday cake. They are also handy in the kitchen for increasing work space and storage. They are generally smaller and more compact than kitchen islands. Rolling kitchen carts with special features such as a drop leaf, can add more work space while not taking up much more room. Some models can even be folded away when they are not needed.
Utility carts are remarkably functional and come in a variety of styles, with many different features. They can have shelves with a countertop or a hutch or a cabinet. Or they can be a cart of shelves you can use to store laundry soap, cleaning supplies, extra dishes or a special set of pots. Utility carts can have locking casters, so they can be secured for the task at hand, but portable when they need to be. They can be used as a place to make coffee or to store often-used items such cereal or tea.
Rather than using valuable counter space for appliances you need on a regular basis, consider adding a microwave cart to your kitchen. Depending on the type and style, the microwave can sit inside the hutch or on the top shelf, allowing you to use the space to rest hot plates, display decorative condiment bottles, or store your blender. Microwave carts can be state of the art, ranging from a stylish hutch with glass doors to carts with cabinets complete with a built-in outlet. They can feature enclosed or open shelving, cabinets and wire storage baskets. A microwave cart might also include a spice rack, utility drawers, adjustable shelves and locking casters.
Butcher block carts are kitchen carts with a wood block at least 2 inches thick for cutting meat or vegetables. True butcher block tops provide a smooth surface for food preparation, and are available in mobile or stationary models. Select a butcher block cart with high-quality wood top: it will be easy to clean and maintain, and will not easily scratch or chip. Butcher block carts can have features such as drop leafs, additional pull-out work surfaces, hide-away trash can receptacle, paper towel rack and towel hooks.
Portable or stationary kitchen islands are the ideal compromise for creating more work space in a kitchen without the cost of a custom built-in island. They can increase the amount of available counter space while providing storage for pots and pans, baking utensils and appliances. They are typically larger in size than kitchen carts. Kitchen islands can include features such as drop-leafs, casters, multi-tiered shelves and countertops made of materials such as wood or granite designed for specific tasks like chopping vegetables or cutting meat.
Islands that provide additional food preparation or eating areas by expandable counters, drop-leafs or pull-out boards are ideal for kitchens with limited space. After deciding where you will put your island, consider how much room you will need to walk around it and if there is enough space to open cupboard doors or extend the drop-leaf. Before purchasing a kitchen island, decide what features the unit should have; take into account how you will be using the kitchen island. For example, if you are buying one especially for food preparation, select one with hooks for hanging utensils and shelves to store large bowls.
Longer work surfaces with multi-tiered shelving differentiate food preparation tables from kitchen islands. They can be stationary or mobile, or with casters that can be locked into place. They are perfect for creating more space in the kitchen, allowing one or two people to do separate tasks at the prep table, while another person is working at the counter or stove. Tabletops are user-friendly, made of materials such as granite or treated wood to allow for easy clean-up.
---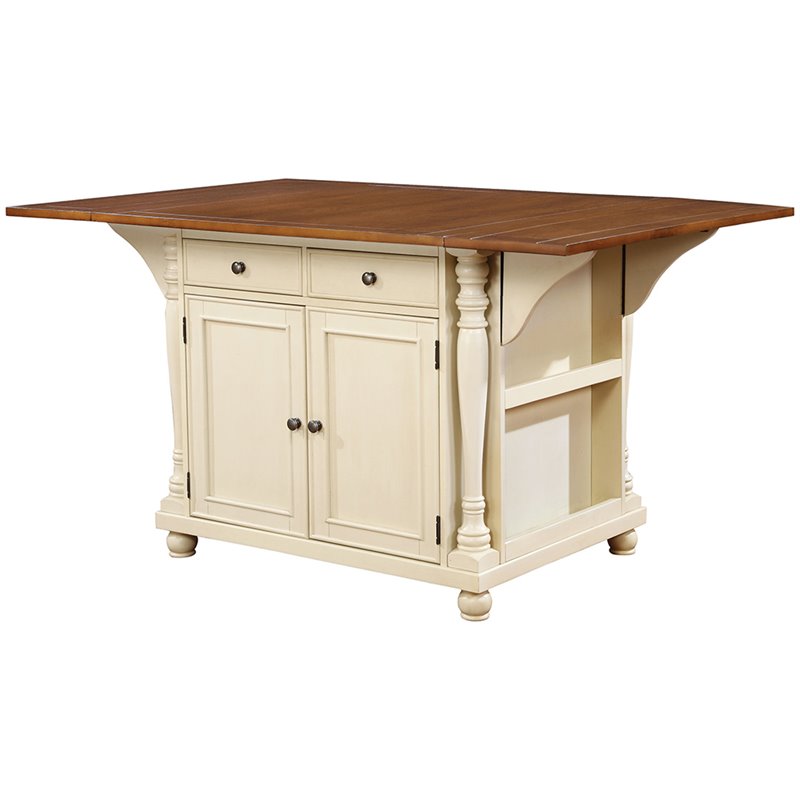 ---
What Kind of Material Should I Choose?
Wood is still by far the most popular option for kitchen islands. Select a species and finish that will coordinate with your kitchen from our selection of kitchen islands that includes maple, oak and cherry. Or opt for a deep finish like espresso or a painted finish like white or black. The countertop selection offers a bit more in the way of choice. Many prefer the rich look of natural stone like granite or marble while others want a hassle-free stainless steel finish. Butcher block is perfect for those who are looking for added kitchen prep space while a matching wooden top creates a formal, dressier look.
What Style of Kitchen Cart Should I Select?
Traditional style is a reflection of past trends and socials customs from historical periods like Louis IV, Queen Anne and the Renaissance. Traditional furniture is characterized by medium to dark finishes, graceful curves and carved detail. Inset panels, leaf and vine motifs and bun feet are typical classical accents.
Modern kitchen carts and kitchen islands are characterized by polished surfaces, geometric shapes and neutral palettes. Metal and glass are common construction materials. The focus of this style is on form and function.
Contemporary style, like modern, is also known for its clean lines and geometric shapes. However, unlike the modern style, contemporary furnishings are often softened by curved or tempered lines. Contemporary style will utilize a variety of finishes, palettes and materials to create texture and visual interest.
Transitional merges elements of both the traditional and contemporary styles for a more formal yet relaxed look. Lines and forms tend to be simple and sophisticated. The emphasis is on uncluttered detail. Demonstrated by the use of straight lines contrasted with tapered legs, a transitional mobile kitchen island will blend easily with eclectic or more traditional furnishings to complement your current décor.
Country furnishings are scaled down versions of more formal furnishings like French Provincial, English Country or Colonial. Country style is characterized by milk-painted woods, lighter wood finishes, muted colors, simple lines and a comfortable feel. It can also include whimsical details like hand-painted stenciling, hand-carved insets and soft curves.
---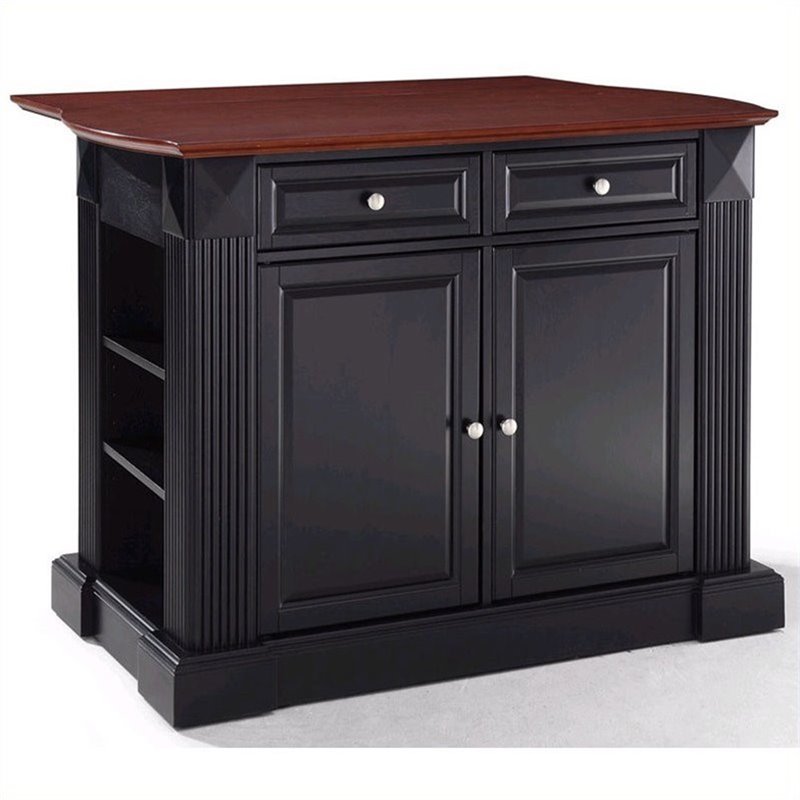 ---
Features that make Kitchen Carts Convenient
Kitchen carts and islands make the kitchen a more inviting place by increasing available work surfaces, improving functionality and providing organizational solutions. While kitchen carts are typically smaller and kitchen islands are larger, they do share common features that will increase the efficiency of your food preparation and cooking areas. They are available in a variety of styles, colors and materials. Kitchen islands can be one of two types, either permanent (built-in) or freestanding (stationary or portable). The following is a brief outline of some of the more popular features to consider when purchasing a kitchen cart or a freestanding kitchen island.
Esthetic or Decorative Features
If not just function but good looks are important to you, there are several decorative features that will add charm and detail to any kitchen cart or island that you choose.
The apron is a piece of decorative trim or a panel that connects the tabletop to the legs or the main section to the base of the kitchen cart or island.
A distressed finish gives furniture an antiqued appearance, and is produced by manipulating the final coat of paint or varnish to make the surface look worn or old.
Embossing is a decorative technique that imprints a raised design or pattern into the surface of a piece of furniture.
Inlay is a design technique that uses contrasting woods, ivory, glass or other materials that are implanted into the surface of a piece of furniture.
Molding is a decorative trim typically fashioned from wood and attached to furniture, walls and doors.
Kitchen Islands: Functional Features
Some kitchen cart/island features are especially designed to improve its functionality and make it more user-friendly.
A backsplash is a protective surface intended to safeguard the wall or space adjacent to the countertop or the work surface of a utility or kitchen cart.
A bun foot is a furniture support resembling a ball with a slightly flattened top. If a kitchen cart or kitchen island comes with a separate cutting board, select one with bun feet to prevent the board from moving around when in use.
Butcher blocks are a type of cutting board usually made of wood. A quality butcher block is at least two inches thick and made from end grain or edge grain to protect your knives from dulling.
Casters are a set of small wheels that convert a stationary kitchen island or cart into a mobile workstation. Locking casters allows you to position your kitchen island wherever needed and then secure it in place.
Commercial grade is a designation for furnishings made of quality materials that meet certain professional standards. Commercial grade kitchen islands or utility carts are ideal for heavy-use environments, whether at home or at work.
Cutting boards, depending on the manufacturer, can be removable, built-in or pull-out.
A drop-leaf is a hinged tabletop or counter section that unfolds out of or is raised/lowered into the main body of the kitchen island to extend the existing work area. Drop-leafs can also be used as a serving buffet or breakfast bar.
Kitchen and utility carts that include an electric outlet strip will allow you to plug in small kitchen appliances without sacrificing mobility.
When purchasing a butcher block style kitchen cart, select one with an end grain top. End grain blocks have wood grains that run vertically, naturally guiding the knife between the wood fibers instead of slicing into the board itself.
Organizational Features
Find exactly what you're looking for quickly and easily, because it's close at hand and within reach. Features like cutlery trays, knife blocks and utility hooks are not only practical, but they can also be valuable time-savers.
A cutlery tray, also called a silver tray, is a drawer organizer designed to hold silverware. They can be built-in or removable.
Drawers are a handy feature for a kitchen cart or island to have, and are designed for general use or a specific purpose. Utility drawers can be used for a variety of things, while cutlery drawers are intended to hold utensils. Multi-bin drawers include dividers that increase the holding capacity of the drawer.
Enclosed storage, also referred to as concealed storage, can take the form of drawers or cabinets or a combination of both. A kitchen island that features enclosed storage is useful for hiding items conveniently out of sight.
A hutch resembles a cabinet with doors and/or shelves designed to be paired with a base piece of furniture such as a cart or sideboard.
Designed to hold a small collection of knives, a knife block is usually made of wood. It can be mounted on the top or on the side of the kitchen island or kitchen cart.
A kitchen island can have a set of open shelves, ideal for displaying dishes, bowls or pots and pans.
A spice rack is a convenient way to store and display containers of herbs and spices.
Intended to hold a limited number, a stemware rack will let you display you wineglasses, while keeping them readily available.
A towel rack or rail for hanging towels is always useful, especially when you are using your kitchen cart predominately for food preparation.
Utility hooks on a kitchen island or cart increase its functionality, allowing you to hang utensils, potholders and small pots.
A kitchen island complete with a wine rack lets you keep a number of your favorite vintages on hand for when you entertain or for other special occasions.