Do you have unopened boxes leftover from when you moved into the new house two years ago? Where did you put the old sofa when the new one arrived? How about old skiis; unused golf clubs; bikes your kids have outgrown; toys they no longer play with? What about the five boxes of old clothes that you always meant to drop off at the second-hand store? Holiday decorations you no longer use, but don't want to part with? Chances are, over the years, it's all ended up in the garage and now you're parking the car in the street. To help you choose the right storage solutions for your garage clean-up project, here are few basic suggestions.
---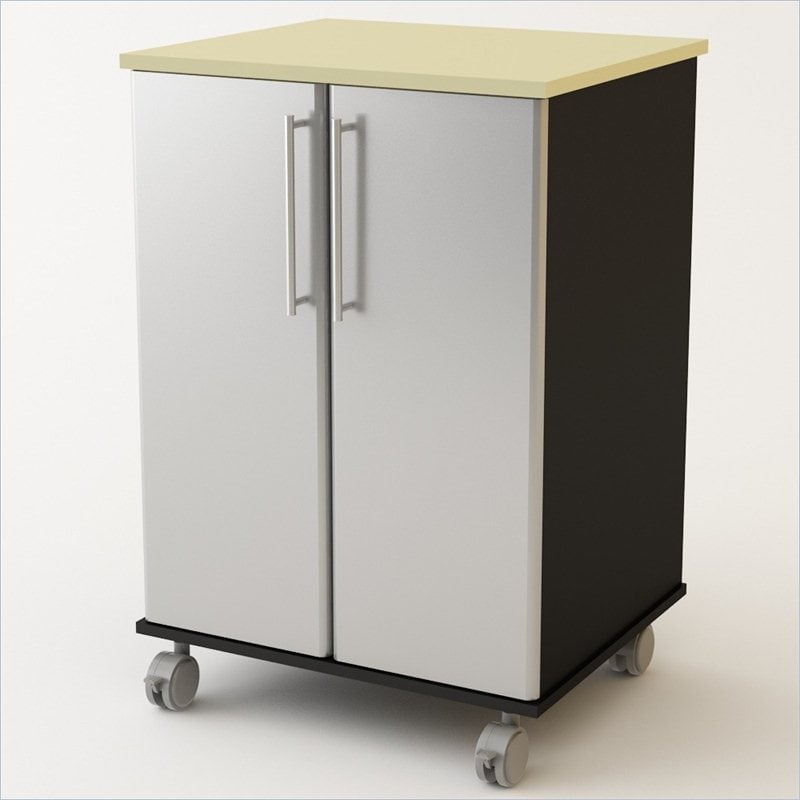 ---
Before You Begin
Set aside a block of time, like a weekend; arrange in advance for any help you might want or need. You can't predict the weather, but it would probably be more convenient if you can empty the garage on a nice day so that you can make maximum use of the lawn and driveway for sorting.
Set a budget; it will help you prioritize areas of most importance.
In addition to parking the car and storing stuff, do you use the garage for other things such as a work shop or a potting shed? Are you frustrated with having to move a bike before you can park the car? Take an inventory of what is currently in the garage; assess how you will use the space not reserved for your vehicles.
From the inventory list, target what you will be getting rid of, what you will be keeping and areas that need the most attention or reorganization. Are the items you want to store large and uniform, big and bulky, small and not stackable. These factors will determine what type of storage, such as a bike rack, a workbench or an open shelving storage unit, you will need.
What size is your garage? Take measurements; you don't want to end up with a unit that is too wide or too tall.
If you want to purchase units with doors, make sure you will have enough clearance to open the doors when there is a car in the garage.
If you have small children, you might want to include locked cabinets or wall units to store hazardous materials or dangerous tools.
Make a list of any cleaning supplies you will need. Have lots of rags on hand.
---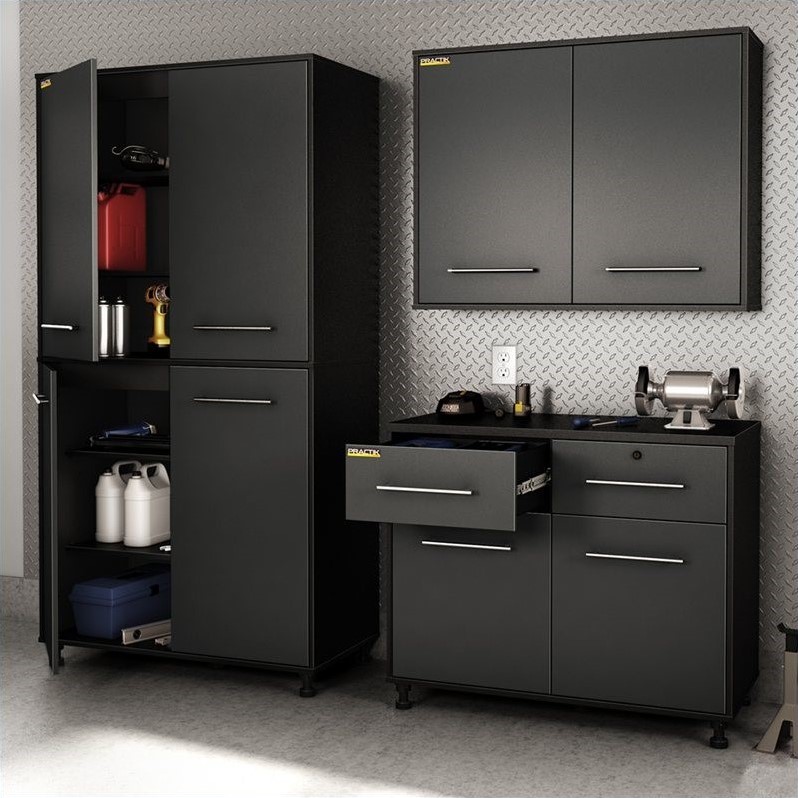 ---
What Type of Garage Storage Do I Need?
Garage organizers are available in many different types and configurations, such as utility storage, racks, tool chests and pegboard hutches. If you want a ready-to-use garage storage system, select a cabinet set that provides you with a number of multi-purpose organizing solutions. Or individually purchase garage storage organizers like a rolling island, wall cabinet and vertical storage cabinet to create a customized system designed to meet your specific requirements.

Garage storage cabinets are ideal storage units for multi-purpose uses. They fall into three general categories: wall cabinets, utility storage and base cabinets.
Mounted wall cabinets maximize your storage options without using up valuable floor space. For immediate access, select an open wall unit that will allow you to easily identify and reach stored items. If you need to protect the contents from dust, light or curious fingers, choose an enclosed cabinet with hinged, lift-up or sliding doors for conveniently hidden storage. To make the most out of your wall storage space, also consider the shape of your wall mounted cabinet: if it is long and rectangular, it will use the space horizontally, while an oversize, square or tall cabinet will utilize the space vertically.
Garage utility storage cabinets provide easy freestanding storage solutions for a cluttered garage. Start with one cabinet and add as needed. They are perfect for storing lawn care items, gardening supplies and other necessary accessories. Depending on the style, they effectively store long, narrow items, and can include partitioned bins and/or shelving. If you have a lot of items to store, utility storage, particularly the taller units, are ideal for garages with limited space.
Base cabinets can be used by themselves or as the beginning of your own customized garage storage system. They are an affordable alternative to built-in cabinets. Depending on the make and model, a base cabinet can have 2 or 3 drawers, or a combination of drawers and open or enclosed shelves. They can include features like key locks, height adjustable feet, reinforced metal corners and protective edges. If you are planning to add to your base cabinet, many manufacturers offer matching modular storage units.
Garage cabinet sets incorporate various types of garage storage such as a drawer base cabinet, a tall storage cabinet and a pegboard hutch or a storage hutch. They are ideal for organizing a garage in which you want to create a work space for your gardening or repair projects, in addition to your key targeted storage areas. Cabinets with adjustable shelving will allow you to use them for different types of equipment of varying or non-uniform sizes. Since garage cabinet sets come in a variety of options and configurations, they can be used in other places in your home that need to combine multi-use storage with organization solutions like the laundry room, a basement workshop or a rec room crafts space.
Garage storage racks come in many styles suited to a variety of multi-purpose uses like storing bicycles, tools and sports equipment. They are ideal for creating a place to put often-used items close at hand while controlling clutter and preventing accidents. They have the added benefit of using wall rather than floor space.
Sports equipment organizers are available for general use or specific games and activities like golf, hockey or skiing. Others are designed to hold a variety of items such soccer balls, racquets or bats. They can feature side hooks, protective mesh or cord fronts and utility trays.
Bicycles left lying around or propped up against the wall can damage a car. A bike rack is a convenient way to store them safely. Have more than one bike to worry about? Choose one designed for multiple bikes or one that can be configured for one or more bicycles.
Tool racks are intended for storing items like rakes, hoes, and even shovels. A storage rack that conveniently stores the few items you require for regular lawn care will make them accessible and secure. Some racks are designed for smaller tools like hammers, etc. and can accommodate storage containers for nuts, bolts and screws.
Storage bin racks are specifically designed for bins, but can hold small cartons, gym bags or knapsacks. They keep items off the floor and out of the way. Because they are mounted on the wall, it is advisable to read the manufacturer's product descriptions for any information regarding special mounting instructions and maximum weight load.
Overhead mounted racks can be stationary or pulley-operated. Most useful for seasonal or rarely used items, they utilize ceiling space instead of wall space. Because they are not as readily accessible as other types of garage storage, they are best suited for areas where space is limited or walls are not uniform. Check product descriptions for maximum weight loads and make sure that when mounted, there will be enough clearance between the overhead rack and any parked vehicles.
Garage hutches fall into two general categories, pegboards and storage hutches. A pegboard hutch allows you to keep your tools organized and readily accessible in plain sight. They are also a great place to mount small equipment bins and hang cords. Storage hutches are shelves that can be paired with a base cabinet or bench to create an organized work space in the garage. They are ideal for storing containers, tools and small pieces of equipment. Pegboards and storage hutches are intended to conveniently store items close at hand by suspending them directly above the work surface.
Workbenches or tables will provide a place for you to work on your favorite projects like fixing the car, refinishing a table or mixing fertilizer. Before purchasing a workbench, check to see if the depth of the work surface is going to be wide enough for its intended purpose. If you want a general multi-purpose space, choose a workbench or table that is part of a series or collection so that you can add to it in the future should you want to convert it to a more specific use. For whatever the reason for including a workbench in your garage, you will want to select one that is strong and sturdy, and has plenty of storage options. Workbenches can include special features like power strips, casters, drawers and pull bars to hold towels or rags.
Tool storage comes in a variety of sizes and configurations such as tool boxes, tool cabinets and tool chests that can include compartments, trays and organizers.
Generally made of metal or heavy duty plastic or a combination of the two, tool boxes are portable and usually have one removable shelf. Since they are designed for mobility, they tend to be compact and have limited storage capabilities. Depending on the make and manufacturer, tool boxes can include features like locking mechanisms, built-in organizers and lift-out trays.
Tool cabinets resemble base cabinets but are specifically designed to hold a variety of tools. They can be a free standing column of narrow drawers, or they can feature 2 or 3 large drawers, varying drawer sizes and compartments with doors. They can be stationary or on casters. Stationary tool cabinets can be used instead of a base cabinet when configuring your own garage organization system.
Tool chests combine the functionality of a tool box with the storage capacity of a tool cabinet. They are typically designed to sit on a table top. To create a customized storage set for your tools, they can be secured to the top of a tool cabinet. Tool chests are generally meant for smaller items, but some chests feature larger drawers for storing power tools.
---
---
What Else Should I Keep In Mind When Organizing the Garage?
Because it's for your garage, any utility storage cabinet, rack or workbench you choose should be strong and well-built.
If the unit you select is made of wood or an engineered wood product like MDF (medium density fiberboard), make sure the finish includes a protective coat that is heat and burn resistant.
If you have chosen metal cabinets for your garage or a unit with metal hardware, check to see if it is moisture/scratch resistant.
Remember the highest to lowest rule: store items not used often on top and the ones you do use on a regular basis, on the bottom shelves.
Use open-shelf units for items you use on a regular basis; storage tubs for bulky items.
Label bins, tubs, boxes, etc. for easy identification.
If there is no designated area, recycling can quickly re-clutter all of your hard work. Include a recycling station in your garage organization plan by using stackable bins that will sit flush against a wall.