How to Buy a Futon: A Buying Guide
Once the number one choice for decorating dorm rooms, basement bedrooms and other secondary spaces, today the futon is a popular, stylish choice for the living room, family room, den or guest bedroom. The attraction of a futon is that it can be used as a couch during the day and converted into a bed at night. A variation on the sofa bed, futons are not as heavy or bulky, which makes it more user-friendly. Because of their dual nature, futons are ideal for small or multi-purpose spaces like studio apartments.
---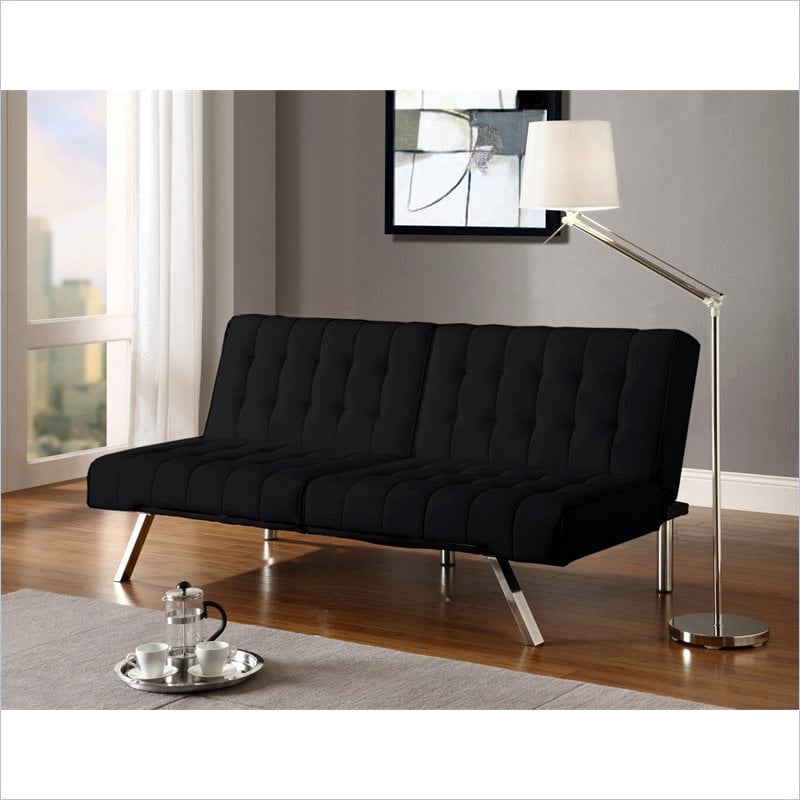 ---
What Makes up a Futon?
The futon is made up of three components: the frame, the mattress and the cover.
Futon Frames
Since the frame supports the mattress and the mechanism that converts the sofa into a bed, it must be constructed of a strong, durable material like wood or metal. When the frame is wood, it is usually made of oak or pine. Other popular hardwoods for frame construction are maple and Asian hardwood. When the frame is metal, generally it is steel with a protective finish. A wood frame is more expensive than a metal one. The structure of the frame is made up of either two or three slat racks. Slat racks are the part of the futon frame that supports the mattress, in either its upright or sleeper positions.
A bi-fold frame resembles a regular couch, and refers to a frame made of 2 slat racks, the one that is sat on and the one that forms the back rest. Standard futons have a bi-fold frame that holds a bi-fold mattress, which means that the mattress has one fold along its length. To convert it from a sofa to a bed, you would pull it out from the front. A bi-fold futon will use the length of the mattress as the couch and will therefore provide more seating.
A tri-fold frame, also referred to as an A-frame, has three slat racks or sections and accommodates a tri-fold mattress. The futon mattress can fold either over the top of the frame or the third section of the mattress can tuck underneath the main seating area. A tri-fold futon uses the width of the mattress as the couch. Since these futons are shorter while still capable of providing a double or queen size sleeping area, they are ideal for smaller spaces. However, they are not as easy to open or close as the standard futon.
A loveseat frame is designed for a two-piece futon mattress, and is available in either twin or double bed sizes. Like the tri-fold frame, a loveseat futon uses the width of the mattress for its seating area. It is an ideal seating solution for small spaces like dens, home offices doubling as guest bedrooms or sun porches.
Futon Mattresses
When selecting a mattress for your futon, take into account how often it will be used for both seating and sleeping. If you plan on using it as a bed on a regular basis, you will want the mattress to be thick and durable. Match the type of futon mattress to the frame you purchased; a bi-fold mattress for a bi-fold frame, a tri-fold mattress for an A-frame, etc. The mattress needs to be able to fold when converting from a bed into a couch, while retaining its shape.
Firmness refers to how the mattress feels when you are lying on it.
Rigidity is the mattress's ability to stay square-edged along its length when the futon is a sofa. The more rigid the mattress, the less chance that the cover will sag or buckle when in use.
Flexibility indicates how easily the mattress unfolds when it is being switched from a sofa into a bed.
Futon mattresses fall into three general categories: cotton/foam, innerspring or memory foam.
The original futon mattress was made of cotton or of a wool-and-cotton combination; the economical version used polyester and cotton. Today futon mattresses are made of a cotton/foam mix, which makes them more comfortable and about 40% lighter than an all-cotton mattress. Cotton allows the mattress to breathe, which means that it will be warm in winter, but cool in summer, while the foam helps the futon to keep its shape. Flexibility and durability depends on how the materials are layered, the quality of foam and cotton used, and the thickness. Choose a mattress that has been overstuffed which means that it is thicker than the size of mattress you purchased in order to minimize compression problems associated with foam.
The innerspring futon mattress resembles a standard innerspring mattress, but is designed to be folded and unfolded. A coil system made up of 300 to 800 coils, depending on the brand/manufacturer, is cushioned between layers of cotton/foam padding. As with traditonal mattresses for a standard bed, the more coils does not necessarily mean a better futon; the quality of mattress will depend on the configuration of the coils and the strenth and thickness of the metal used to make the coils. An innerspring futon mattress will feel firmer than the other kinds available for futons. Even though they are as flexible as a cotton/foam futon mattress, an innerspring futon is generally heavier.
The all foam futon mattress is considered to be the softest and most comfortable. The foam makes them durable, as well as lighter than a cotton/foam futon. They are constructed by layering different types of foam, and can include medium density, high density, flat and connvoluted or egg carton foams. Convoluted foam is commonly used in the top and bottom layers (so that it is on top when the mattress is flipped) because it helps evenly distribute the weight aplied to the mattress. Foam futon mattresses are also known for providing maximum support.
The mattress casing is most commonly made of all cotton, all polyester or a cotton/polyester blend. If you choose not to purchase a separate futon cover, make sure that the mattress casing is made of strong durable material that will wear well.
Futon Covers
Technically, futons do not need a cover: it is much like purchasing a sofa; most of us don't buy a new one and hide it underneath a slip cover. However, since the futon acts as both a mattress and a couch, you will want to prolong its life for as long as possible, and futon covers will help.
The futon cover should fit the mattress perectly. If it is too tight or too loose, you will compromise the futon's ability to easily convert from a couch to a bed, as well as reducing the mattress's overall tactile qualities like its firmness and rigidity.
Choose a microfiber. It is important that you are able to feel the mattress casing and the mattress through the cover: this will keep you cool in summer and warm in winter when sleeping. A futon cover has the added benefit of being removable, which will make cleaning easier. Using a cover will also allow you to more closely match your futon to the room's existing color scheme. If you like to seasonalize your décor by using warmer, darker colors in winter and lighter colors and fabics in summer, you can purchase more than one futon cover.
---
---
What Size of Futon Mattress Do I Need?
Futon mattress sizes conform to the same measurements as standard beds. If you plan on using your futon regularly as a bed, purchase a mattress that is at least 6 inches thick; any thinner and you probably won't be comfortable. Some manufacturers will offer futon mattresses meant specifically for a platform bed; before making a final decision, make sure that the mattress you have selected will fit your futon frame. Depending on the manufacturer, the futon can include the mattress, but in most cases the mattress must be purchased separately.
A twin mattress, also known as a single, is 39" wide and 75" long. They are a popular choice for a child's room or a dual purpose room such as a den/guest room.
A double mattress, also called a full mattress, is 54" wide and 75" in length. Sleeping area for each person is 27".
A queen mattress is 60" wide and 80" long. A popular choice for two people needing more sleeping room, the actual sleeping area of a standard queen mattress for each person is 30".
The standard king mattress is also known as the eastern king. The width is 76" and the length is 80". It is the widest standard sized mattress available.
The California king mattress, also called the western king, is 72" wide and 84" in length. It is the longest standard sized bed available; sleeping area for one person is 36."
---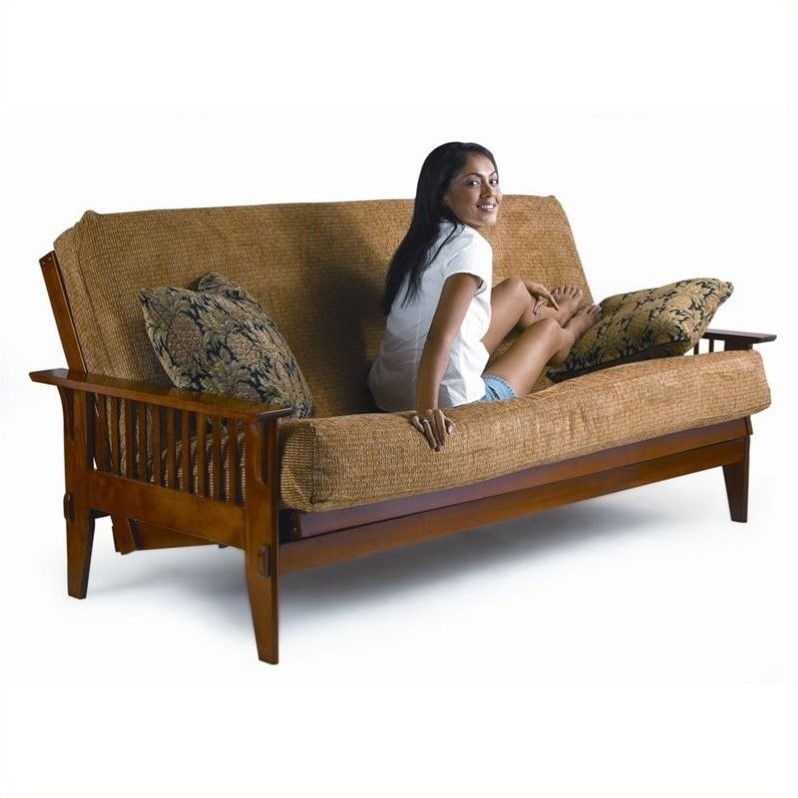 ---
What Style of Futon Should I Select?
There are some styles of furniture, like the sleigh bed that we immediately identify with the traditional style because of their silk finishes, graceful curves and flowing lines. Inspired by the fashions, trends and social customs of the past, traditional futons can vary from the sleigh bed, which first emerged in the Victorian era, to the simple forms reflected in Colonial designs.
Transitional style contrasts austere lines with intricate curves, and natural wood finishes with lustrous metal accents. It also utilizes neutral palette finishes like taupe, tan and vanilla. Since it merges contemporary with traditional, it adapts easily and blends in with a wide range of designs and fashions.
Emerging from the second half of the 20th century, contemporary style underplays the ornate lines and rich textures of traditional furnishings. Modern/contemporary furniture is known for its simplicity of line, shape and form. Geometric and minimalist, contemporary frequently mixes textured elements such as chrome accents with wood tones.
Country style futons combine more formal traditional stylings with rustic charm, and are recognized for being comfortable, cozy and welcoming. They contain a distinctive period flavor like Mission or English Country. Country style furnishings are almost always constructed of wood, ranging from light to medium finishes. Some of the more common types of finishes are grainy, painted or distressed.
---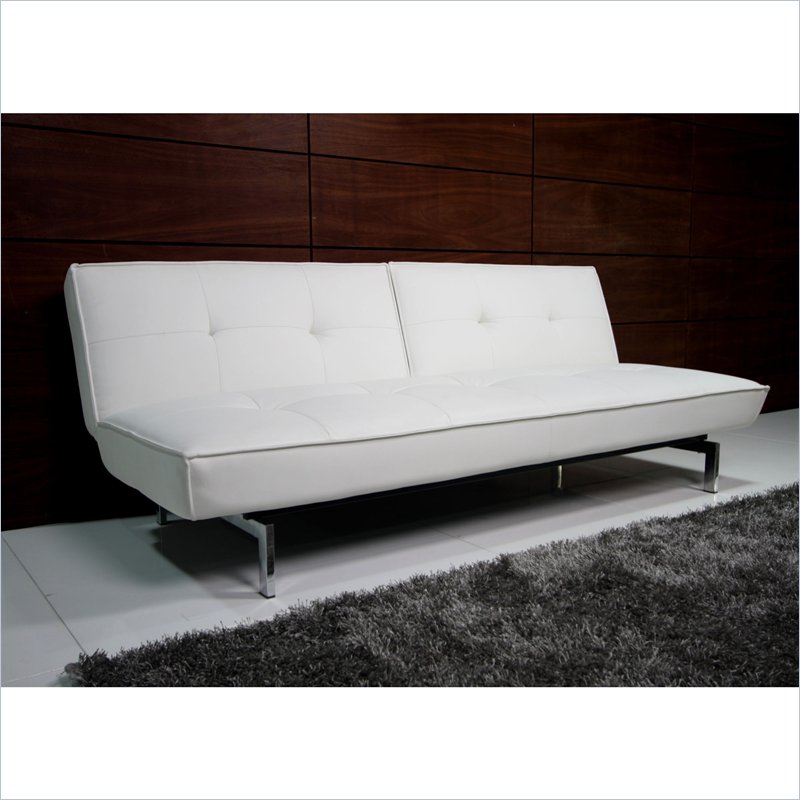 ---
What Else Should I Keep In Mind When Choosing a Futon?
If you will be using your futon regularly for sleeping, select a mattress that is between 8 to 10 inches to ensure that you will be comfortable.
Futon mattresses have a tendency to slide off the frame. Consider purchasing futon grip strips to keep your mattress from slipping. They are available in foam and rubber. Foam futon grip strips hold the mattress firmly in place and are applied directly to the frame. Rubber futon grip strips are designed to hold the mattress to the frame with the use of friction, but generally do not work as well as the foam ones.
Because of their dual nature, futon mattresses are prone to a shorter life span than a standard bed mattress: for longevity, buy the best quality mattress you can afford. To extend the life of your futon, plan on vacuuming it on a regular basis, and flipping/turning the mattress at least once a month.
Convertible futons strongly resemble the traditional sofa bed, but are usually more expensive than a standard futon sofa because of the additional upholstery or material costs, especially if leather is used. They might have added features like storage or positional capabilities. And like a sofa bed, the cover is generally not replaceable and/or removable, and might be more difficult to maintain than a standard futon.
The conversion mechanism is the method by which the sofa is converted to a bed; make sure that you find it user-friendly before making a final decision.
A wall-hugger refers to a frame that can be converted from a sofa to a bed without having to move the frame's base away from the wall. Wall-huggers fall into two general types: the first is the kind that can be placed directly against the wall but will not touch the wall while being changed from a sofa into a bed; the second is the kind that must be place a short distance from the wall to allow clearance when converting.
When shopping for a futon cover, look for one with a good zipper, double stitching, and is made of a heavy-weight fabric: these qualities will ensure that your futon cover will be durable and long-lasting.

Futon furniture isn't limited to just sofas; other popular items include chairs and bunk beds.