At first glance, end tables might seem redundant and not particularly useful. However, further investigation will reveal that an end table has many uses, both functional and aesthetic. Intended to be placed on either side of the sofa, they are an ideal place for table lamps. When an end table is used in conjunction with an arm chair, it's the perfect place to put down the remote, add task lighting or put a steaming cup of tea. In other words, end tables will make the room more comfortable, increasing its functionality and creating a welcoming atmosphere. Made from wood, metal and glass or wood and glass, there is an infinite variety of end tables to choose from. Knowing what to look for will help you select end tables that will suit both your lifestyle and décor style.
---
---
Before You Begin
Typically, end tables reside on either side of the couch. Measure the available space on each end of the couch. It will give you an idea of how much room you have to work with and ensure that you won't end up with end tables that don't fit.
End tables shouldn't overpower the couch or be dwarfed by the couch. When they are "in scale," the room will be balanced.
If the couch has arms, ideally an end table should be the same height as the arm. For ergonomic reasons (so you're not twisting around to lift things up or put them down), the height of the end table should be no shorter than four to six inches.
Especially when you're furnishing a room from scratch, make a budget. Setting limits can be a useful tool to narrowing down your choices and making the final selection easier.
If you have young children, consider purchasing end tables with rounded corners. Choosing round end tables is also a child-friendly choice. When buying end tables with glass, pick a style of tabletop that has glass insets rather than one with a top entirely made of glass, particularly if you have toddlers.
Light colors will make a living space appear larger. When decorating a small sized living room, den or family room, select end tables in a lighter finish.
Other tricks to create the illusion that a room is bigger than it is include choosing glass end tables, end tables with mirror accents or ones with an open-shelving, latticework or grill design. End tables with an open design will let light in, making the furniture appear not as "solid" or heavy.
---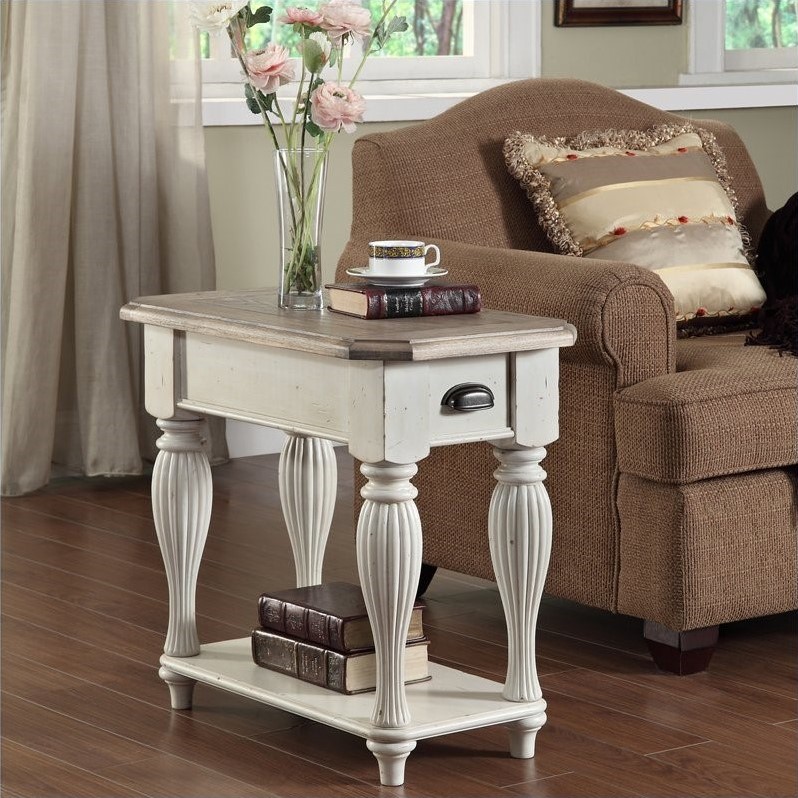 ---
End Table Styles
With so many styles to choose from, choosing a style for the rooms of your home might seem intimidating. What if you pick the wrong one? Style is simply the reflection of your personal tastes and choices, so there's no danger of right or wrong. There are three basic styles, traditional, contemporary and country and many sub styles including transitional, modern and eclectic. Even if you don't have a name for it, you will have a general idea of the type of furnishings you like. If you enjoy furniture with lots of ornate detail, then traditional is the style for you. On the other hand, if clean lines and forms with minimal decorative detail are more appealing, then contemporary style would be a better choice for you.
Traditional style, especially furnishings based on the trends of the eighteenth and nineteenth centuries, are luxurious and opulent. Some sub styles like Louis Philippe have relaxed lines that can be considered casual. However, most traditional styles are formal and have a stately or lavish appearance, partly due to sumptuous finishes and dark woods. A traditional style end table is characterized by elaborate decorative detail such as moldings, turned spindles and cabriole legs.
Transitional decorating style is not as ornate as traditional but not as casual as contemporary. Lines and forms are simpler, yet are still sophisticated. Transitional furnishings are typically made of wood with lustrous medium wood finishes or dark wood finishes. While decorate detail is somewhat pared down, a transitional end table can still display all of the usual traditional suspects, such as crown molding, broken pediments and pilasters. Transitional style mixes curved lines with straight lines to create visual interest and is designed to be both functional and comfortable.
Contemporary style focuses on function and form rather than decorative detail. Ornamentation is minimal, resulting in furnishings that have clean lines or geometric shapes softened by rounded corners. Contemporary furniture is commonly constructed of lighter woods with light wood finishes and medium wood finishes.
Contemporary and modern are often used interchangeably, but they are two distinctive styles. While both contemporary and modern emphasize geometric form and minimal detail, contemporary furnishings reflect current, ongoing trends, whereas modern furniture is an expression of a particular time and architectural movement. Modern design emerged in the second half of the twentieth century and is sometimes considered to be cold or stark. Reflecting new technologies, materials and philosophies of the Machine Age, modern furnishings tend to have no ornamentation or if there is decorative detail, it is an integral part of the design of the piece and not "tacked" on.
Country furniture grew out of traditional conventions that were adapted from its region of origin to reflect new environments, geographical locations and the resulting change in social customs and philosophies. As colonists modified old world cabinetry techniques to accommodate what materials were available in the New World, Colonial furniture used lighter finishes and decorative detail became less formal and more relaxed. A country style end table is typically made of wood and can have milk-painted finishes, stenciled decoration, wainscoting and scalloped aprons.
Because it utilizes and incorporates several different styles, eclectic style is as individual as the person decorating the room. Since eclectic style is a mix of historical periods and trends, you can pair a traditional end table with a modern couch or armchair. When decorating eclectically, the room takes on a layered look, because textures and patterns are blended into one unique look. To prevent a room from appearing jumbled or mismatched, the trick to successful eclectic decorating is matching the finishes to one another; if the color of each piece of furniture is similar, the room will have a unified appearance.
---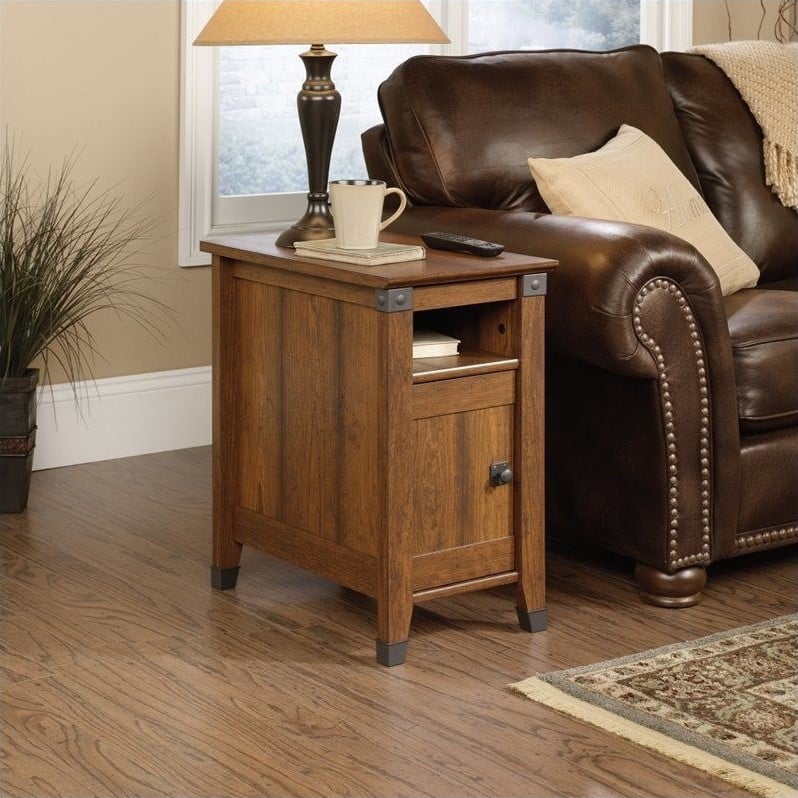 ---
End Table Materials
Part of the overall style of any room comes from what type of material the furniture in the room is made of. Many factors will determine what kind of material you will select when purchasing an end table. If your décor is modern, a metal and glass end table would be a good choice. If your style is more traditional, choose one made of wood with a rich finish. Don't forget the tabletop. Many manufacturers offer stylish end tables with distinctive tops made from a variety of materials including stone, glass and wood veneers. To create visual interest in a room, select end tables that add texture and depth to the décor.
Real wood end tables are made from varying grades of timber. Timber is the wood of trees, either hardwoods (deciduous trees, ones that shed their leaves) or softwoods (coniferous trees or ones that don't shed their leaves), cut and prepared for use as building materials. Hardwoods such as oak, walnut and maple and soft woods like spruce and cedar are popular woods for furniture construction.
Metal used in furniture construction is typically made of iron, steel, aluminum or some other alloy. Many types of metal end tables will have glass tops or tops made of wood and glass. End tables made from metal and glass are popular because they have a modern appearance. A glass and metal end table is durable and easy to clean.
Glass is a common material for the tops of many types of tables. Especially when there are children in the house, select end tables with tempered glass rather than standard glass. Tempered glass is treated glass, either with heat or a chemical solution. The process makes the glass stronger than regular or annealed glass. It is safer, since it is designed to break into small fragments rather than large shards like untreated glass.
When stone, including marble and slate, is used as the top of an end table, it introduces an organic element into the room. Stone is used in furniture construction can be made from one continuous piece or from veneers. A marble or slate veneer is produced by shaving thin slices of real stone and then adhering them to the surface of the table, usually made from an engineered wood like plywood or MDF.
End Table Types
End tables are also called side tables, because they are also used by the side of an arm chair, occasional chair, or recliner. Because they are so versatile, before making a final decision, decide what type of end table will best suit your needs. If you entertain frequently, tray top end tables would help you entertain in style. On the other hand, if you're constantly tripping over toys in the living room, end tables with storage baskets might be a better choice.
Storage End Tables
End tables that have storage features are especially convenient to have if you have children, teens or just like the idea that you have some place handy to stores items quickly out of sight. Storage end tables allow you to be organized, while increasing the room's functionality. End tables that include drawers, baskets, cubbies or racks for newspapers or magazines can help keep your living space tidy and clutter-free.
Nesting End Tables
Nesting end tables come in very handy when decorating a smaller-sized living room. Nesting end tables come in groups of at least two and are designed to fit one underneath the others. They can be used as one table or separated as needed. Nesting end tables are ideal when entertaining, giving you more surfaces on which to display platters of appetizers or as the ideal place to put down glasses. Nesting tables can also be used as TV tables in a rec room and or as serving tables in a dining room.
Chairside End Tables
Chairside end tables have features specifically intended to make relaxing in a chair or on the couch even more relaxing. A typical chairside end table might include a magazine rack, drawers or open shelves. Like a nightstand, a chairside table is designed to keep frequently used items close to hand. To ensure maximum functionality, select a chairside end table with a handy pull-out shelf.