---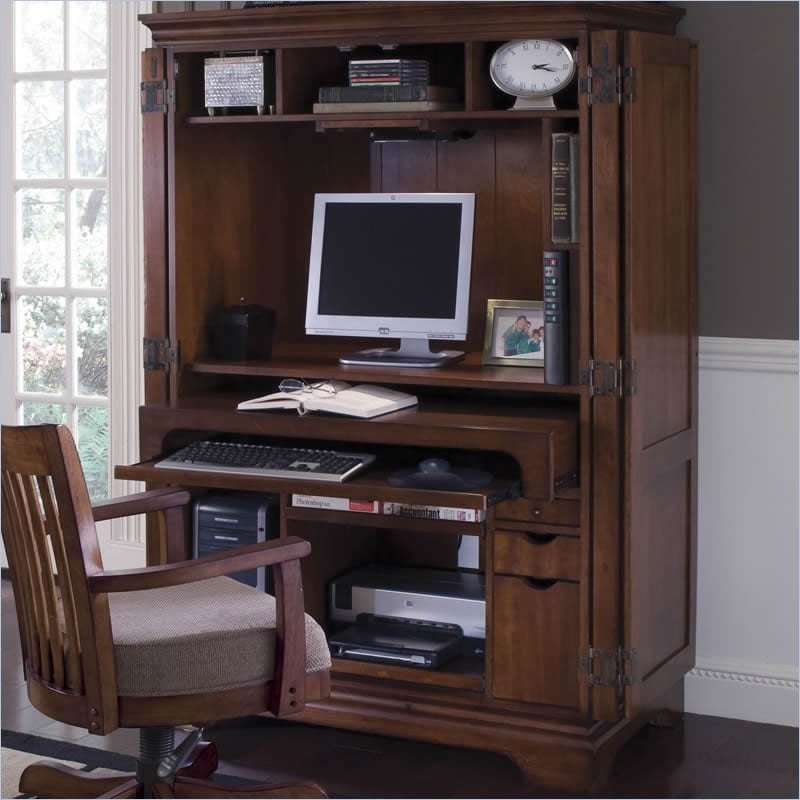 ---
Organizing Your Computer Armoire: A Step-by-Step Guide
Tempting as it is to leave everything where you dropped it and just shut the door on the clutter, the less organized your computer armoire is, the more it can interfere with your efficiency and creativity. Piles of paperwork, unfiled and/or unpaid bills, newsletters, magazines, grocery lists, day-old coffee cups and empty munchie bags, can actually drain your energy and make you less productive. Not only are they a distraction, but, because of the compact nature of a computer armoire, they take up valuable work space. These five simple steps will get you and your computer armoire organized in no time.
Step 1
Begin by removing everything that can be easily moved from your computer armoire. This process will allow you to identify anything you can immediately throw out such as empty envelopes, out-dated fliers, etc.
While in its emptied state, take this opportunity to clean all surfaces with a dust cloth and disinfectant spray, especially if your computer armoire is a shared work space with children. Don't forget to disinfectant the outside as well, including the handles. Use compressed air (available in an aerosol can) to safely remove dust and debris from the computer keyboard. When spring cleaning around the computer, don't forget to turn it off, and if possible, its power source, as well.
Step 2
Sort everything that you removed from your desk into categories, grouping similar items together, such as supplies; equipment and their accompanying accessories; items that can be filed; reference materials such as binders or manuals; and desk accessories including knickknacks and pictures.
Toss anything broken or that can't be recycled. Get rid of anything that you don't need or no longer use. Relocate those items that you want to keep, but don't belong in your computer armoire.
Step 3
Now you're ready to put things back into your computer armoire. Arrange supplies so that the ones you use frequently are closer to hand than other items you need less often. Store like with like, so that the next time you are looking for a paper clip or a bottle of glue or a pen, you will know exactly where to find it.
If the armoire's storage areas are not configured exactly to your needs, add a drawer organizer, a shelf divider or a desktop supply caddy. If the computer armoire does not include a CD-ROM holder, buy one: by creating a permanent home for the discs you use on a regular basis, you save both space and the time of having to hunt them down when you need them.
Reserve a shelf for reference materials, CDs and other items that you use most often.
Step 4
Use your computer armoire to its full potential: if you have never had the time to buy hanging file folders, make this a priority. Add labeled tabs to your folders and put the files you will use frequently toward the front. Choose file names that are meaningful to you. You've just created the ideal organizational system to store your papers out of sight, one that will be able to reflect your changing needs.
Consider reserving your filing system for papers related to household matters and current projects. For example, if you want to keep the hand-made greeting cards from your children, store them in a separate memory or keepsake box.
If you are an out-of-sight-out-of-mind person, select a computer armoire with built-in file holders on one of the inside doors: they will act as In and Out trays, where you will be able to visibly keep papers, bills, etc. that need your attention or to be followed-up.
Step 5
Personalize your work space with knickknacks and pictures, but again, because of the computer armoire's limited space, it's probably best to keep them to a minimum so that they don't interfere with your work.
Keep up the good work! Now that your computer armoire is neat and organized, it will be easy to maintain it. Get into the habit of putting things back after you've used them or when you have completed a specific task. Don't hang onto the envelope after opening it or put the empty paper clip box back into the drawer. Schedule regular maintenance times, like once a month for straightening and tidying drawers, etc. or once a year to eliminate papers in your files that are no longer relevant.