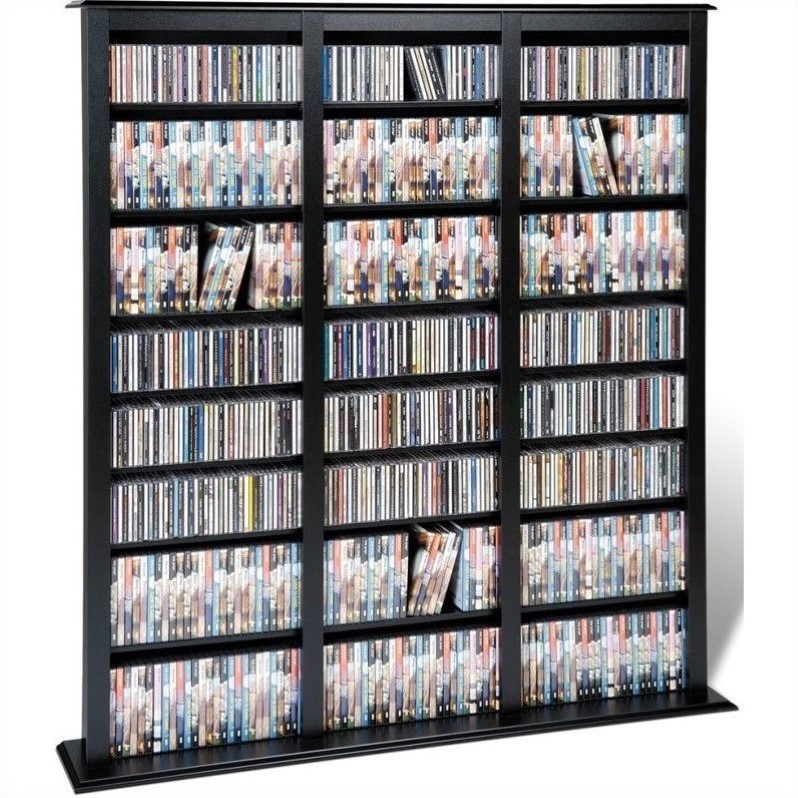 Buying DVD storage furniture or a media storage cabinet for your DVD and/or CD collections can be challenging. DVD storage and other types of DVD storage furniture are designed to hold a variety of media in any number of ways, in diverse configurations and combinations of features, not to mention all of the different types, styles and sizes. How do you know which type of media cabinet or storage tower will be the right one for you? Here are a few tips that might help you narrow down your choices and allow you to get the ideal multimedia storage solution that's right for you.
DVD Storage Size
Examine the size of your current collection. If you're the one-new-one-old (get rid of one item for every new one you add) type of collector, then you probably won't need to take expansion into consideration. On the other hand, if you avidly collect each move title of all of the films your favorite actors ever made then you will definitely want to buy a DVD rack that will give you this option.
This will help you determine how much room you will need to house your CDs, DVDs, etc. If you have a smaller sized media collection, it is possible that you can conveniently store your collection in a compact CD tower or a DVD tower.
Types of Multimedia Storage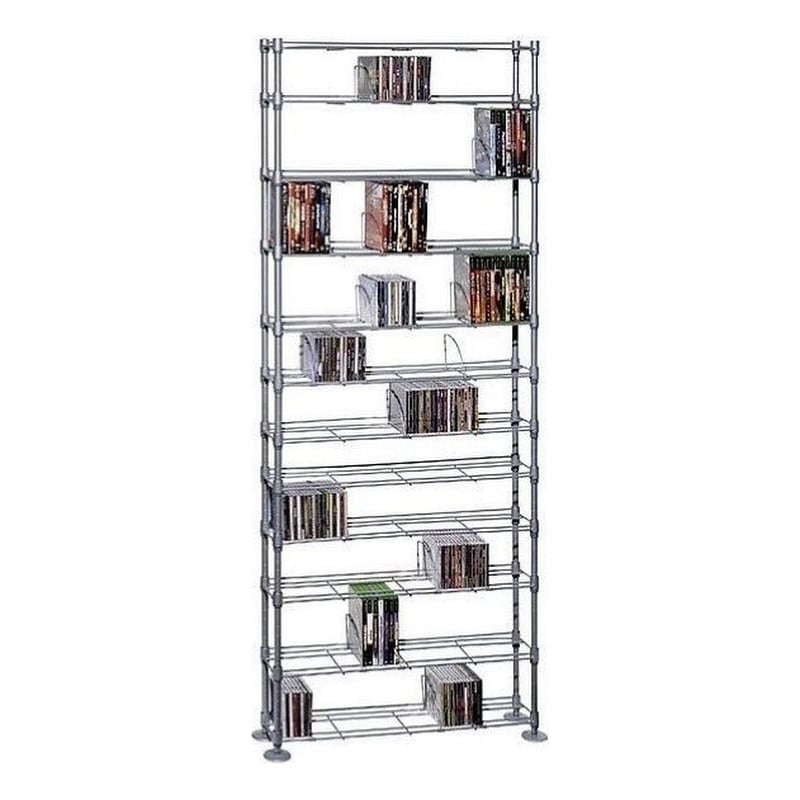 Take stock of the many different types of media you own and how many of each kind that you have. If you have more CDs than movies then perhaps a CD racks are a better choice than other kinds of DVD racks and stands. The type of media storage cabinet you select will also depend on how you want or need to organize your collection.
Freestanding DVD shelves or DVD cabinets and other kinds of media storage furniture can resemble a bookcase and range from a compact corner unit to ones that take up an entire wall.
Wall mounted media cabinets are ideal for storing DVDs/CDs when space is an issue. Especially if you have a smaller-sized media collection, a compact wall mounted cabinet makes your collection very accessible, while displaying them like stylish wall art.
Because they can hold a large number of DVDs/CDs while possessing a small footprint, a spinning CD tower or DVD tower is also a great space saver for small or awkwardly shaped rooms. They combine compact organization solutions with accessibility and convenience.
Freestanding media cabinets, especially ones with doors, are perfect for someone who wants to protect their collection from dust and light or for families that have children. For additional protection, select a multimedia storage cabinet with a turnkey lock.
CD/DVD Storage Furniture Features
Give some thought to the features you would like your multimedia storage unit to have. Do you want to be able to spin the unit around to see a number of titles at a glance? Then a DVD tower, DVD rack, CD tower or CD rack on a swivel base would be the best choice. Do you prefer to hide everything from for a clutter-free vibe? Then a media storage cabinet with doors and/or drawers would be the ideal solution.
Particularly when storing a variety of media, adjustable shelves will come in handy.
Some manufacturers will offer media storage units that include pull-out trays for housing and organizing DVDs or CDs.
DVD racks and stands that include built-in bookends or dividers make organizing a media collection easier and help keep materials from falling off the shelves.
Many media storage units have wide bases, ensuring greater stability.
Media cabinets with glass doors protect your collection from environmental hazards while allowing you to easily see inside to identify items.
Locking doors or being able to lock a specific section of the unit will give yu peace of mind.