---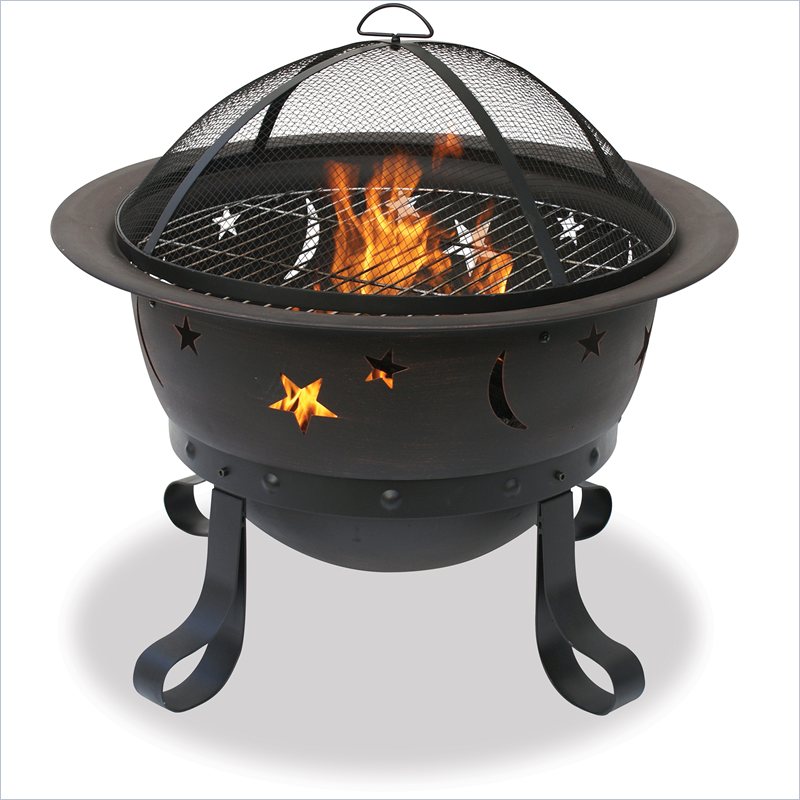 ---
Looking for a simple, yet effective furnishing to add a noticeable touch of class to your backyard? Or how about a bit of refinement on your camping trip? An outdoor fireplace may be the right choice for you. They provide effortless campfires that are both safe and easy to control.
Some patio fireplaces feature beautiful rust-tone patinas and others shine with brushed stainless steel accents. Design influences vary from classic to modern, all the way to simple and practical.
Choose a fireplace with detailed embossing for an old world touch. Or express yourself with ceramic tile accents or lively cutout designs. Your patio fireplace can be as unique as you are.
Before you choose your outdoor fireplace, consider all the features you might want. Will you want to toast marshmallows, pop popcorn, or roast wieners? Are you strictly interested in atmosphere or are you looking for a heat source? It's important to read product descriptions carefully to ensure you've selected the right fireplace for you.
An outdoor fireplace can be fuel for your style
Choosing a patio fireplace doesn't necessarily mean giving up wood. Outdoor fireplaces can utilize a number of fuel sources including wood, gas, and more recently, gel.
Gel is an innovative and interesting choice for your outdoor fireplace as it simulates a real fire with a crackling, popping sound. Odor-free and smoke-free, gel fireplaces use replaceable canisters which are inexpensive to purchase and easy to operate.
Will you have to sacrifice style to use the fuel of your choice? Absolutely not. From elegant chimineas to nostalgic fire pits, patio fireplaces are diverse in style, size, and price. Available materials include steel, copper, cast iron, pewter, clay and more. Select the right combination of design and features for a back yard accent you'll treasure for years.
Hassle-free ambiance with an Outdoor Fireplace
Picture the difference it will make, enjoying a fire in your own back yard. With little effort and expense, you'll create the atmosphere of a trendy bistro with a patio fireplace. Your back yard will become the local hot spot for cocktails and conversation.
RV owners will love the portability of selected outdoor fireplaces, making it possible to have the atmosphere of a fire quickly and at campsites where fires are restricted. Imagine creating a romantic setting only moments after parking your RV.
Outdoor Fireplaces are a Safe and Responsible Choice
Using an outdoor fireplace instead of making traditional campfires is the safest choice for a cozy fire. In your backyard, you'll forgo the hazards of property damage. Or when camping, you eliminate the risk of forest fire.
Patio fireplaces can also be your greenest choice, should you choose a more environmentally friendly model powered by gas or gel. Even if you prefer to burn wood, enclosing your fire in a sturdy structure ensures minimal risk of negative impact on your lawn and yard.
Once you've experienced the comfort and personal style of the right outdoor fireplace, you'll never want to let go. With the convenience and portability now available, you won't have to.