---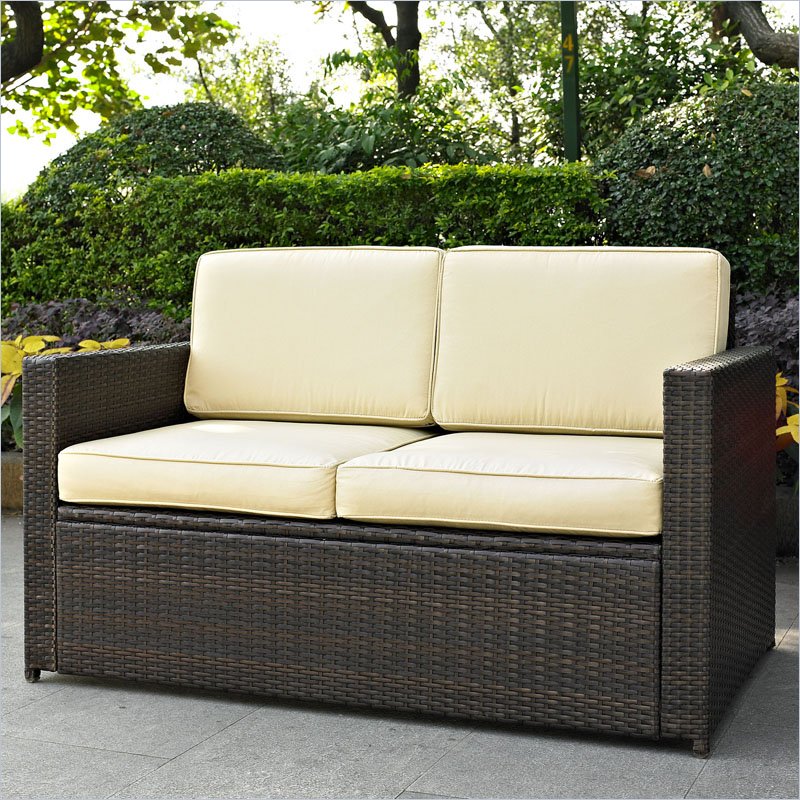 ---
Have you been searching for a design idea for your back yard or patio? Think about outdoor patio sofas to add comfortable seating to your outdoor living space. Why not take comfort one step further and add an outdoor sectional sofa?
Outdoor patio sofas are the next great trend in back yard furniture. They pair wonderfully with an umbrella, awning, side table, or your existing patio set. Patio sofas work well as extra seating for dining alfresco when not being used for reading or sunbathing.
An Outdoor Wicker Sofa or Resin?
As you might expect, the materials used for outdoor patio sofas are quite different than their indoor counterparts. You'll find treated wood, wicker, bamboo, plastic, and coated metal used in contemporary patio sofas. Look carefully at fabrics as well; the first thing you'll notice in person is that upholstery is firmer, made with thick durable fabric or woven synthetic mesh.
Consider your regional, seasonal climate as you start to browse the many outdoor patio sofas on the market. In an overly moist climate with long or wet winters, an outdoor wicker sofa may suffer from mildew even if you use an outdoor sofa cover. Before you fall in love with an outdoor wicker sofa, ask yourself what materials will best endure year round where you live.
Upholstery on your outdoor sofa, even if you opt for weather-resistant fabric, may last longer if it comes indoors during the winter months to prevent mold or mildew. A Vifah outdoor sofa comes in treated wood and the weather-resistant padding is easily removed from the frame.
An Outdoor Sectional Sofa or Loveseat?
Once you know what your restrictions are (if any) in terms of building materials for your outdoor sofa, you'll be free to move on to the creative and engaging fun of re-designing your exterior space.
As an alternative to the traditional patio setup with dining table and chairs, you could add an outdoor sectional sofa and an outdoor sofa loveseat. Instead of recreating kitchen or dining room layouts in an outdoor version, you would look more to living room or sitting room configurations that promote relaxation and conversation instead of meal sharing.
If your outdoor area is restricted by balcony or enclosed patio floor space, you may want just an outdoor sofa with an end table for a lamp or drink coaster. Browse loveseat patio sofas if you're planning to furnish a small apartment balcony, to achieve the best use of your space.
Choose an outdoor wicker sofa, an outdoor sectional sofa, or the outdoor sofa that speaks to you. With the selection available, the right product for your home and lifestyle is certainly out there. You'll soon discover a whole new living space when you have the right outdoor sofa.