---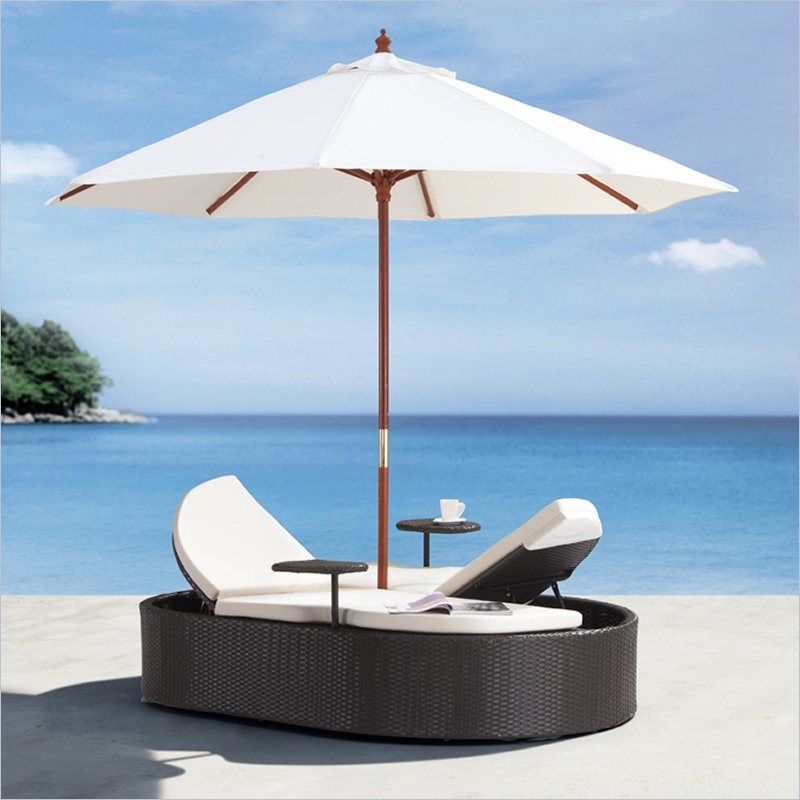 ---
Brainstorming for outdoor living space ideas has never been a more creatively fulfilling project. With furniture choices that now include the comfort of an outdoor daybed in your back yard, the possibilities get really interesting.
Traditionally, patio furniture has been modeled after kitchen and dining room spaces, intended to accommodate outdoor dining or maybe board and card games. With an outdoor daybed, your design starts to look more like a living or sitting room, more appropriate for reading and relaxing, or sharing drinks and conversation.
An outdoor daybed can take the relaxation potential of your back yard to the next level. Add the ultimate in decadent lounge furniture with designer Zuo outdoor daybeds and you'll want someone feeding you grapes all day long.
The Lavish Style of Zuo Outdoor Daybeds

Furniture from Zuo is known for a distinctive contemporary style that artistically fuses form and function. Zuo outdoor daybeds feature designs like a detachable yin and yang shape, a model with courtship seating, or a convertible fabric canopy.
Elegant lines and satisfying colors like espresso and cream, make Zuo outdoor daybeds, tables, chairs, sofas, and related accessories an ideal choice to create an air of serene exclusivity. A discerning designer would appreciate Zuo outdoor daybeds and complementary outdoor furniture for the effortless sophistication each piece brings to any patio or yard.
Outdoor Daybeds Maximize Your Exterior Space
Whether you're looking for luxury furniture or something more modest, outdoor daybeds can work well with patio tables, patio umbrellas, and other outdoor furniture to create the full experience of a living room under an open sky.
As you shop for an outdoor daybed, consider materials and companion pieces carefully to both fit in your space and withstand your climate. Will you need to account for a long rainy winter? Does your yard get long hours of punishing sun? Or will you move your outdoor daybed indoors during the off season? Answering those questions early on will help you enjoy your outdoor furniture to the fullest.
If you find it challenging to select multiple pieces that work together with an outdoor daybed, start browsing the selection of outdoor daybed sets that are already expertly coordinated. Outdoor sofa and outdoor daybed sets can include pillows, cushions, and tables. You may also be able to purchase a matching chaise, chair, or loveseat to really complete the look.
Accessorize with Outdoor Daybed Cushions
You may be looking at outdoor daybed sets that include tables and shades, wondering if your current outdoor daybed could use any accessories. A clever way to make outdoor daybeds a bit more stylish is the use of outdoor daybed cushions.
Outdoor daybed cushions are different from the indoor version because they feature hardy weather-resistant fabric or woven plastic. When shopping for outdoor daybed cushions, you'll also want to look for products filled with mildew-resistant synthetic stuffing or foam.
Outdoor daybeds are a wonderful choice to make your outdoor hours feel like a real escape from the everyday. Having an outdoor daybed to lounge on under the summer sun can make even a plain back yard feel opulent. Add a fresh breeze to keep you cool and you could be transported to a tropical resort every time you close your eyes.