---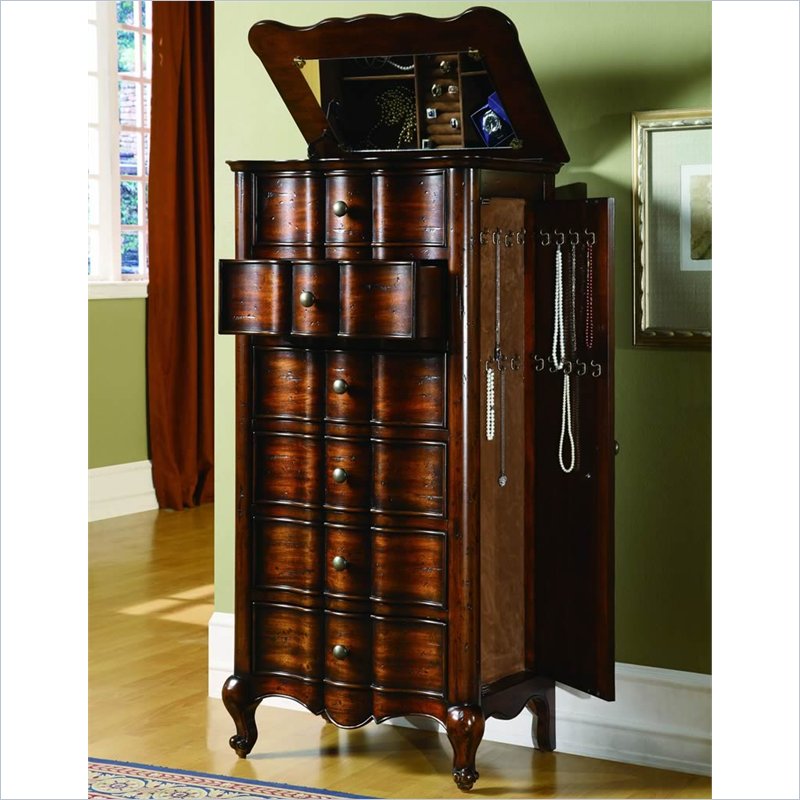 ---
When furnishing your bedroom, a jewelry armoire might not seem to be high on your priority list. But as an accent furniture piece, jewelry armoires are beautifully rendered, often with hand-painted finishes that make them unique, so you will want to match it in style and color to the other furnishings in your bedroom. Jewelry armoires are designed to store and protect your jewelry. Typically, they have a number of stacked,lined, drawers intended for rings, bracelets, etc. and side doors complete with hooks for hanging necklaces. Because they are available in a wide range of styles, sizes and features, it's good to have some idea of what you need and want in a jewelry armoire before you go shopping.
Jewelry Armoire Size
While a jewelry armoire is generally narrower than a nightstand and smaller than a standard chest of drawers, it will take up space in your bedroom. Measure the area where you want it to go; this will give you some idea of how much room you have. Also leave some room for opening doors and drawers and/or lifting lids.
You will also want to select the size of the jewelry armoire to match the size and type of your jewelry collection. For example, if you have more rings and bracelets than you do necklaces and chains, then a small to mid-sized jewelry armoire with several drawers will be more useful to you than a large one with side doors for hanging necklaces.
---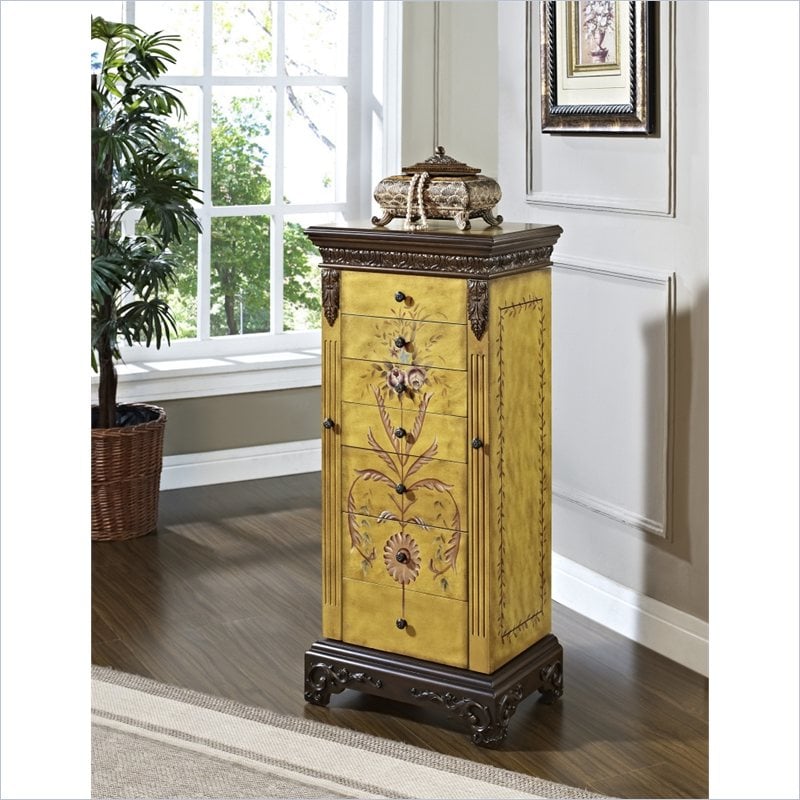 ---
Jewelry Armoire Construction
Well-crafted jewelry armoires can be treasured for a lifetime. If you would like to pass your jewelry armoire down through the generations, a discount jewelry armoire can be as long-lasting as a high-end oneif you know what to look for.
The jewelry armoire should be constructed of quality materials such as solid woods, wood veneers and hardware that looks good and is user-friendly.
Check for construction techniques such as glue and clamp, dovetailing, dowels and screws instead of staples. Drawers and doors should operate smoothly.
A jewelry armoire like a Coaster or Powell jewelry armoire that has a distressed or hand-painted finish will add to its heirloom appearance.
Jewelry Armoire Features
Take the time to consider how you want to store the individual items of your jewelry collection. A standard sized freestanding jewelry armoires and wall mounted jewelry armoires will include a number of special features that makes using and organizing it to suit your personal taste easy and convenient. Some of the common features to look for are:
Bracelet/watch holders and/or ring pads
Lined drawers
Part or all of one of the jewelry armoire drawers is divided into compartments for miscellaneous pieces like pins, broaches, etc.
Side compartments to hold necklaces; typically accessed by doors
A mirror jewelry armoire allows you to check out your appearance without having to go and find a mirror
Lockable drawers and/or secret compartments