---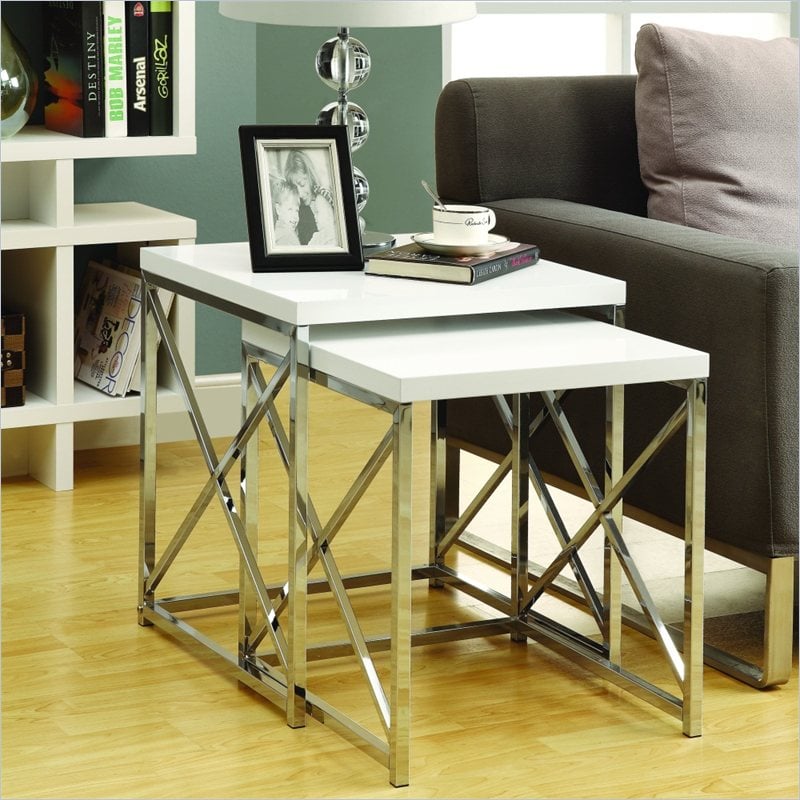 ---
Have you ever stepped in a plate of appetizers after a party? Maybe you've kicked over a half consumed glass of juice. Or worse, red wine. Consider adding nesting tables to the common areas in your home.
Rectangular nesting tables or TV nesting tables are a better way to snack and entertain in your common rooms, without permanently adding tables you won't use most of the time.
Your guests and family members probably don't mean to be careless when they put dishes and cutlery where they don't belong. Yet, you automatically feel ambushed when a rouge plate of cheese squishes under your feet. Nesting tables can relieve the frustration of errant snacks and prevent disasters like knocking a can of stale grape pop across brand new carpet.
When you have the extra surface space of nesting tables during a party, you're free to enjoy more of the night yourself. Don't spend your valued time with friends and family worrying about the mess of food and drink spills. Nesting tables won't guarantee a stain-free home, but it's a measure of prevention that goes a long way.
Nesting Tables to Keep You Organized
Is your biggest pet peeve that folded newspaper your spouse tucks under the sofa? Do you constantly discover magazines and flyers collecting beside your recliner? You might find that TV nesting tables are a great solution.
If you have children, you're always looking for a better way to stay organized. Nesting tables can help. From primary grades to the teen years, your children may need to share your living room for more than family time. TV nesting tables can also be used for coloring and puzzles. Or for your teens, nesting tables can provide a personal space for snacking during TV time.
The choice to purchase nesting tables is often about maximizing small spaces. So when you shop, be sure you look carefully at measurements to make sure the tables you select will, in fact, fit where you want them to.
Even offices can benefit from nesting tables. Feel silly about booking the boardroom for just you and one other person? If one-to-one client or peer meetings are frequent for you, consider an elegant set of oval nesting tables that will still set a professional tone in your own office. For smaller rooms, temporarily add extra surface space with rectangular nesting tables that tuck easily back into a corner.
Stylish Black and Glass Nesting Tables
Nesting tables aren't just practical; they're available in stylish finishes, shapes and designs that will complement your living room, basement, or wherever you might like to entertain. Glass nesting tables are a popular choice for contemporary interiors or spaces where extra furniture might look crowded.
Oval nesting tables and rectangular nesting tables let you customize the feel of your room or, if needed, accommodate available space. Alternately, black nesting tables can provide a sleek, subtle look for avid minimalists.
No matter how particular your interiors might be, there is a set of nesting tables that is right for you. You can express yourself with artful ceramic tile and mosaics or beautiful wood finishes like cherry and oak.