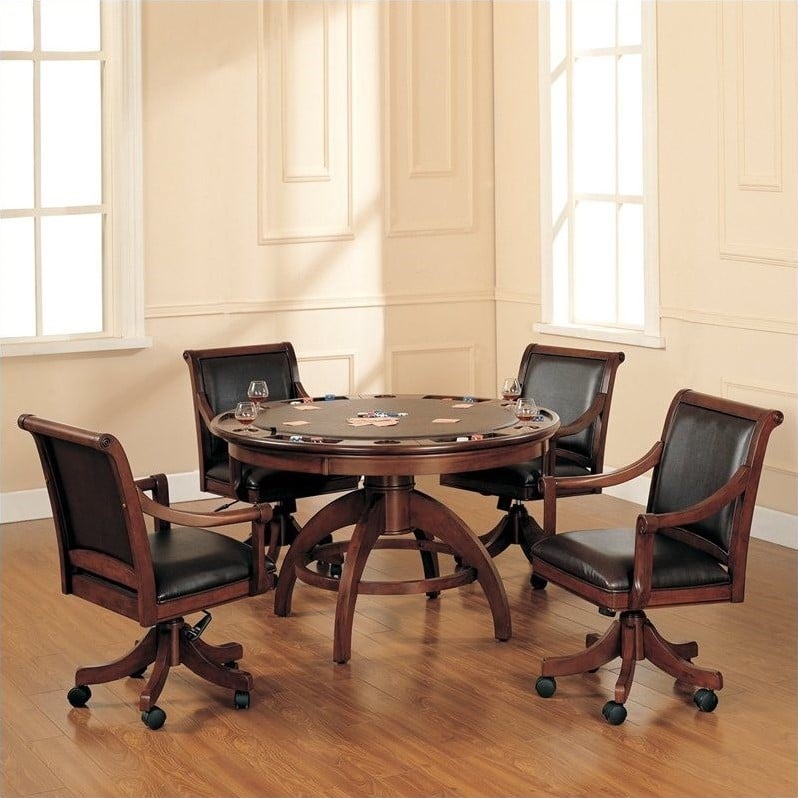 Entertaining your friends and family with a game table is a great way to create fun activities at home. Enjoy the fun of a card game or board game any time. When you have dedicated game space, you won't have to worry about clearing your dining room table, kitchen table or kitchen island when the mood strikes to start your favorite card game or board game. Convertible wood card game tables also make a lovely alternative to a dining table in a smaller home or apartment where you need every piece of furniture to meet multiple needs.
Before you purchase a card table, poker table or other style of game table for your home bar or basement recreation space, we have a few points to recommend for consideration. What part of your home will your game table occupy? Do you have a games room, den, library or other dedicated room? How much space can you devote to your game table? And budget is almost always a factor. Since you could spend a little or a lot on a game table, we suggest having an idea of how much you want to spend before you start looking.
Wood Game Tables
The top tier of card game tables are wood tables in a variety of finishes and sizes, some with legs and some with a central pedestal design. Shapes include round, square, octagon and others. Many of these tables feature traditional wood design elements like banister legs and molding accented edges. Regardless of shape or style, what makes a wood table designed specifically for card games is the ability to seat many people in close quarters. Naturally, you will find several models of wood game tables that come with 4 to 6 matching chairs as well. Some wood game tables have a plain wood surface suitable for meals or cocktails. While other game tables feature build in chip holders, cup holders and a felt layer, with or without specific card game markings.
Folding Game Tables
If your interest in having a game table is periodic or you can't commit to having a game table occupy floor space permanently, consider a folding game table instead. Instead of wood game table frames with matching chairs, you will find a selection of more affordable plastic and metal game tables, usually with a colorful fabric layer. These game tables also come with chip holders, cup holders and table tops designed with card game markings.
For a game table that is both portable and economical, you might find that a poker table top is your best bet. These table top only products are designed to fit over your existing kitchen table, dining table or coffee table. Although you'll have to devote some time to clearing off the table you choose to play on, you do have the flexibility to move game night from your kitchen to your living room or any other space in your home where you already have a table.