As the number of hours we spend at a desk in front of a computer increases – at work and at home – so to does the need for a comfortable, ergonomic workspace. And while ergonomic chairs and ergonomic desks will always be important factors, there are many more that should be considered.
The US Occupational Safety and Health Administration (OSHA) has published a handy guide to creating a safe and comfortable computer workstation, as well as an accompanying purchasing guide for ergonomic office furniture. And as you'll see, most of these simple yet effective guidelines can be implemented right here at Cymax.
Desks and workspaces
According to the OSHA, the depth and height of a desk are two important considerations. When it comes to choosing computer desks, the group recommends surfaces at least 30 inches deep, to accommodate a computer monitor and keyboard, and 20 – 28 inches high, or roughly elbow height for the user. There also needs to be sufficient space underneath for your legs while sitting in a number of positions.
Cymax has a large range of computer desks that come in heights ranging from 28 inches to 65 inches and over.
Home office desks
are also sorted by width, from 42 inches and under to 65 inches and over, providing ample space to spread your components and accessories and move freely. For true flexibility, in line with OSHA guidelines, consider an
adjustable desk
.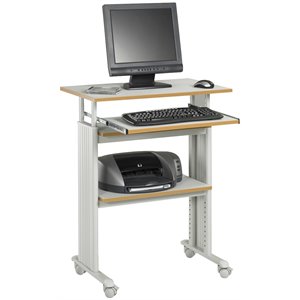 Ergonomic chairs
The first thing to look for in an ergonomic office chair is adjustability – height, tilt and swivel – according to the OSHA. You should be able to adjust the height of your chair so your legs are at a 90- to 120-degree angle to your body. The OSHA also recommends that chairs be fitted with sturdy backrests and seats, padded and contoured for support. Armrests should be removable and adjustable.
Cymax's collection of office chairs includes a full range of height options, adjustable office chairs chief among them. Padded back- and armrests are standard, although customers concerned about ergonomics should consider a mid-back or high-back office chair for additional support.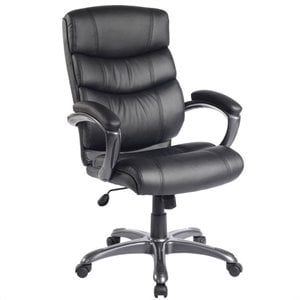 Placement and posture
Effective ergonomics doesn't end at the checkout, as the OSHA points out. It is vital that the user configures the furniture in a way that makes using it safe and comfortable. Key points to remember are:
Your head and neck should be upright, without slouching (check the height of your desk, chair and monitor)
Your head neck and truck should all face forward (check your chair)
Your arms should be close to your body (check your armrests)
Your feet should rest flat on the floor, or be supported by a footrest (check your chair)