---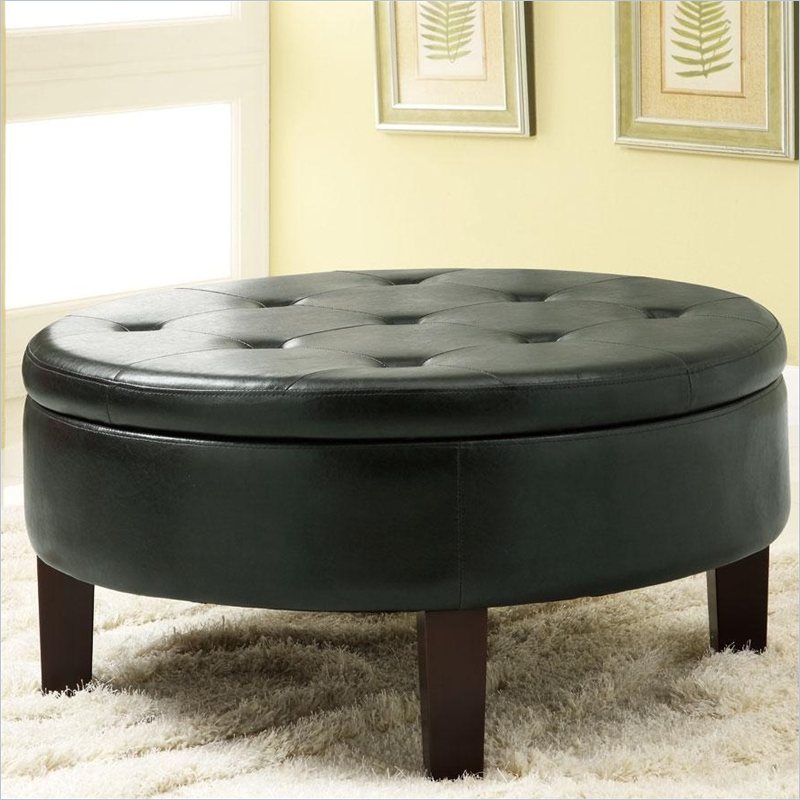 ---
Buying an Ottoman
Ottomans are appealing pieces of furniture that can add an interesting décor accent to your living room. Not only do they provide an additional visual layer, but they're extremely functional and comfortable add-ons for your living room or den. Ottomans are a piece of furniture consisting of a padded, upholstered seat or bench without arms. Upholstered ottomans can be used as either stools or footrests and are often paired with sofas, recliners or club chairs.
Ottoman Shapes
The shape of an ottoman can have a big effect on how it fits in with the surrounding furniture. Round ottomans are great for packing comfort into a small package and are very complementary when paired with round sofas. On the other hand, they can act as a visual contrast if the majority of your furniture is made up of clean, straight lines and right angles.
Square ottomans are great because they can be partnered with nearly every type of sofa. A square ottoman paired with a matching upholstered chair creates a unified look. Square ottomans can also be used as a substitute for coffee tables if you feel like the room is dominated by hard lines and angles; an ottoman will soften up the room's appearance. Line up multiple square ottomans and you'll have a decent sized table, or just choose a bench ottoman.
Rectangular ottomans are a great alternative to coffee tables, or they can be used more often than not as a stool and place to sit.
Ottoman Material
When it comes to choosing a material for your ottoman, take a moment to think about your lifestyle. Leather ottomans are quite durable and aren't as susceptible to tearing or fraying as fabric, but leather is more prone to grease stains from common household items like peanut butter, ink or oil; so if you have young children, leather might not be for you. Vinyl ottomans are a similar but less expensive option.
Fabric is your all-around material, and works well with the majority of furniture, although you might run into trouble if you attempt to pair a fabric ottoman with a leather chair or sofa. A microfiber ottoman is also a great choice, as it's easy to clean and maintain with the added bonus of being extremely soft and comfortable.
If you're truly worried about damaging the material, there's a great selection of ottoman slipcovers that will keep your ottoman protected while allowing you to change styles on the fly.
Ottoman Functions
Ottomans have multiple uses and purposes. A cocktail ottoman has a top that can be flipped and used as a serving tray to hold drinks and food, and coffee table ottomans perform a similar duty. Storage ottomans are great for those with a cluttered household. Not only will they store items scattered about the room – toys, DVDs, remotes etc. – but those things will be concealed so you won't have to worry about sacrificing visual style.
Ottomans are extremely handy to have either on their own or paired with a sofa. Whether you're looking for extra storage, a coffee table or just somewhere to put your feet up, try out an ottoman and chances are you'll fall in love.
The phrase, "get your feet off the coffee table," need never be said again in your house with today's selection of coffee table designs. The traditional use of a coffee table has been a surface for books and drinks. While an ottoman has been primarily a padded footrest.
Break the mold in your home with a coffee table ottoman. Contemporary interiors are now incorporating large flat-topped ottomans that do double-duty as coffee tables. As a space-saver and an added level of comfort, these coffee tables are sure to be a conversation piece.
Ottoman Coffee Tables
Firmer padding is the first thing you'll notice about a coffee table ottoman. Also referred to as a cocktail ottoman, these clever design hybrids come in leather, chenille, microfiber, and other upholstery fabrics.
If you plan to lean towards the coffee table use of your cocktail ottoman, look for the flatter surfaces as some variations with buttons or 'tufted' tops are too uneven for resting glasses of liquid. You can also supplement ottoman coffee tables with a small tray for added stability.
When you opt for a centrally displayed round coffee table ottoman or a square model to tuck neatly in with a sectional sofa, the availability on the market will be a pleasant surprise.
---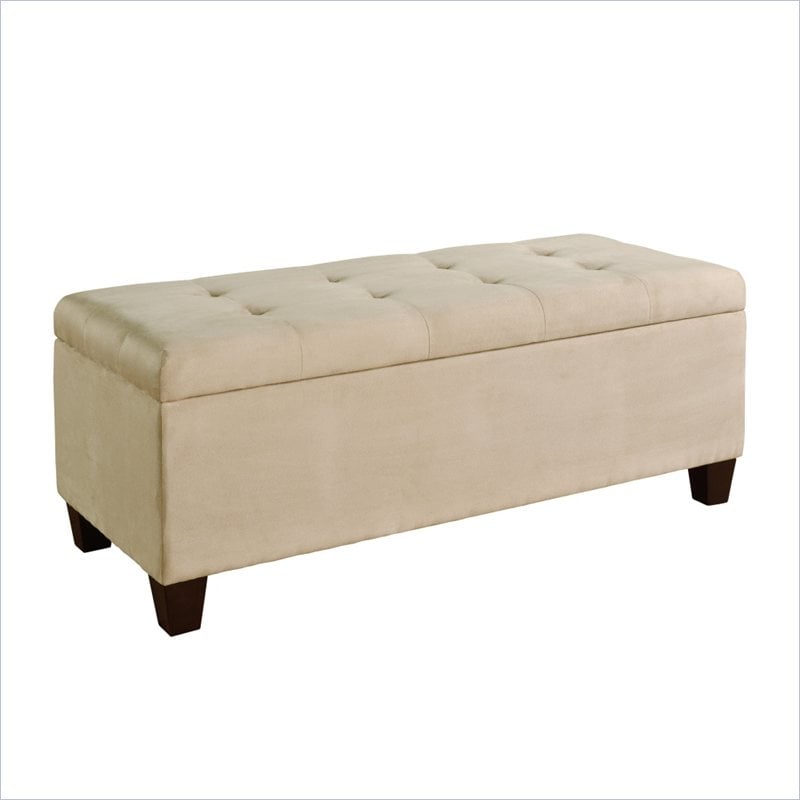 ---
Traditional Ottomans still Plentiful
Members of your family may still be craving a plush foot-only space they don't have to share with plates and cups. Rest assured that ottomans continue to be available in many sizes with soft pillow-like tops. Long bench-style ottomans and individual round, rectangular, and square models give you the flexibility you need to select the perfect piece for your living room set.
Storage Ottomans
Forgoing the coffee table ottoman and moving beyond the personal footrest size, you have the option of a handy storage ottoman. Hinged and removable lids open to reveal a space for books, toys, DVDs, or any other living room clutter you'd like to quickly clear away. Choose an ottoman with drawers for magazines and remotes. Opt for a larger trunk-style model to store blankets and throw pillows. Storage ottomans also come with trays for food and drinks or removable baskets that keep the contents of your ottoman easily visible.
Console Table with Ottoman Accent
Naturally, you'd like to coordinate your ottoman with your sofa and chairs for a perfectly appointed room. But have you ever considered pairing an ottoman with other tables in your living room or den instead? Coordinating a coffee, end, or console table with ottoman models on the market today is a breeze. You'll find trendy choices that make even the most reluctant interior decorator a surprising success.
Look at brands like Coaster and Simmons for intelligently designed coffee table ottomans and bring resourcefulness home. Remember to weigh rectangular or square versus round coffee table ottoman models that best fit all your expectations.
Still looking for regular ottomans? You'll have no trouble finding a straightforward ottoman that pairs with your console table, nesting tables, or coffee table. Stay organized with a storage ottoman. Or get the personal footrest that makes the difference at the end of a long day.