---
---
Looking to add a loveseat to your living room or den? The loveseat is a versatile piece of furniture that can be used for a variety of different situations and styles. Designed to fit two comfortably (hence the name), the loveseat sofa is perfect for couples, families or even people living on their own who just want extra space to stretch out.
Loveseats
come in multiple shapes, styles and sizes, so before you buy make sure you keep a few of these important things in mind.
Loveseat Size
While loveseats generally fit two people, that doesn't mean that every loveseat size is the same. Length can range anywhere from 50" to 70", give or take a few inches. Take a measurement of the space you're planning on putting the loveseat, and that will give you a base for how big or small your loveseat can be. Because they're a medium-sized sofa, loveseats are a great fit for smaller or oddly shaped rooms, or as a complementary piece next to a larger sofa in more spacious rooms.
---
---
Loveseat Materials
A leather loveseat is usually considered the 'ultimate' loveseat, but that doesn't mean it's the only material available. You can choose from leather, microfiber or fabric depending on your personal style, taste and budget.
Leather is the most expensive option, but it is extremely comfortable and a visually striking choice. Microfiber is very soft (similar to velour) and incredibly easy to clean and maintain. Fabric is best-suited for those looking for a wider selection of patterns, color and styles.
---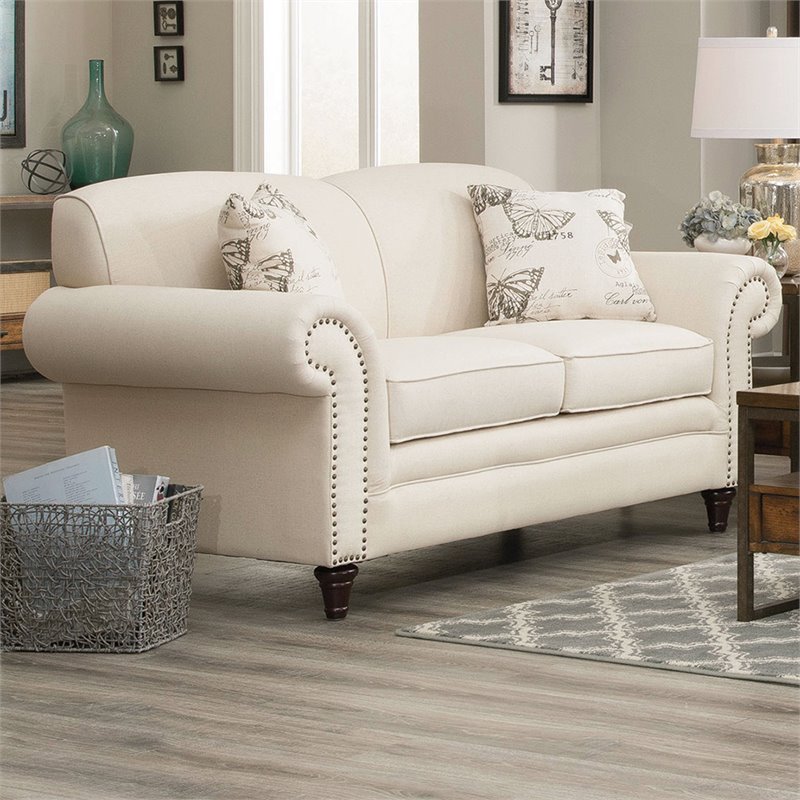 ---
Loveseat Style
The three most common loveseat styles are contemporary, traditional and modern. Which one you choose will depend on the surrounding furniture and décor of the room.
Traditional loveseats will feature decorative markings and elaborate designs. The design will feature more extensive embellishments and give off a formal air. Common things to look for are cabriole legs, wood pieces, decorative carvings, dark finishes and grander scale. These loveseats work best in rooms with a classic or more formal theme.
A contemporary sofa has fewer frills than its traditional counterpart, with simple and sleek design that offers a clean and distinct look. A leather loveseat come with a geometric shape, soft and curved edges to add a bit of 'oomph', and neutral colors and tones that quietly accentuate the room's décor is a perfect example.
A modern loveseat will be bold in its simplicity. Offering no decoration or ornamentation, modern loveseats will be low to the ground with squat arm and backrests, and will be comprised of a combination of sleek materials like leather and metal. Modern loveseats are a great addition to simple and sparse rooms that are heavy on straight and clean lines.
Loveseat Price
The price of a loveseat can shift dramatically, ranging anywhere from under $200 to around $3,000, so there's plenty of leeway depending on your budget. That's not to say you can't find a high quality discount loveseat, but remember not to skimp if your budget allows you to spend a bit more. Your loveseat will likely receive a fair amount of traffic, so you'll want to find a durable and comfortable loveseat sofa that meets your style and comfort expectations.