Baby Furniture Buying Guide
Are you looking to buy baby furniture? It's important to have your home properly set up for your newest addition to the family. If you're becoming a parent for the first time, it can definitely be a challenge to pick out baby furnishings and products. The following baby furniture buy guide will feature items for your baby that are safe, practical, and reliable for your growing family.
Buying Baby Furniture: Beds
Bassinets are basically portable sleeping spaces for your baby. They can be made with woven wood (normally called a Moses basket) while the standard bassinets are made with woven plastic. They also come with a stand, so you don't have to place the bassinet on the floor. They're easy to transport around your home, and are ideal for the first few months when your baby needs its sleep but you want to watch them from wherever you are in the house. Some bassinets feature rolling casters that lock and handles for the maximum in mobility.
Baby Cradles are meant to help your baby sleep with their rocking base that goes back and forth in a soothing motion. They should only be used until the baby is six months old, because at that age, they start learning how to sit and pull themselves up, which can be dangerous because the cradle could rock over.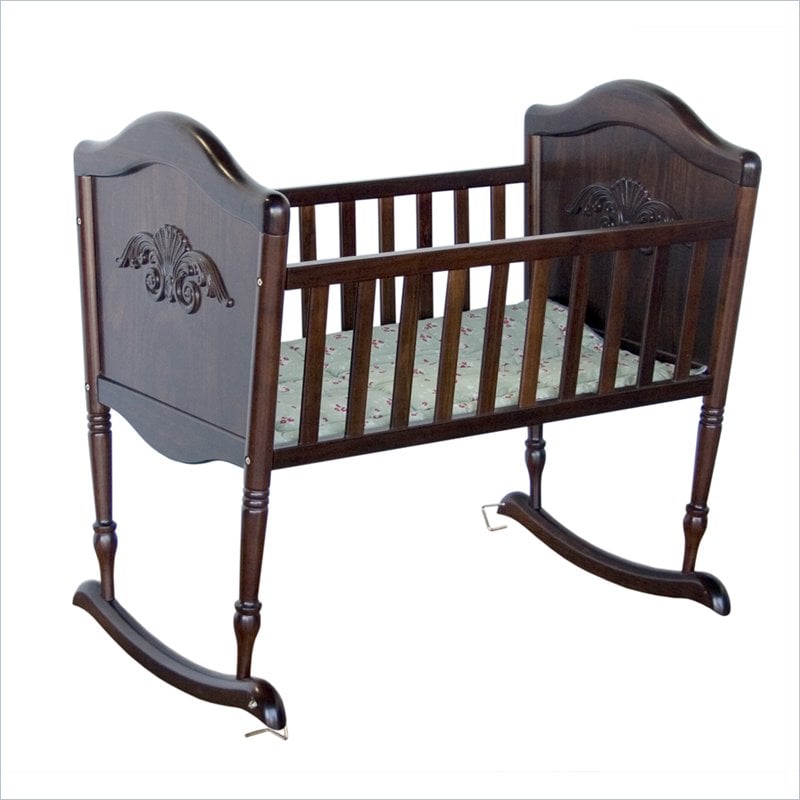 The DaVinci Chloe Wood Baby Cradle in Espresso can actually lock in place with stopper pins on the base for added safety.



Cribs are the main sleeping space for babies and are suitable from birth to the toddler stage. Here are the different cribs types you can choose from:





Adjustable Height – the mattress can be raised to several different heights, depending on the age and size of your baby. The lower the mattress, the older the child.




Casters– for easy mobility, try a crib with lockable rolling castors on the legs. You can move it if you ever need to vacuum or you need it in another room.




Convertible Cribs – these cribs can eventually convert to a toddler bed and even a day bed along the way, so it will grow with your child. A good money-saving option if you're not planning on passing a standard crib down to another newborn. Some convertible cribs have a safety rail when converted to a toddler bed, which is important to teach your toddler to sleep on the bed without rolling off.




Crib Sets come in all sorts of combinations. You can find sets that include the crib and the mattress, or a changing table and dresser. They are a great money saving option because you won't have to purchase the items separately.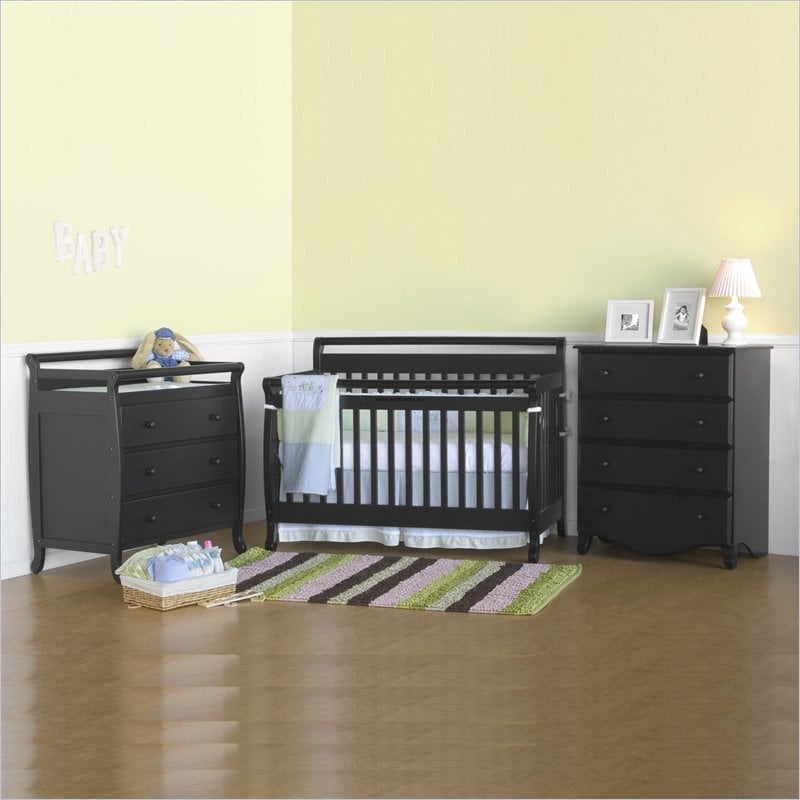 The DaVinci Emily 4-in-1 Wood Baby Crib Set in Ebony comes with a four drawer chest and a three drawer changing table, as well as the convertible crib. Perfect if you want your nursery pieces to match up together.


Toddler Beds are the step between a crib and a twin-sized bed. Once your toddler is too big for their crib, but too small for a regular bed, a toddler bed is a nice fit for the in-between stage.





Baby Furniture
Changing Tables are handy if you want to change your baby standing up, and they offer plenty of storage for diapers, wipes, powders, and any other items you need for changing. Make sure the table you go with has rails at the side to prevent your baby from rolling off.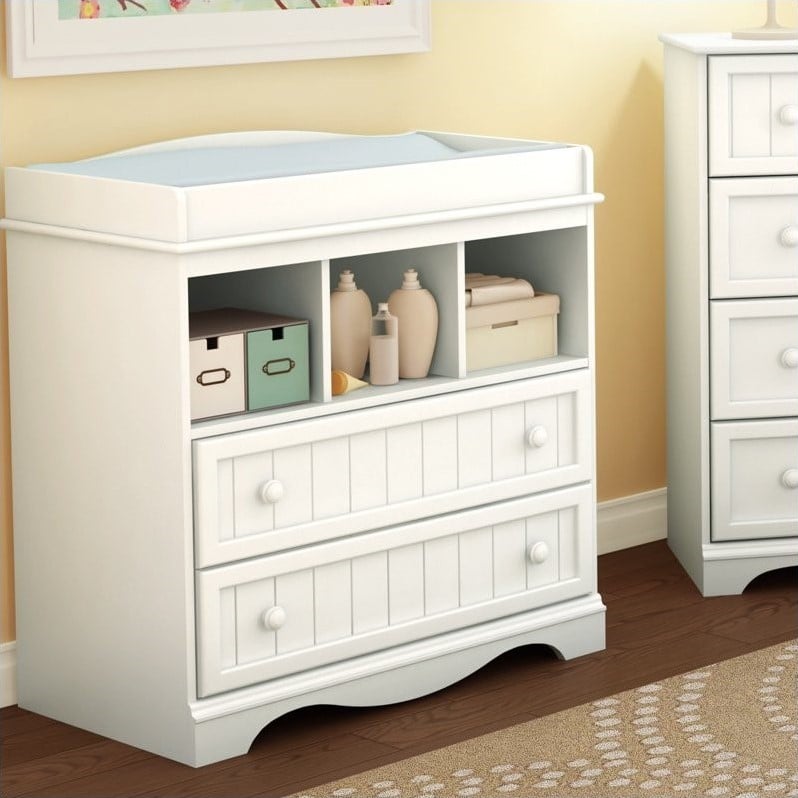 The South Shore Furniture Andover Changing Table has rails on its side and storage slots and drawers for keeping items handy. If you don't feel like a changing table is necessary, you can always invest in a changing pad. Just place it anywhere and get your baby changed on the go!
Chairs for your baby vary between the following:
Rocking Chairs – meant for you to sit in while you nurse your baby or rock it to sleep.
High Chairs – when your baby can sit up by themselves, you can feed them in their own highchair. They can come with a lot of features, like a slide-out tray for more surface area, different reclining and height positions, and dishwasher/washing machine safe materials. Many have rolling casters so you can move the high chair around the kitchen, and easily folds up to be stored away.
Car Seats are one of the most important purchases you'll make for your baby is their car seat. Most are rear-facing to keep them as safe as possible in case of an accident.
Booster Seats help your baby properly fit in a chair, try a booster seat. If your baby is sitting in a chair at home, booster seats help them sit up, keeps them safe, and offers them something to play with.
Play Yards or Pens are closed off, safe areas for your baby to play in while you are busy with chores or cooking. A lot of models are portable with rolling casters and can be packed away to take with you when travelling.
Baby Security Gates are used when you let your toddler run free throughout the house. If you want to protect them from falling down or crawling up stairs, you can place the gate in front. You can also keep them out of the kitchen or just keep them in one room by blocking off the doors with a security gate.
Buy Baby Accessories
Baby Swings have the ability to keep your baby entertained and safe at the same time. You can buckle them in when you need your hands for something, and they can bounce or swing to entertain themselves. It can also be a great soothing tool. Some claim to mimic a mother's arm shape, so your baby will be more comfortable in it.
Crib Mattresses are important to consider for your baby's sleeping space. For safety reasons, they should be as firm as possible so your baby gets proper support. Soft, pliable mattresses are harder to get a grip on and your baby might have trouble turning on it, which can be a safety hazard if they are sleeping on their stomach and can't change positions. The construction material is all up to you! Some mattresses combine foam and innerspring to offer comfort and support at the same time.
Nursery Monitors allow you to check on your baby once he or she has fallen asleep. You'll be able to hear them crying immediately through the monitor system. In today's technologically advanced world, there are monitors that can offer crystal clear sound, or even models that mute the noise and show the noise decibels on a portable screen. The following monitors each have different modern features. One model actually vibrates when your baby cries, so you can keep it in your pocket just like your cell phone and feel when your baby needs you. Some baby monitors allow you to actually see your baby with its digital video system. You can also hear its cries through the monitor, and aim your own receiver at your face so your baby can see you too. You won't need to go into the nursery and disturb your baby with this system.
Crib Bedding for your baby's crib can include decorative pillows, sheets, and cozy blankets for a good night's sleep. They are meant to accent your baby's nursery, but shouldn't be in the crib until they can sit up for themselves.
Baby Hygiene
Baby Bath Tubs for your infant are designed for your baby to lie down in comfortably. You can fill it with water and easily bathe your baby, unlike in the basic sink. Some feature a shower head that makes it easier to spread water around, and a temperature indicator so you know when it's just warm enough and not too hot.
Potty Trainers help your toddler transfer from diapers to the toilet. They're smaller plastic toilets that train your toddler to use it instead of their diaper. There are lots of modernized options out there. Some actually talk to your child with encouraging phrases and hands out stickers to chart your child's progress!
Diaper Pails are to be placed next to your changing table for diaper disposal convenience. Many have a foot pedal that instantly pops the top and a deodorizing compartment to minimize odour.
Diaper Bags are for on-the-go parents to store diapers in when out and about. Diaper bags have actually gotten quite stylish over the years, so here are some fashionable examples for you to choose from. A more masculine touch is found in a men's diaper bag with a cool design, and some come with a changing pad inside.
More Baby Furniture and Accessories
Baby Strollers come in many different types of styles and feature different functions. When you want to take your baby out for a walk, here are some options for you to choose from:
Conventional – these are the basic strollers that normally come with a harness or belt, snack tray, cup holders, foot rests, brakes, and machine-washable padding.
Jogging Strollers – get your daily workout and take your baby along with you! A jogging baby stroller has been constructed of light, yet durable aluminium, and pneumatic wheels that can handle sharp turns and smaller spaces much easier than a traditional four-wheeled stroller. Jogging strollers can easily fold away and can carry children up to 80 pounds – practically double the weight of the conventional model.
Lightweight Strollers – if you're looking for a stroller that isn't bulky, so it will be easier to transport around. A lightweight option is a good choice. A unique design that has your baby facing you and is much taller than other strollers, so you won't have to bend down as far.
Lightweight strollers are normally less than 20 pounds and are suitable for short trips.
Tandem Stroller – if you have twins, or two babies close to the same age, consider a tandem stroller (where they sit front to back) or a double stroller (when they sit side by side). Tandem strollers can switch the direction of its seats so your children can face whichever way they like. It also features sun canopies to protect your little ones from the sun.
Tandem strollers are ideal for siblings close to the same age, so the older one can sit in front, and the younger one can be shielded in the back. A twin double stroller has plenty of storage and also features reclining seats. Double strollers are great for twins, so they can sit side by side and get a view of the world at the same time.
Umbrella Stroller – umbrella strollers are designed to protect your child from the elements. It features a giant canopy overhead that can protect from the rain and sun. An All-Weather Reclining Umbrella Stroller keeps your child cool in the summer and warm in the winter with its exposable or retractable mesh lining. Its canopy adjusts easily to shield your baby from the weather.
Dishware like a stay put bowl and cutlery is a great way to teach your children how to feed themselves without the spills. The spoon, fork, and bowl all have plastic suction cups to stick to any surface area, so there will be no dropped utensils on the ground.
Now you should be ready to buy baby furniture! If you have any questions please call our help customer service team at 1-866-740-9830