---
---
Adding a kitchen cart or a kitchen island to your home can be supremely beneficial, providing workspace as well as storage – two things that are extremly valuable when you're working in the kitchen. If you've got a kitchen stuffed with appliances, gadgets, ingredients as well as pots and pans, then a kitchen cart or island could be your saving grace.
Kitchen carts utilize the unused space in your kitchen, giving you more room to operate. Kitchen carts are generally smaller than kitchen islands, but the two share many similar features, so it really just depends on the size of your kitchen and how much room you have to spare. Because kitchen carts and freestanding kitchen islands are mobile, you can redesign your kitchen on the fly or make these units the centerpiece of your room.
Storage
You can't have too much storage! Kitchen carts and islands provide plenty. Bare bones carts come with at least one shelf and a few drawers. But you can find Home Styles kitchen carts, Winsome kitchen carts and other great carts that are jam-packed with features that make your preparation experience so much easier:
A spice rack.


A stemware rack for your wine glasses.


Utility hooks to hold your utensils, pot holders and pots and pans.


A towel rack.


A wine rack to hold all your favorite bottles of vino.
Carts and islands that come with drop leafs are especially handy, as they can be expanded when you need extra space, and then tucked away when you're all finished. You can find kitchen carts or kitchen islands that come with cabinets that store dishes and appliances, or to display fine china and other eye-catching pieces.
---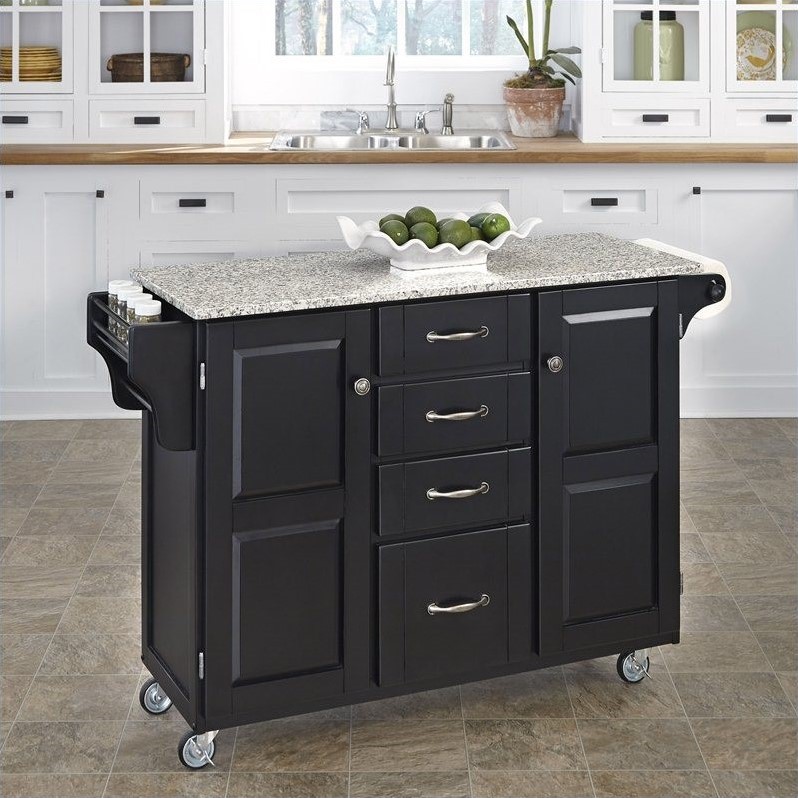 ---
Appearance and Functionality
When you're buying a kitchen cart or kitchen island, make sure that the style matches with the rest of the room's décor. With minimal effort you'll be able to find a black kitchen cart, a stainless steel kitchen cart, or whatever it is you need to make your new addition feel like a natural extension of the rest of the room. Depending on your needs, there are different types of table tops available for your carts and islands. A stainless steel top fits in perfectly with a modern kitchen while projecting a professional look, plus it's extremely easy to clean, while a butcher block top gives you a thick wood surface tailored to food preparation that will keep your knives from dulling.
Casters give your carts and islands mobility, so if you think that you need a work station that is maneuverable, casters are a must. A backsplash will protect the wall or space adjacent to the countertop from splashes or spills.
When buying a kitchen cart, kitchen island, serving cart or kitchen trolley, just remember that there are so many different options available, so you should never settle. Find one that fits both your stylistic and functional needs.