Home -> Baby Changing Tables -> Baby Changing Tables Buying Guide


Baby Changing Tables Buying Guide
Baby Changing Table Buying Guide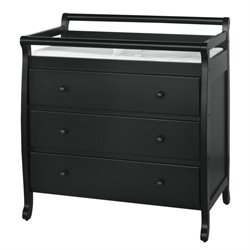 When you're furnishing your baby's nursery, a baby changing table isn't the first piece of furniture that springs to mind, but it's an important piece nonetheless. It's true that you can change your baby on the floor, the bed, the countertop etc., but it's nice to have a reliable place to change your baby's diaper that will be comfortable for both you and your little one. On any given day, you'll be changing your baby's diaper anywhere from 8-15 times, so make it easy on yourself and find a safe and reliable baby changing table.
A baby changing table positions the baby at a height that won't require you to be bent over in an awkward position, saving you unnecessary back pain. Look for a changing table that reaches to about waist height; that way you won't have to twist or bend in order to finish the job.
Some people hesitate when it comes to purchasing a baby changing table because they think it will become redundant within a year or two. While this may be the case, oftentimes manufacturers produce baby changing tables that can be repurposed as a dresser or desk.
A Safe Baby Changing Table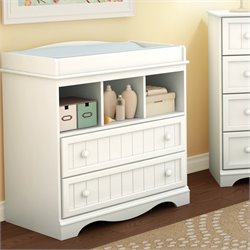 Your baby's safety is your number one concern, and there are a few things you can do to ensure that your baby will be safe whenever it's time for a change. You can find changing tables that include safety straps and guardrails that will keep your baby secured safely in the confines of the table. Also, look for a changing table with rounded corners so that your baby won't get caught on any sharp edges.
Baby changing tables often come with a changing table pad that will keep your baby comfortable, but if you think it's too thin, simply replace it with a thicker pad. Also, if your changing pad is machine washable, make sure to throw it in the wash on a regular basis.
The best way to ensure that your baby changing table is safe is to go with a trusted manufacturer like DaVinci changing tables, Babyletto Modo changing tables, Child Craft Changing tables and more.
Baby Table Style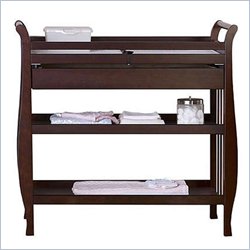 As stated before, oftentimes people who buy baby changing tables will repurpose them as dressers or desks down the road. If this is your plan, make sure to pick out a style that you'll appreciate for years. A wood changing table or oak changing table with natural or dark finishes are a safe and reliable choice, as they'll be able to fit in the majority of most rooms.
If you have a baby girl and you're planning on turning the baby changing table into a dresser for her room, then it's perfectly fine to choose something a bit more exclusive. A pink baby changing table would be suitable in this situation. Just remember to have a little foresight when you're picking out a baby changing table, as it's quite possible that you'll be using it (as a dresser or desk) for years and years.