Home -> Club Chairs -> Club Chairs Buying Guide


Club Chairs Buying Guide
Club Chair Buying Guide
Club Chair Buying Guide

To add some dimension to your living room or bedroom, consider a new club chair. They can be a comfy solo spot to read, or a group of them can become a conversation area, centered with a coffee table or ottoman. Before you search for a club chair, make sure you know how much space you have for it in your living area. If the chair you select is too big, it will obviously not fit very well, and if it's too small, it will look awkward.
What is the difference between a club chair and an armchair? Basically, an armchair is always modeled to have arms. Club chairs don't necessarily have come with arms; they can be armless or feature just one arm.
The following club chair buying guide will help you in your search for the perfect addition to your living space:
Formal Club Chairs
If you've got a formal living room or bedroom, and you want a chair that's a little more upscale, take a look at the following selections:


Available in black or brown leather, the Van Gogh Designs Fresno Leather Club Chair has a rich sheen and exposed legs that give it an expensive look.


The contrast of the white leather and espresso legs on the Stylus Brook Club Chair Leather calls for a former look, along with its tufted back.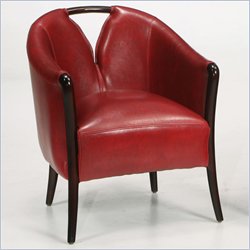 The unique spilt back featured in the Armen Art Furniture Kevin Club Red Leather Club Chair makes it a piece of art in itself. It also stands out with its read leather finish and mahogany finished hardwood frame.
Informal Club Chairs
Need a chair that's fit for a comfy and casual room? Check out these picks:


The neutral tan colour of the Klaussner Furniture Earle Upholstered Club Chair will match almost any family room or den. It's also extremely comfy with its overstuffed arms and seat cushions.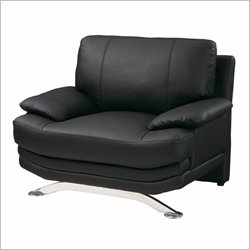 The wide stance of the Global Furniture USA Williams Black Leather Club Chair has a casual, contemporary look. The sleek metal legs offer an updated look on an old family room favourite.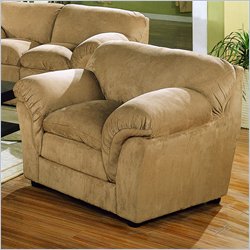 For a true sense of comfort and tranquility, the Coaster Hayden Microfiber Pillow Top Microfiber Club Chair is upholstered in soft, smooth microfiber and stuffed with a padded pillow top for the comfiest seating spot.
Durable and classy, a high-quality leather club chair is a great investment for your home. The first club chairs were upholstered in leather in the late 1800's. They naturally scuff and wear over time, but it only adds to leather's great look. Here are examples of best-selling leather chairs:


Upholstered in the finest Italian top grain leather, the Finer By Design Belvedere Leather Brown Club Chair gives off an antique vibe with its decorative brass nail heads and rich brown colour. It's been stuffed with down blend cushions and a foam core for a super comfortable seat.


Modern and chic, the Alphaville Baliette Modern Black Leather Club Chair is also upholstered in Italian leather, giving off a rich, bold look. It features a stainless steel exposed base frame that allows you to sink into it deeper than other chairs.


For a chair with a country charm, try the Kathy Ireland Home by Omnia Furniture Leather Leather Club Chair. It comes in dozens of leather finishes, and with its relaxed, voluminous presence, you'll be able to find a place for it in your home.
If you're all about colours and patterns, fabric chairs offer dozens of different styles for you to choose from. Fabric is also offered in a selection of materials. Choose from:
Polyester



The simply contemporary Klaussner Furniture Simone Fabric Club Chair in Libre Sage is upholstered in sage green polyester with exposed mahogany feet.


Try the Klaussner Furniture Simone Tan Club Chair in Whirlwind Walnut if you're a pattern lover.
Microsuede



The soft feeling of microsuede is featured in the barrel 4D Concepts Chair and Ottoman. Its curved back and cherry finished feet give it a definite urban feel.
Microfiber



For the softest fabric choice possible, try the Nfusion Victoria Brown Fabric Club Chair. Not only is it soft and smooth, microfiber can easily be cleaned with a damp cloth.
Club Chairs & Ottomans

There are club chairs out there that come with matching ottomans, either to put your feet up on or use as a makeshift coffee table. They can also be used as extra seating if you need it.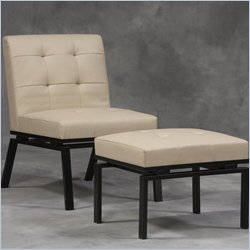 If you love the look of leather but can't afford the price, try a club chair in vinyl, like the armless Linon Trento Slipper Contemporary Armless Club Chair and Ottoman Set. This chair's black metal frame contrasts well with the ivory vinyl.


The cozy Finer By Design Berkeley Mocha Fabric Chair and Ottoman looks like a dream to relax on! It's upholstered in a brown cotton/poly blend fabric that's been treated with Scotchguard for stain repelling, and comes with two cushions in the back for extra comfort.


The Klaussner Fifi White Club Chair and Ottoman is upholstered in a natural white fabric with a visually appealing cushion setup in the back. The unique arms that curve up at the top also add an amount of visual interest.
Club Chair Backs
You can also select your living room chair on the way the back has been modeled or upholstered.


Fixed-Back
These chairs have a cushioned back that is straight up to support your posture.
The soft, regenerated leather that makes up the Eurostyle Leonardo Fixed Back Club Chair will keep you seated for hours.


Tight-Back
Tight-back chairs can either be straight up or tilted, but normally aren't cushioned. They are still comfortable, though, because they have flexible slats that cradle your back. The innovative Alphaville Wassily Tight Back Club Chair features a polished stainless steel frame and Italian leather slats for luxury comfort.


Pillow-Back
Instead of a cushion for a back, a separate pillow lines the back for extra comfort. Combine retro with modern styling with the Van Gogh Designs Slim Retro Club Chair. Choose from your choice of fabric pattern and colour to customize the look of your chair.
Remember that you don't necessarily have to match your new chair with your sofa or bedroom furniture. When club chairs have their own distinct style apart from the rest of the room, they can almost act as a focal point or accent piece. And most of all – they must be comfy to you! What's the point in having a nice-looking chair that isn't even comfortable to sit in?