Home -> Writing Desks -> Writing Desks Buying Guide


Writing Desks Buying Guide
Choose a Type of Writing Desk

Writing desks have a certain élan that is glamorous, classic and sophisticated. While they are reminiscent of times gone by, writing desks display an heirloom elegance that never goes out of style. No matter where you position your writing desk – in a niche, in a corner of the room or even a hallway – it's going to be the center of attention. Select a writing desk that says "you:" choose a type of writing desk that will best express your personality.
Standard Writing Desks
Standard writing desks come in a variety of shapes, sizes, materials, finishes and styles. They typically resemble a table and usually have a smooth, generous work surface. Depending on the style and the manufacturer, they might or might not have drawers. If you are buying a writing desk for your home office and will be using a computer regularly, consider purchasing one that includes hidden storage for the CPU and the keyboard. Usually made of wood, a standard writing desk has an uncluttered look with a timeless appeal, making it the ideal accent piece for a living room, den, home office or guest room. Adding a writing desk to a home or home office creates a unique work space atmosphere.
Secretary Desks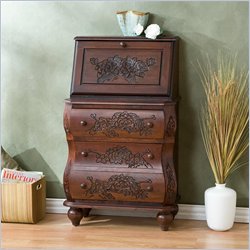 Secretary desks, also known as drop-front desks, are typically more compact than other types of writing desks, but are still available in a number of different sizes. A secretary desk is an ideal way to utilize "dead" space in a hallway, niche or awkwardly shaped room. They are usually made of wood and have a fold-down front that converts into a convenient writing surface. Hence their other name, drop-front desk. The work area can be easily hidden from sight by simply closing up the lid. Secretary desks that include drawers provide ample storage while using less floor space. A secretary desk can include handy organizational features such as a letter organizer, small drawers and cubbies with adjustable shelves.
Roll Top Desks
A roll-top writing desk has a cover that rolls down from the inside of the top of the cabinet, keeping documents safe and out-of-sight. Roll-top desks are traditionally made of wood and can have carved accents, hidden compartments, files drawers and organizers. Some types of roll top desks have been designed to accommodate a computer and its accompanying peripherals, which makes it especially handy if you want to keep the monitor from view when not in use. Roll-top desks add a stylish, vintage look to a home office, den, family room or hallway.