If you just haven't had a chance yet to dress up your back or buy new patio furniture for your deck, it's not too late! After all, as the saying goes, "It's not over until it's over." And summer is definitely not over yet. There is still plenty of time to whip your patio or backyard  into shape and transform it into a place where you can enjoy a little downtime on your own or barbecue burgers for the kids or entertain friends. It makes sense to decorate a patio, balcony or backyard area with the comforts and styles of indoor furniture because not only does it create an esthetic space for entertaining, it also will inspire you to get and stay outside more, allowing you to make the most of the good weather.
 
Gone are the days of decorating the backyard with just colored lanterns or tiki torches; as outdoor living spaces are becoming more popular, they are also becoming more trendy, chic and just plain fun. You can buy outdoor furniture that closely resembles their indoor counterparts, from outdoor sofas and outdoor armchairs to complete outdoor dining sets to fully operational outdoor kitchens. Decide what you want your outdoor living space to include: it can be as simple as some outdoor chairs gathered around a fire pit or as involved as a kitchen/dining area where you can cook and serve an entire meal outdoors.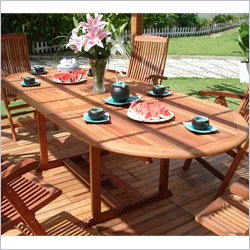 To dress up your backyard and give it that touch of pizazz that will take your outdoor entertaining to the next level, here are some simple things you can do.
As with any decorating project, whether it is indoor or out, it's always good to set a budget. It will help encourage you to spend within that limit.
If you're like most of us and live in locales that have seasons, select outdoor patio furniture that can be easily stored away. Things to look for are stackable chairs; tables that fold flat; a barbecue grill or outdoor home bar that can be rolled into a storage shed or garage.
Even if it's not going to be outdoors all-year-round, it should still be built to weather the weather. Choose outdoor furniture, whether it's made of wood or metal, that has a durable water and/or stain resistant finish. For outdoor patio furniture that is low-maintenance, plastic framed furniture is often as durable as outdoor furniture made of metal and wood while not requiring as much upkeep.
---
---
You might also like
---