Sometimes simple is best, as is the case with the South Shore Back Bay Platform Bed Frame Only in Dark Chocolate Finish. Doing away with superfluous extravagances, this platform bed is the perfect example of how straightforward design can be effortlessly effective. When they say less is more, this is what they're talking about.
This platform bed from South Shore makes the most of your available space, creating a minimalist approach in your bedroom. The clean, strong lines are a product of its sturdy and construction, and the low-to-the-ground design accentuates the feeling of extra space in the room. Designed to fit queen-sized mattresses, this bed provides ample space for two people and supports up to 500 pounds. If you're looking for an alternative to a boxspring, then this is the answer.
Great for guestrooms or the master bedroom, this versatile bed can become the centerpiece in any contemporary setting, and surrounded with similar bedroom furniture, can create a beautiful bedroom. Comfortable, affordable and impressive to look at, you'll be surprised by just how much you'll love this bed.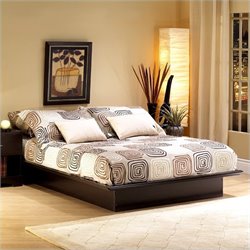 ---
---
You might also like
---