We know; redecorating your office can seem like a pretty lofty task. For some reason, the office accumulates a ton of junk, from coffee-stained files to trinkets and old software you'll never use again (just let go of the Windows 98 start-up disc, we promise you won't need it).
So how do you turn this cluttered room into an organized and stylish workspace? Strap on your hard hat and let's get to work.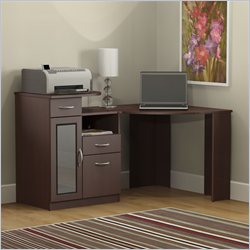 Step 1: Decide What Stays and What Goes
First things first, grab a garbage bag and start filling it. If you're like most people, you'll have collected plenty of things that belong in the trash basket over the years. Once you've cleaned out all of the scrap, it's time to choose what furniture you're going to keep. If you have a few pieces that are complementary, (and that you like) think about creating a theme that can put them to use.
Don't forget about the paint or wallpaper! A new coat of paint or a different wall paper pattern can be one of the quickest ways to transform your office.
Step 2: Take Measurements
We suggest that you clear out the room entirely, just so that you can get a fresh view of the room. Don't let the old set-up keep you stuck in the past. An empty room will really open you up to new possibilities. Take measurements of the room so you know how much space you have to work with and what size furniture you need.
Step 3: Past or Present?
Now it's time to decide if you want to keep the same style of furniture going forward or if you want to start from scratch and go in another direction. Here's a list of important furniture you'll want to put in your office: a desk, office chair, file cabinet, computer or bookcase. Keep a constant style in mind when you pick out new furniture; woods with decorative carvings and grandiose design for traditional rooms; or metals, woods and glass with simplistic style for modern-looking furniture.
Step 4: Accessorize
Once you have the overall design of the room figured out – you've chosen a color of paint or wallpaper for the walls, you've picked out new furniture, you've arranged it the way you want – you'll want to add some accessories that quietly complement the rest of the room. Some ideas you may want to consider are wall shelves, art, rugs and window treatments. Remember to not go overboard, as you just spent hours de-cluttering the room.
Step 5: Personalize
For the finishing touch, add some personal items that will make the office unique to you. A few framed photos or personal awards and keepsakes will go a long way in making you feel at home in your office.
---
---
You might also like
---