SKU:
CA600

Details:

Storage Unit
7 Drawers
47.24"H x 15.75"W x 11.81"D
3 Drawers
23.62"H x 15.75"W x 11.81"D
5 Drawers
35.43"H x 15.75"W x 11.81"D

Collection:
Halifax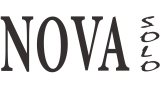 NovaSolo Furniture is a Danish furniture company in operations since 1996. All Novasolo products are designed and manufactured in house. We operate a complete production facility using only high grade materials, machinery and craftsmanship ensuring a consistent top quality product that we are proud to brand with our name and proud to have people welcome into their homes.