SKU:
D96-610-62-3093

Details:

Ottoman
Coffee Light Brown
14.75"H x 20"W x 18"D
Coffee Light Beige
14.75"H x 20"W x 18"D

Collection:
Ultramotion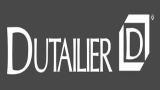 Dutailier is a Canadian private owned company, established nearly thirty years ago, in the small town of St-Pie, Quebec, located 45 minutes from Montreal. At the beginning, the company was manufacturing wood components and furniture including a few models of glider rockers. In 1988, following an in-depth strategic planning exercise it was decided to concentrate all efforts exclusively on glider rocker chair activities and to become the Expert of that furniture segment. From then on, Dutailier was able to concentrate all research to developing new products to better fit consumers' needs. Many of these patented mechanisms are the result of several market studies and tests from experts in the Research and Development team. The final result is the guarantee of the finest technology, superior quality and durability added to a variety of options and personalization. A smart decision which enabled Dutailier to become a Leader in the North-American and European markets with more than 4 million chairs manufactured to date. The company has risen to a prime position amongst furniture manufacturers in America, Europe and Asia.