---
---
Congratulations! You've found a top notch futon frame to put in your living room. But the battle is only half over. Now it's time to find a futon mattress that will perfectly complement your new sofa. Without a great mattress, your futon will never live up to your expectations, so don't skimp when it comes to choosing a futon mattress – it might be the most important part of your new sofa. Here are some things to consider when you're looking to buy a new futon mattress.
Futon Mattress Firmness
If you're planning on switching your futon between a bed and a sofa quite often, then it's important that you find a futon mattress with lots of flexibility. Each time you transition from sofa to bed, your mattress will bend. If your mattress has little flexibility, it won't take long for the mattress to become distorted. A pliable mattress is necessary for those switching between sofa and bed on a regular basis.
The rigidity of a mattress determines how firm the edges of the bed stay. This helps in determining how well a futon cover will fit. If the mattress is quite rigid, then you won't have any bunching or sagging after you put on the cover.
Firmness is generally considered to be the barometer for comfort. The firmer your mattress, the more likely you'll find it comfortable. As a general rule, the mattress should be no less than six inches thick; otherwise you'll probably find yourself becoming uncomfortable.
It might seem obvious, but it's worth mentioning that you need to find a futon mattress that is properly sized to the frame. A full size futon mattress fits with a full size frame, a twin futon mattress fits with a twin frame and so on and so forth. Buying an ill-fitted mattress is a waste of time and money.
---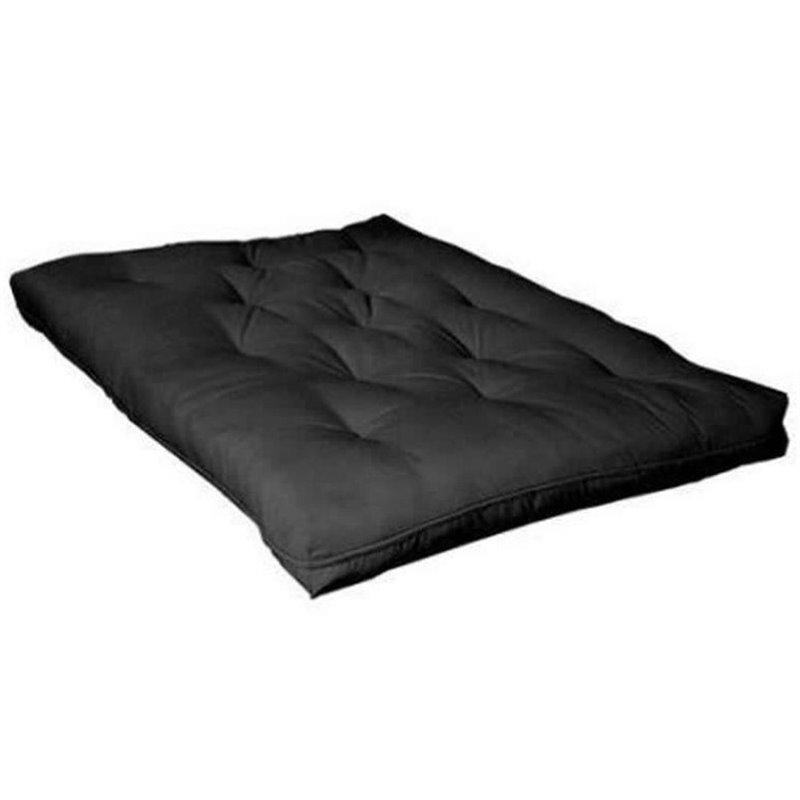 ---
Types of Futon Mattresses
One of the biggest decisions you'll have to make is what type of mattress you want. There are different types of mattresses available, and it's really a personal preference as to which one you'll choose.
Cotton or Foam – The traditional futon mattresses. Cotton or foam futon mattresses are made from layers of cotton and/or polyester. These are extremely flexible and the cotton fabrics allow the mattress to breathe.
Innerspring – Innerspring futon mattresses are similar to traditional bed mattresses in that they are made of springs. These mattresses don't have the flexibility of cotton and foam, so they are only recommended for futons that only fold once.
Futon Mattress Prices
People often make the mistake of spending all of their money on a futon frame, and then taking what is left over and using it on the futon mattress. This couldn't be a bigger mistake, as futon mattresses are vitally important to the overall comfort of the sofa.
If anything, make sure to wait until you can afford both a quality frame and mattress before you begin shopping for a futon. Remember that there are futon mattresses out there, but that doesn't mean they have to be low quality.