Home -> Computer Desks -> Computer Desks Buying Guide


Computer Desks Buying Guide
Writing Desks for Your Business Office

When designing your office and deciding how it should look and what it should include, don't forget to incorporate a writing desk in your interior design. While it might not seem high on your list of priorities when compared to an executive desk or an L-shaped computer desk, writing desks are elegant ways add sophistication to your signature style. It is also conducive to creativity and a quality work environment. And as a professional, you know the power of first impressions. To help you choose a writing desk that will enhance your work ethic and business transactions, this concise guide will outline what to look for.
Writing Desk Buying Tips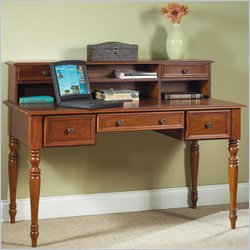 Will it be the desk you use the most? Decide where in your office the writing desk will go.
Especially if you'll be using a laptop at you're for the majority of the time you spend at work, laptop desks might be a viable alternative for you. While giving you somewhere to put your computer, a laptop desk will also allow you to spread out documents and other research materials.
Once you have decided on the exact location of the writing desk, measure the available space. This will give you a more exact idea of the size of desk that will fit.
Match your new writing desk to your executive desk and the other office furniture in style and color.
Many types of writing desks offer a minimum amount of storage space. Consider the storage options and any other features you would like your writing desk to have.
Part of the appeal of a writing desk is its visual impact. Select one with a type of finish that is esthetically pleasing to you.
Writing Desk Styles
Yes, your writing desk must be practical and functional, but that does not mean it can't be distinctive and stylish. While it should complement the other furnishings in your office, it should also be visually interesting and stand out a little. Choosing the right style for your writing desk not only helps to create a place where you can work productively, it also makes a great impression.
Traditional Writing Desks
A traditional style writing desk is characterized by detailed decoration and a rich finish, usually in a medium to dark color. Typically made of wood, a traditional writing desk is characterized by elaborate detail like moldings or pilasters, curved lines, veneer accents and turned or carved legs. A traditional writing desk possesses a timeless appeal and has the look of a cherished heirloom.
Transitional Writing Desks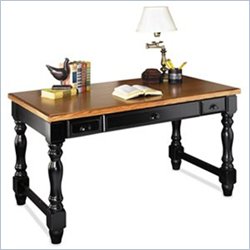 A transitional writing desk shares many similar decorative and design elements with traditional style. However, since it combines characteristics of both traditional and contemporary styles, lines are still curved or rounded but tend to be more linear, decorative detail has been scaled down and profiles are relaxed. Features of this type of desk can include simplified crown molding, tapered legs and stylized, highly polished hardware. The overall result is a transitional writing desk that a sophisticated appearance with contemporary sensibilities.
Contemporary Writing Desks
A contemporary writing desk has clean lines and makes use of geometric forms. Contemporary style writing desks are typically made from lighter woods and finished in colors like espresso, white, beige, black and natural. Materials are often mixed to generate a textured or layered look. The use of two-tone finishes to create visual interest is another characteristic of a contemporary style writing desk. Contemporary style reflects current market and interior design trends. Decorative detail and architectural elements are used sparingly and the outcome is a contemporary writing desk that is sleek and refined.
Modern Writing Desks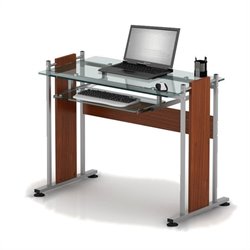 A modern writing desk is typically made of metal and glass or wood and glass. They can have a space age or industrial look and feel that is cutting edge. Palettes are neutral while lines are minimalist and decorative detail is non-existent. The focus is strictly on form and function. Surfaces are smooth, gleaming and highly polished. A modern writing desk is known for accents like frosted glass tabletops or polished chrome drawer pulls.