Home -> TV Stands -> TV Stands Buying Guide


TV Stands Buying Guide
What Kind of Material Should I Choose?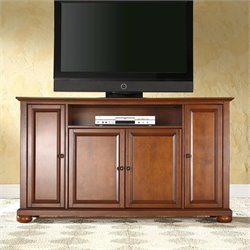 Many factors will determine what kind of material you will select when purchasing a TV stand. If your décor is modern, a metal and glass TV stand would be a good choice. If your style is more traditional, choose one made of wood with a rich finish.
Engineered woods, such as plywood, medium density fiberboard (MDF) and particle board, are produced from recycled wood products. These recycled materials are broken down into wood fibers, which are then glued together using heat and pressure to create panels. A TV stand made of MDF is more affordable than one crafted from genuine wood.
TV stands can also be made from genuine woods. Trees are cut down and varying grades of timber are produced. Timber can be made from either hardwoods or softwoods. The terms "hardwood" and "soft wood" do not refer to the wood's density. Hardwoods are from trees that lose their leaves in autumn, while softwoods are from coniferous trees, like pines or cedars that do not shed their needles. A TV stand made of genuine wood will last a long time.
Rubberwood is an eco-friendly wood because before the tree was harvested, it was used to produce rubber for up to 30 years. Commonly used to make legs for tables, chairs and other furnishings, rubberwood is also used to make furniture that has a tropical look and feel, while having the same properties as other hardwoods such as oak or maple trees.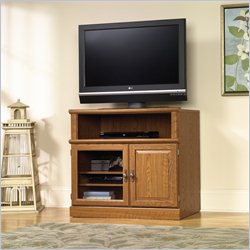 A TV stand with a laminate finish is usually made of a type of engineered wood to which the laminate has been applied. Laminates are produced by pressing layers of plastic, metal, wood or a combination of materials together and then sealed with a thermosetting resin. A laminate finish can have a simulated wood grain, be a solid color or have a textured or metallic appearance.
A TV stand with a veneer finish can have the look and feel of one made from genuine wood. Veneers are produced from thin slices of real wood, which are then applied to the piece of furniture, usually made from an engineered wood like particle board, plywood or MDF. A veneer finish keeps costs down, while still creating a quality product.
Many types of TV stands are made of a combination of metal and glass. Choose one made of aluminum, wrought iron or steel for strength, durability and good looks. For added safety, select a TV stand with tempered glass shelves. Designed to break into small fragments, unlike regular glass, tempered glass is made stronger and harder to break by treating it with heat or a chemical solution.
Finishes
"Finish" is often used as a general term for any chemical when it's applied to a surface. However, chemical applications can be divided into three main categories: stains, paints and finishes.

A stain contains pigments, that when applied to the surface of the piece of furniture, tint the wood.

Containing colored pigments, paint does not permeate the surface, but rather sits on top of the wood or metal frame and forms a protective coating.
A finish is generally a clear, protective coating that either sits on top of the surface or permeates the wood surface or sits directly on a metal surface. Six common types of finish are oil, varnish, polyurethane, shellac, lacquer and water-based finishes.