Home -> TV Armoires -> TV Armoires Buying Guide


TV Armoires Buying Guide
Tips for Buying the Perfect Dresser
Whether you are purchasing a dresser for a bedroom that has already been furnished or you are starting from scratch, there are some things to look for if you want to buy one that will be the perfect storage solution for your personal taste and lifestyle. Because bedroom dressers are available in such a wide range of styles, types, sizes and finishes, you will want to have some idea of what to look for. The four main things to consider for buying the perfect dresser are purpose, size, quality and style.
Purpose of Dressers
Who are you buying the bedroom dresser for and where is it going? You're not going to buy the same type of dresser for your master bedroom as you would for you child's room. And a dresser you pick for your younger child will be different again from one you choose for your teen's room. Kids dressers typically have rounded corners, use non-toxic finishes and possess kid-friendly hardware.
This might seem redundant, but what are you planning to use the dresser for? If you want to store a variety of items such as smaller-sized accessories, lingerie and sweaters, dresser furniture that has a number of different sized drawers will be a better choice for you than a bedroom dresser that has drawers of the same size.
Dresser Size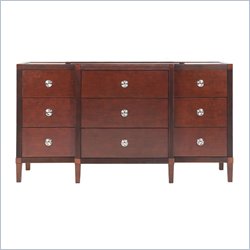 Dressers come in a number of sizes and configurations, the most common of which are the single dresser, the double dresser and the triple dresser.
In addition to a dresser's single, double or triple configuration, they are available in several different sizes. Take measurements of the area where the dresser is to go so that you'll have some idea as to whether or not it will fit.
Drsser Quality
Quality doesn't have to mean expensive; many discount dressers are well-made. Look for:
Drawers with dovetailed joints

Drawer and cabinet with smooth edges and sides

Solid wood construction

Hardware like drawer-glides and drawer and door handles that operates smoothly and is easy to use
Dresser Style
Especially if you are replacing a dresser or buying one for a room that already has furniture in it, you will want to match it in style and color to the other furnishings. A white dresser will stick out in an otherwise black furnished room or a pine dresser will definitely look out of place when paired with a traditional mahogany bedroom set.
While you need a dresser that is practical and functional, it also has to look good. Since a bedroom (adult's or child's) is used for more than just sleeping, it should also be an inviting place you can relax and hang out. The style of furniture you or your child selects will mostly depend upon personal tastes (age, gender and interests).