Home -> Headboards -> Headboards Buying Guide


Headboards Buying Guide
Tips for Buying a Bookcase Headboard

Sometimes redecorating a bedroom can be as simple as switching your headboard for a new one. Especially if you opt for a specific type of headboard, like bookcase headboards, it can change the room's whole atmosphere, breathing new life into your living space. Bookcase headboards can offer decorating lifestyle solutions such as allowing you to read in bed in comfort; provide a place for optional lighting; and can be an ideal alternative to nightstands when decorating a room with limited floor space.
A Bookcase Headboard for which Room?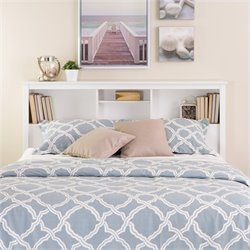 Because bookcase headboards come in variety of styles and sizes, intended for adults and children alike, it's a good idea to know which room you are purchasing it for before going shopping for one. When decorating an adult or teen bedroom, a queen size bookcase headboard with smooth, clean lines can give the space a contemporary feel.
Kids headboards are often twin size bookcase headboards, but some manufacturers offer them in "adult" sizes such as full. For the child, from toddler age to whenever they might outgrow a twin bed, kids bookcase headboards provide the perfect place to store treasures like a favorite book, baseball card collection and other important items they can't let out of their sight even when they're sleeping. The Prepac bookcase headboard is great for a child's room because it's multifunctional. While other sizes are available, the twin sized headboard is the most common choice when decorating children's rooms.
Bookcase Headboards Features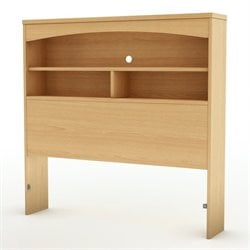 When they first emerged in the 1950s, bookcase headboards were typically comprised of three sections, with one open shelf on each side of a middle section that had sliding doors. Today, bookcase headboards can have a number of useful features (including sliding doors) such as adjustable shelves, cubbies, adjustable cubbies and wire management holes. The shelves and/or cubbies of a bookcase headboard can be used as storage space for books, clocks, small radios and other personal bedside items. When buying a king size bookcase headboard or a queen size bookcase headboard, make sure it has the features that you want and like.