Home -> Bedding Sets -> Bedding Sets Buying Guide


Bedding Sets Buying Guide
Things to Consider when Buying a Bedroom Set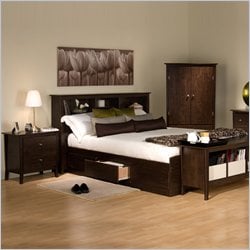 Bedroom sets are an economical way to decorate a room because they include basic bedroom furniture pieces in one convenient grouping. Buying a bedroom furniture set essentially means that you don't have to worry about the matching color, scale and style of each individual piece you want to buy. It also eliminates the need for shopping in more than one place. Here are some tips for choosing the bedroom collection that will perfectly fit your home.
Bedroom Sets
A typical bedroom set consists of a bed, a dresser or a chest of drawers and one or two night stands. Depending on the brand or the collection, a bedroom set will include the bed and one night stand or/and any combination of the other essential bedroom furniture pieces, including a mirror. Some manufacturers might also offer bedroom sets that include bedroom accessory furniture such as armoires, bed benches and vanities.
When deciding what kind of bedroom set to buy, take your lifestyle into consideration. A Prepac bedroom set that includes a platform storage bed or a storage bed bench may be an ideal choice when decorating a smaller sized bedroom in an apartment or condo. If you like reading in bed, select a South Shore bedroom set that includes a bookcase headboard. Feel like you have no place to put things when you're tidying up? Choose a platform bedroom set with storage drawers. Or if you have children, especially young ones including a toddler or two, choose furniture with rounded corners. By choosing a bedroom specifically to match your lifestyle, you will create a bedroom sanctuary that will truly be relaxing and comfortable.
Before shopping for your bedroom set, set a budget. A bedroom set that ends up costing double of what you originally had in mind is not going to be a very peaceful place to unwind after a busy, tiring day.
Bed Frame and Size
Decide what kind of bed frame is most appealing to you. Many manufacturers will give you the option to choose a platform bed with drawers instead of a bookcase headboard platform bed or a sleigh bed over a canopy bed.
If you intend on using the mattress that was on the old bed, make sure that you the bed you purchase as part of your bedroom set is the corresponding size. On the other hand, if you're going to buy a new mattress anyway, you might want to take this opportunity to upgrade from a full size mattress to a California king size bed.
Style and Color
There are some types of beds, like the sleigh bed and the four poster bed that we immediately identify with the traditional style because of their rich finishes, graceful curves and flowing lines. Decide what style best expresses your personality. If you're typically laid-back and don't like "fussy" details, then a contemporary bedroom set will probably more to your liking. On the other hand, if you enjoy elaborate moldings, intricately flowing lines and detailed motifs and carvings, then traditional is most likely the style for you.
Of course there are exceptions to every rule, and after all it is a matter of personal taste, but a simple guideline to follow when selecting a finish color for your bedroom set is to choose medium to dark woods when furnishing a traditional style bedroom and unfinished, bleached or light to medium woods finishes for modern or contemporary style bedroom décors.