Home -> Office Chairs -> Office Chairs Buying Guide


Office Chairs Buying Guide
The Ultimate Office Chair

If you're a worker who spends the majority of your day at a desk, then the importance of a comfortable and supportive office chair can't be understated. Because everyone's body shape is different, that means there is the perfect chair out there for everybody; you just need to find it.
Before you start to look for a new chair, there are a few general rules that you should keep in mind. When sitting in an office chair that is properly adjusted to your body, your feet should rest comfortably on the floor. Elbows should be at ease either on the desk or on arm rests, and you should be sitting at nearly a 90 degree angle, give or take a few degrees. As long as your office chair allows you to change positions regularly, you should be able to remain comfortable as the day goes on.
You'll also have to consider what matters to you most: style, comfort or functionality. Sometimes you'll have to make sacrifices in one department in order to get something in the other, so know what's important to you.
Office Chair Comfort and Support
Probably the most important job your office chair performs is keeping you comfortable and providing support throughout the day. There are different features available that can help keep you loose and relaxed.
A chair with tilt control allows you to easily shift your weight and position without giving a second thought. Sitting in one just position is the quickest way to get sore, so being able to control the tilt will prevent any potential problems.
Ergonomic support gives you more complete control over your sitting experience. If you like to tinker with your seat until it's exactly how you want it, then go ergonomic. An office chair with adjustable seat, armrest and neck support height lets you find the perfect balance no matter what your height or weight. If you have a balky back, then look for a chair with increased lumbar support. These chairs are designed and shaped to provide your back with the support they need while alleviating pressure and stress on susceptible muscles and parts of your spine.
Office Chair Style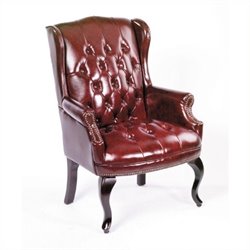 When it comes to choosing a style of chair, let the decor of your office dictate the direction you take. If you work at an office with a youthful and modern vibe, then a contemporary or modern office chair is the ideal fit. Look for chairs with a sleek and simple design without any stylistic frills or extravagancies.
For a traditional office, you can go for something a bit more overstated. Executive chairs that are big, leather pieces with eye-catching patterns and wood cabriole legs are the perfect example of an old-fashioned, traditional office chair.
If you sit at a counter or drafting desk, something like a drafting chair or drafting stool will allow you to sit at a higher position comfortably.
These tips are just a starting point – ultimately the best office chair is the one that feels the best for you. Everyone has different shapes and likes, so it's just a matter of finding the office chair that works for you.