Home -> Bedroom Sets -> Bedroom Sets Buying Guide


Bedroom Sets Buying Guide
The Right Nightstand for the Right Purpose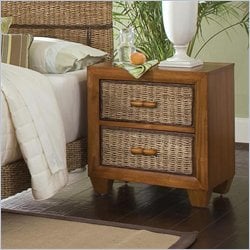 At first glance, a nightstand might seem like…well just a nightstand. But a table lamp on a nightstand means that you don't have to get out of bed to turn out the light. It's also a good place to park an alarm clock or your jewelry or watch when you're getting ready for bed. Yes, nightstands increase a room's functionality, but buying the right nightstands for a particular purpose or a specific environment will make the room even more functional.
General Buying Tips
No matter what room or purpose you are purchasing the nightstand for, here are some general things to keep in mind:
· The nightstand should stand no more than four to six inches higher than the mattress.
· When the bed is in the middle of the room (not against a wall), especially if there are two people, two nightstands are placed one on each side.
· If you are purchasing nightstands for a room that is furnished, particularly if there is already a dresser, you will want to select ones that match your current furniture in scale. For example, a narrow nightstand will be dwarfed by a roomful of oversized furniture pieces.
· Remember this simple decorating rule: light colors tend to make a bedroom appear larger; darker colors can make the room look smaller.
· Measure the intended space. You don't want to find the perfect nightstands only to find they won't fit.
· Nightstands are generally part of a set or collection. When you are purchasing nightstands for a room that has already been furnished, choose ones that will complement the material, style and color of the furniture currently in the room.
Buying Nightstands for the Master Bedroom
Before buying a nightstand for your bedroom, decide how you want to use the nightstand, what features you would like it to have and how you want it to look.
What do you want the nightstand to hold? If you want room for a lamp, an alarm clock, a mug of tea and a book, choose a wide nightstand with a roomy tabletop.
If you're in the habit of snacking or taking medication before going to sleep, select a nightstand with a pullout tray.
Are you an avid reader? Choose a nightstand that includes a magazine rack and/or an enclosed shelf perfect for a row of treasured books or current reading materials.
The nightstands will be used on a daily basis. Make sure the drawers are well-made and open smoothly and easily.
When the room is shared by two people, and for whatever reason there is space for only a single nightstand, buy one that is large enough for two and with features that will be suitable to you both.
Buying a Nightstand for a Child's Room
Choose a nightstand that is age and/or height appropriate, with a non-toxic finish and rounded corners for added safety.
Hardware should be child-friendly and drawers should be easy for youngsters to open.
Decide how much you want to spend. Since their personal tastes and preferences are constantly changing, you don't want to pay a lot of money for a nightstand they may not really like in six months time.
You will probably need only one for a child's room, since the bed is most likely twin size
Since you are buying it for a child's room, where adequate storage is always an issue, choose a nightstand that has several drawers or a combination of storage options such as drawers, shelves and cubbies.