Home -> Bunk Beds -> Bunk Beds Buying Guide


Bunk Beds Buying Guide
The Futon Bunk Bed

Futons have always been a popular choice for teens, students, and young professionals. These simple beds double as a living room sofa or extra bedroom seating. For either a bachelor apartment or a dorm room, futons are a durable, practical product. Add a loft bunk to your futon frame, and you've got two clever design ideas merged into one handy piece of furniture.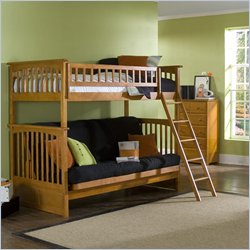 Space-saving Bunk Beds for Students
Futons have always been a favorite choice of dollar-savvy student shoppers. College students can easily benefit from the efficient practicality of a futon bunk bed, enjoying lifestyle convenience during the school year and simplicity come moving time.
A futon bunk bed takes that sensible approach to furnishing one step further by adding more value and functionality to your purchase. Furnishing a first suite or apartment with both sleeping space and seating can be achieved in one clever unit.
Wood or Metal Futon Bunks
You'll have your choice of either wood or metal, with a healthy selection of finish colors while you shop for a futon bunk bed. Keep in mind that most designs will seem somewhat plain alongside more complicated dresser and desk bunk beds. Also, to accommodate the folding action of the futon on the bottom level, you won't find many additional features like shelving, drawers, bookcases, or desks.