Home -> Beds -> Beds Buying Guide


Beds Buying Guide
Sleigh Bed Frame Designs
Sleigh Bed Frame Designs
There's nothing that combines the traditional and contemporary style more than an elegant sleigh bed frrame. They have a unique look compared to other beds with their curved head and footboards, resembling a giant sleigh.
The headboard is normally larger than the footboard, with both pieces flaring outwards. These beds take influence from the days of royalty, and in turn, will make you feel like royalty when you choose them for your bedroom.
Sleigh beds can work for adults and children alike, and they're constructed of many different materials, so chances are there's a sleigh bed on the market that will work for you.
We have highlighted a selection of unique, dramatic sleigh beds for a brand new look in your bedroom!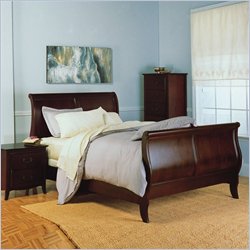 Modus Santa Barbara Tropical Mahogany Sleigh Bed in Sable
You can't get more classic than this wood sleigh bed from Modus. A warm solid tropical wood with lots of decorative details, this sleight bed is the ultimate in romantic sophistication.
Bratt Decor Chelsea Toddler Bed Kit
Your little toddler is going to feel like a princess in this metallic-finished sleigh bed by Bratt Decor. It features traditional hand-carved detailing at the base for a feminine look. You can also choose between a buttermilk and espresso finish for a customized appearance.
Somerton Caress Artistic Upholstered Wood Sleigh Bed
This sleigh bed from Somerton features a cherry frame with black leather paneling for a unique look. The wood has been hand finished for yet another unique touch. Silver accenting finished it off and gives it a contemporary vibe.
Young America by Stanley Contentment Kids White Sleigh Bed
This pure white sleigh bed from Young America is appealing from young to old with its superbly classic style. It features a slat bottom, like a platform bed, eliminating the need for a box spring. It also has storage drawers in its base that can be traded for a trundle if necessary.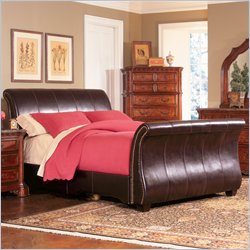 Coaster Bennington Leather Sleigh Bed
The Coaster Bennington sleigh bed makes a strong statement with its shiny bycast leather finish. The rich, warm brown colour of the leather would be flattering in any colour scheme, and also features antique brass head detailing.
American Drew Bob Mackie Signature Sleigh Bed
One of the only sleigh beds without a footboard, this sleigh bed from American Drew is a good option for taller individuals who need more room to spread out. Even though it's without a footboard, the extra-tall headboard makes up for it!
Upholstered in black leather on a rosewood frame, this sleigh bed definitely commands attention.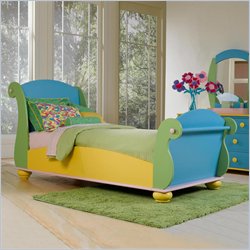 Powell Sunday Funnies Twin Size Sleigh Bed
The perfect kid's bed is found in the Sunday Funnies sleigh bed by Powell. Pastel hued, whimsically shaped, and cartoon-like, this sleigh bed is guaranteed to be your child's new favourite.
Find our complete sleigh bed frame selection at http://www.sleighbedselect.com/