Home -> Conference Tables -> Conference Tables Buying Guide


Conference Tables Buying Guide
Rectangular Conference Tables for Large Meeting Rooms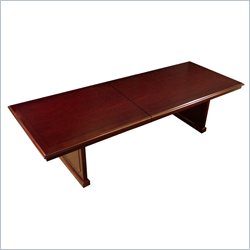 For the large, classic business, rectangular conference tables are excellent choices. Due to their shape, these types of conference tables work best in large conference rooms. Because they are designed to impress, these are the kind of conference tables you see in those great movies from the 1950s – serious yet cool. But since office furniture manufacturers cater to all styles and personal tastes, you will also be able to find a rectangular conference table that will reflect your company's more contemporary personality.
Global Total Office has a contemporary hardwood rectangular table that is very nice. This 8-foot beauty will impress anyone who steps foot into your conference room. Made with top-quality veneers, this rectangular conference table is built with strength and style. It comes with a stylish slab base and a mahogany finish for the contemporary businessman.
Lesro contemporary conference table is also a high-quality choice. This one is 5 feet and can comfortably fit 6 chairs. Traditional yet classic, this handcrafted solid oak table will be reliable at a decent price. It comes with a trestle base and is available in six colors: mahogany, medium, cherry, natural, walnut, and black.
If you want a conference table with a traditional base and a rectangular shape, you should consider this 6-foot Lesro 4 post base table. It ships ready-to-assemble and comes with many of the same features as the trestle based one above. Both Lesro items are hand polished to perfection!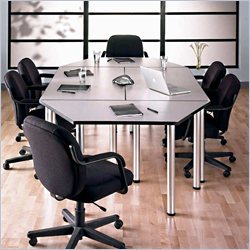 Moreconferencetables.com has a variety of conference tables to choose from. No matter what professional look you would like to achieve, from contemporary to ultra-modern to traditional, the rectangular conference table is the way to go. You can choose from a slab base to a trestle base to a 4-post base – whatever your heart desires. This way you can get your meetings done in your conference room efficiently and stylishly.