Home -> Conference Tables -> Conference Tables Buying Guide


Conference Tables Buying Guide
Racetrack Conference Table for the Fast-paced Business

The racetrack conference table is always a good choice. Its rounded edges not only look good but also, they're good to put in tight room spaces. If you need a larger conference table and you don't want your conference room to look too crowded, a racetrack table would be perfect.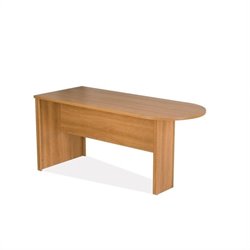 There are many varieties of racetrack conference tables to choose from. If you feel your office would benefit from a half racetrack shaped conference table, you should look at a Bestar Embassy's slab based one. This durable, wood conference table would work perfectly in a smaller conference room. You can position it very easily against the wall. The cappuccino cherry finish mixes well with any kind of office setting. This table is also environmentally friendly; Bestar has produced this table out of recycled hardwood and melamine laminate. This laminate also is resistant against scratches, stains and burns. This table could comfortably fit 5 people.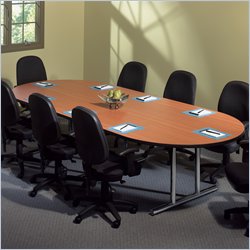 Expecting to have larger meetings? A full racetrack table fits anywhere from 6 to 10 people around the table (depending on how long it is). Mayline's narrow conference table with a trestle base would be a nice touch to the office. This conference table comes in gorgeous mahogany or nebula gray. This table is narrow, slick and chic – will be stylish and cool in any office.
If you don't like the trestle base, ABCO's racetrack (oval) conference table has a stylish slab base instead. It's 6 feet long and can be ordered smaller if needed. This ABCO table comes with a strong laminate top that has unbeatable protection. It can also be ordered with a different base just in case you don't want a slab base. It can come in slab, curved, curve plinth or designer metal legs. Choose the one that best fits the design and style of your company.
For the smaller conference room, racetrack tables with round edges work the best. They will make the room look bigger and they're a classic look.