Home -> Filing Cabinets -> Filing Cabinets Buying Guide


Filing Cabinets Buying Guide
Organize Your Life with a Filing Cabinet

A good organizational system can really make a big difference in the long-term success of your business. Without the proper organizational tool, things can get out of control quickly. File cabinets are used in offices around the world to keep documents and files out of harm's reach and categorized in an easy to understand manner so that you know where to look.
Depending on the size of your business, you may need more than one file cabinet to keep things in order. One might think that every file cabinet is the same, but that's simply not true. There are a variety of different cabinets available, each with their own advantages. The two most common types of file cabinets are the lateral and vertical cabinet.
Lateral and Vertical Cabinets
Lateral file cabinets are a shorter, wider type of cabinet. Lower to the ground, these cabinets are convenient to have next to a desk so you can reach them while you're sitting down. Lateral file cabinets are capable of holding both legal and letter sized documents that are arranged from side to side. These cabinets typically feature anywhere from 1-3 drawers, and while those drawers aren't usually as deep as a vertical cab, they do offer plenty of storage space.
Vertical file cabinets are quite a bit taller and thinner than their lateral partners, and feature a number of stacked drawers. There are usually anywhere from 2-5 drawers in a vertical cab, and files are organized from front to back. Vertical file cabinets also hold both legal and letter-sized files. These cabinets are usually placed next to a wall because they're tall enough that they could tip over if someone bumped into them.
When you're arranging your cabinets around the office, keep in mind that you should keep enough space in front of the cabinets so that the drawers can open all the way without any obstruction. Drawers should open smoothly without any hitches or holdups.
File Cabinet Pedestals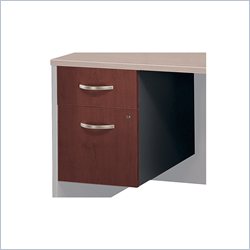 A file pedestal is a cabinet that is attached to the underside of a desk. These are designed to connect seamlessly with your desk and can act as a set of drawers or as a file cabinet. If your desk has limited space, then a pedestal gives you the extra storage that is often necessary. Whether you're using a pedestal file cabinet to keep track of files and documents, or you're just using it to store personal items, it can be a handy and useful addition.
File Cabinet Locks
There are a number of different locking mechanisms when it comes to file cabinets. Probably the most popular version is a simple lock and key. Some cabinets have a neat feature that unlocks each drawer with just one lock, while other cabinets automatically lock when one drawer is open so as to avoid any accidental tipping.
Security features are an important part of file cabinets as they keep files safe and secure, and accessible only to those who have authorization.
The file cabinet is a useful tool in keeping your professional life organized and running smooth. Choose a file cabinet that gives you the stability and organization that will allow you to work to the best of your ability.