Home -> Headboards -> Headboards Buying Guide


Headboards Buying Guide
Metal Headboards Guide

Metal Headboards Diverse in Style & Shape
Metal headboards have grown in popularity, due not only to the versatility of their design and finish choices, but also because of their affordability relative to other headboards and bed frames. Metal can be used to enhance a variety of themes including shabby-chic vintage, modern minimalist, floral and country, or edgy and urban. Big names in metal headboard products include Fashion Bed, Hillsdale, and Powell Furniture.
Romantic Rounded Scroll Shapes
Adding an element of whimsy to your heritage or antique-inspired bedroom décor is just a step away with an embellished scrollwork metal headboard. Brown or bronze metal headboards that feature elegant bent metal patterns are a great choice for guest bedrooms and teen girls' bedrooms when you want to create a cozy atmosphere.
Vintage Charm with Knobs & Bars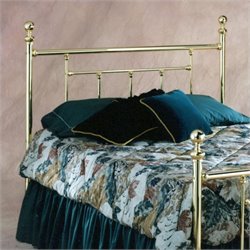 Start any classic bedroom with the eye-catching flair of a polished brass headboard. Pair one of these mid-century inspired headboards with other brass elements in similarly themed guest and master bedrooms. Brass-trimmed mirrors and brass vanities are ideal companions to these headboards.
Angular Modern Urban Living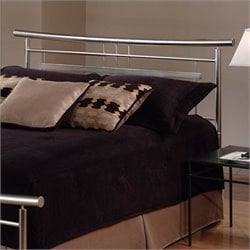 For ultra-modern apartments, a linear or angular metal headboard can be the perfect touch. Your choice in headboard can complement any wood, metal, or glass modern furniture. Choose brushed nickel or black metal headboards and bed frames to best achieve an urban look.