Home -> Guest Chairs -> Guest Chairs Buying Guide


Guest Chairs Buying Guide
Keep People Waiting In Style with Executive Guest Chairs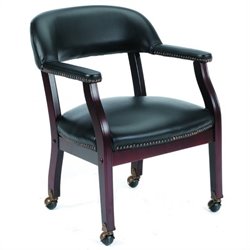 If you're new to the world of office furniture, your first questions about guest chairs will probably be, "What is a guest chair?" and "Why do I need one?" It sounds formal, but the extra short-term seating every office needs usually takes the form of guest chairs.
You might also hear them referred to as reception chairs, logically found in corporate or medical reception areas. Guest chairs are the comfortable, yet simpler seating that lines waiting rooms, larger offices, conference rooms, and break areas.
Depending on the quantity and quality you need, your choices range from cheap office guest chairs to a plush, vinyl-covered Office Star guest chair or a lavish, leather-upholstered executive guest chair.
Furnishing the common spaces in most offices stretches beyond the reception area. You'll need an executive guest chair in each office and several or more in each conference room or boardroom. For the latter, consider how large the average meeting is at your organization.
Do several departments of your company often come together? Is there ever a need for all staff to meet? Or are training events a common occurrence? Factoring in the bigger picture for your shared professional spaces will save you the trouble of renting rooms down the road when training events or large meetings demand a lot guest chairs.
A Guest Chair with Casters
For maximum flexibility in seating arrangements, choose a model of guest chair with casters when you furnish both meeting and eating spaces. You'll be able to borrow the executive guest chairs from your lunch room to add seating to your board room without sacrificing professionalism, if you've chosen the same chairs for both rooms. A guest chair with casters can feature lavish leather or economical plastic and still convey professionalism.
If you're shopping for many chairs for a large lunch room or cafeteria, cheap office guest chairs will probably be the way to go. College and university lunch rooms will be better served by molded plastic models of cheap office guest chairs when you consider the wear and tear they'll receive and the frequency at which they might need to be replaced.


Guest Chairs at Community Centers and Non-Profits
At home, work, or other public spaces, if cost is your top priority, your best route to cheap office guest chairs is to search for "stacking" chairs or "sled" bases. These models will feature slender metal frames, less padding, and synthetic fabrics.
Keep in mind that cheap office guest chairs will not stand up to heavy wear and tear as well as sturdier models. To get more mileage, look for designs that have darker, less plush fabrics, and finish colors that will recover better from scuffs and scratches.
Office Guest Chairs at Home
When you set out to furnish a home office, you're thinking mostly about your personal needs and taste. We agree that's the point of working at home – to have your space, your way. But will you ever conduct a business meeting at home? Office guest chairs still make sense at home
if you want to host a business contact in a professional atmosphere, as opposed to an old task chair from your child's room or a folding chair from your basement. Choose an Office Star guest chair for a sensible compromise between cost and comfort.
No matter what budget you have to work with, guest chairs can be versatile and long-lasting pieces of furniture. Once you have the right executive or office guest chairs, you'll have a touch of professionalism that can provide that extra bit of confidence.