Wall curio cabinets are like the smaller brother of the standard, full-size curio cabinets usually found in homes. Wall curios are becoming increasingly popular household items, and for good reason. Not only do they provide you with instant shelf space, they also act as a point of visual interest in the room and can really add to the atmosphere that you're trying to create. A wall curio cabinet also takes up very little space in your room, which is an added bonus for those who don't have much room to spare.
Who are Wall Curio Cabinets For?
While wall curios aren't just for a specific type of person, they will appeal to collectors and those looking for extra space. If you're hoping to showcase a set of belongings – anything from fine china, figurines, photographs, ceramics etc. – but you have limited room in your home, then a wall curio might just be the perfect solution. Wall curios provide the elegance and function of a regular curio cabinet without taking up a chunk of always-important living space.
Wall curio cabinets are also ideal for those with a small collection. If you don't have a large number of items, or your collectibles are smaller in size, then a standard curio isn't necessary. Wall curio shelves provide the right amount of space for small to medium sized collections.
Where Should You Hang A Wall Curio?
Don't forget about presentation! If you're going to go through the trouble of buying a wall curio to show off your collection, you want to hang it where people will see it. You can hang a wall curio in the living room, dining room, bedroom or bathroom; the choice is completely up to you. Just remember that it's best to hang your curio on the wall opposite of the doorway into the room. This way, every set of eyes will be drawn to your fantastic collection as soon as they enter the room.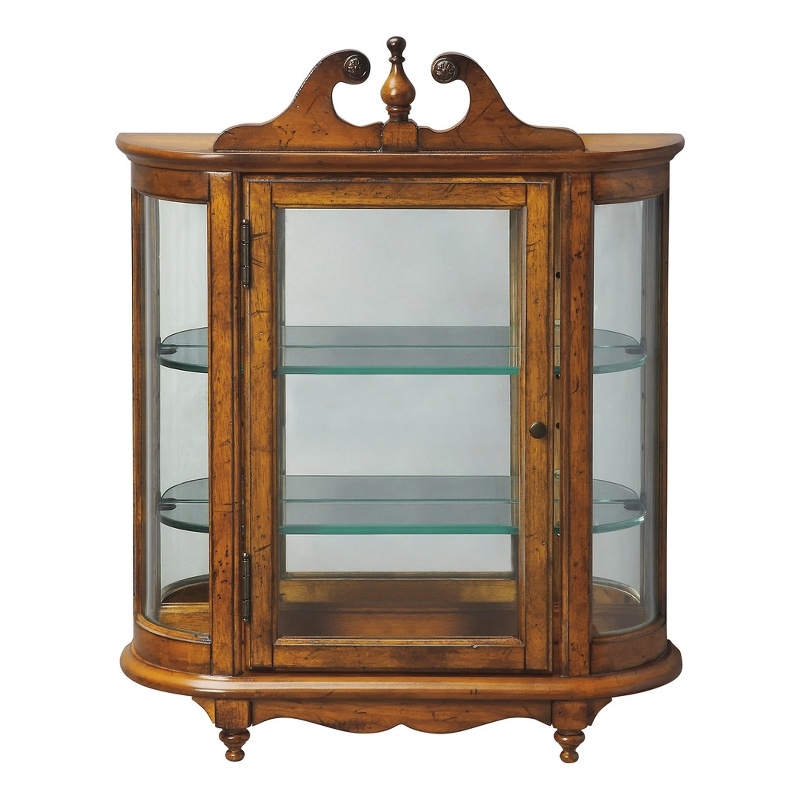 Wall Curio Cabinet Style
Just because a wall curio looks beautiful in a picture or in person at the store, that doesn't mean it will be a great fit in your home. Before you buy a wall curio cabinet, take a look around the room you're planning to put it in. What type of furniture do you have? An oak or cherry wall curio would be a natural fit alongside more traditional furniture, while a glass wall curio cabinet might be better suited to a modern or contemporary room.
Wall curios are generally made with a more traditional design, and usually feature a mirrored back with adjustable glass shelving. Remember to take the proper measurements of the area you're planning to fill, as you don't want to be stuck with a wall curio that doesn't fit in the intended space.
Wall curios are a beautiful addition to any room, and you'll be proud to display your collection in such an eye-catching manner. Remember that a wall curio cabinet isn't just a functional piece of furniture; instead treat it as if it were a work of art you're hanging from the wall.