---
---
The corner of your room can be used for so much more than just as a place to sweep the dust. With a corner curio cabinet you can transform that awkward, empty space into the most interesting part of the room. A curio is just what you need to display all of your finestcollectibles and belongings for everyone to see.
But why do you need a curio, and a corner curio at that?
What is a Curio Cabinet?
A curio cabinet is a glass cabinet with a metal or wood framework with the sole purpose of displaying your most prized possessions – anything from fine china to your coin collection. Any serious collector owes it to themselves to own a curio. Don't hide your collection away where no one can see. Instead, put it front and center so that all of your guests can ogle.
Why Choose a Corner Curio Cabinet?
A corner curio is the solution for that dead space in the corner that is nearly impossible to fill. Because corners create such awkward angles, it can be difficult to find furniture that fits. Corner curios are designed to utilize that space, which in turn gives you more space for the rest of the furniture in the room.
With a corner curio cabinet, you'll be able to put that space to good use. If you're really concerned about space, small corner curios save you even more room while still displaying a decently sized collection. Corner curios are great pieces of accent furniture, and it will give the corner of your room life and personality. The corner isn't just a place to send misbehaving children.
---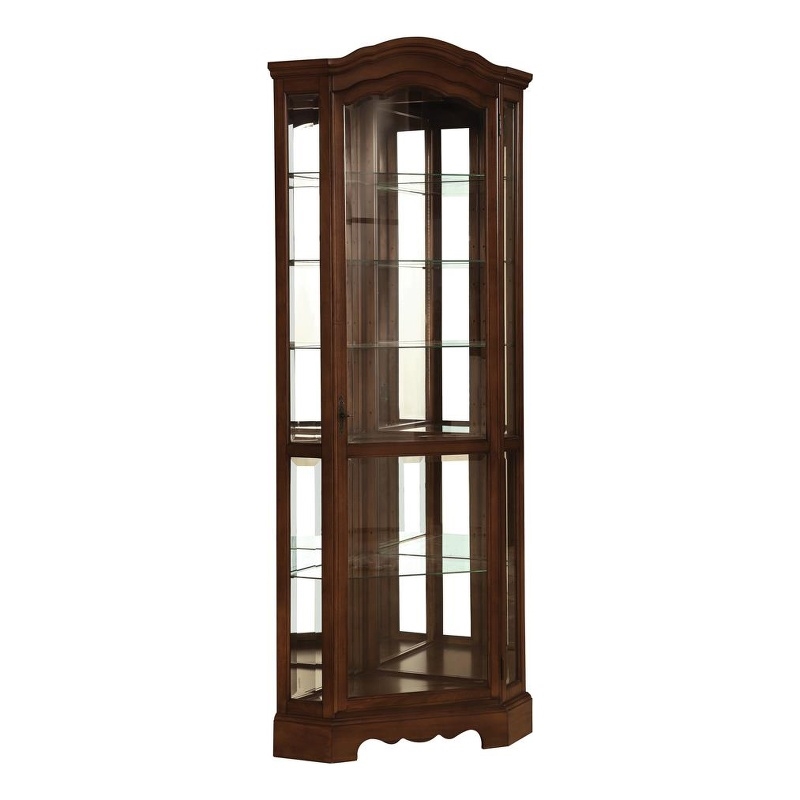 ---
Corner Curio Style
There are different styles of curio cabinets, so make sure the finish you choose fits in with the room's décor. Curios are generally quite traditional in design, but that doesn't mean you won't be able to find something for your modern or contemporary room; a black corner curio with simple design and little to no decoration fits the bill. For traditional cabinets, look for warm and natural woods. Cherry corner curios or oak corner curios with intricate carvings work splendidly.
The best part about a corner curio is that you will play a huge part in the way it ends up looking. Your collectibles will truly define the finished look of your corner curio. It's not often that you play a part in the design of the furniture you buy.
Curio Cabinet Extras
---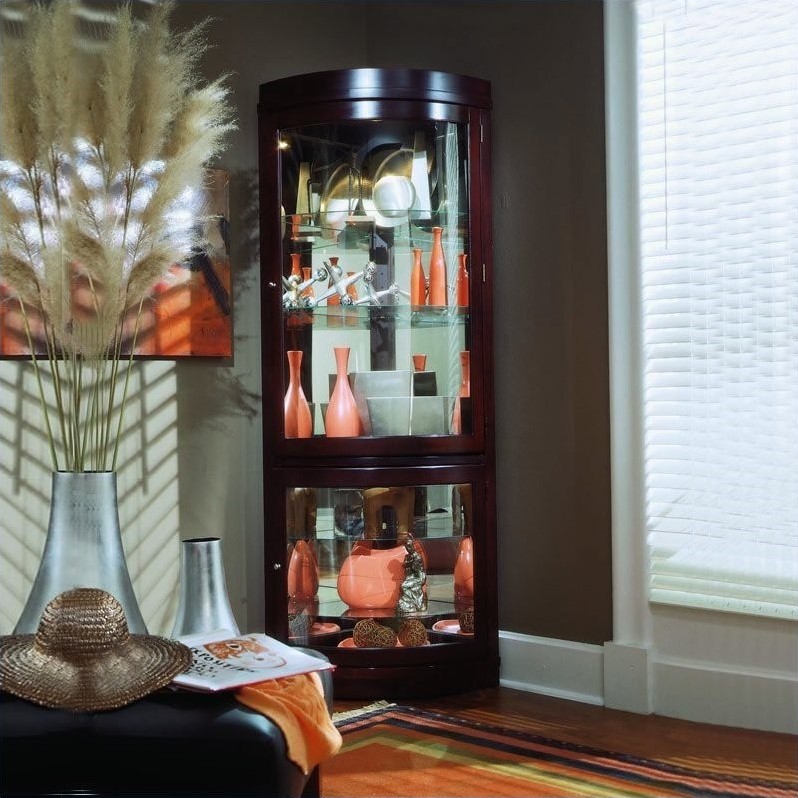 ---
When you're looking for a corner curio, keep in mind that you'll be able to find curios with additional features and extras. Interior lighting will keep the focus on your collectibles day or night, and the corner design will keep any power chords effectively hidden.
Adjustable shelving will come in handy for when you want to switch up or add pieces to your collection. A mirrored back allows you to view the entirety of your collection in great detail from all angles.
A corner curio is the perfect option for space-conscientious collectors who want to show off their cherished possessions.