Home -> Headboards -> Headboards Buying Guide


Headboards Buying Guide
Hillsdale Headboards Change the Look of Your Room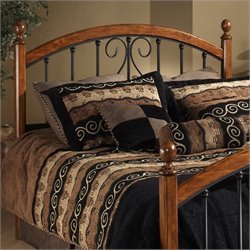 Have you been eyeing your bedroom, not quite satisfied and wondering what's missing? Why not try a striking new headboard? Whether your headboard is old, bland, or non-existent, browsing the selection of Hillsdale headboards is sure to get you thinking about your design options.
Adding a headboard or replacing your current one involves less work than you might think. Once you peruse the many wood and metal Hillsdale headboards, and then make your selection, your only task will be bolting the board to your bed frame (after removing the old headboard if necessary).
Maybe you already have a headboard, but it's starting to show more signs of age or wear than you'd like, consider replacing just the headboard rather than purchasing an entire new frame. With proper care, Hillsdale headboards should last for many years.
King and Queen Hillsdale Headboards
The impact of any one of the Hillsdale king headboards is sure to please anyone hoping to make a statement. Just think about how much more impressive your bedroom will feel with a lovely Hillsdale metal headboard made with glowing pewter bars. How about a cherry wood headboard with flowers and leaves carved along the edge or a striking, yet simple design made with oak beams?
If you have a smaller bed, you might think that a headboard won't make as much difference. Rest assured that Hillsdale queen headboards and full size headboards make a statement as well.
Black and White Hillsdale Headboards
Looking for the perfect finish for your headboard is more complicated than black and white. First, decide whether material or color is more important. If you choose wood, the finishes are extensive including natural pine, cherry, or oak. Select metal and your options beyond basic black or white are pewter, nickel, silver, brass, copper, and more. Hillsdale metal headboards also come in brighter colors like red, yellow, green, or blue.
You may already have your heart set on a white Hillsdale headboard. You'll still have a choice between wood and metal, with selection in both materials. Remember that you'll want to keep your white headboard clean and bright, preserving the finish as long as possible by using only a dust cloth.
Bookcase and Embellished Metal Headboards
Form and function are also substantial factors to consider when selecting your Hillsdale headboard. Are you the person who wants maximum efficiency and practicality from your furniture? Or is it important to you that you express your personal style? Will you be happy with a distinctive design for many years or does your taste change often? If you choose a Hillsdale bookcase headboard, you won't sacrifice quality, but you won't have carvings or scrolled metalwork as part of the design.
Material and color may not matter to you as much as the theme you create in your room. Are you trying to achieve an art deco atmosphere or an antique-inspired Victorian bedroom? Your choice of finishes will still be varied, but deciding on your priorities early on will make your shopping experience more enjoyable. Whatever you're looking for in a Hillsdale headboard, the selection is available to accommodate you.