Home -> Headboards -> Headboards Buying Guide


Headboards Buying Guide
Headboards and Interior Design

Are you redecorating your bedroom on a budget? Or do you have a limited amount of time you can devote to home projects? Before you plan for too much labor-intensive refinishing and reupholstering, consider some smaller updates that have big impact. In addition to a new bedding set and/or area rug, a new wood or metal headboard could be a great choice for completing a new theme, still staying within your financial resources.
Headboard-based Bedroom Design Ideas
Parisian Pied-à-Terre
Create an alluring French atmosphere with a few theme-oriented additions like an upholstered. Look for antique-inspired scalloped arches for an even more dramatic effect. Add décor elements like paintings or photos of Paris scenery, a statue of the Eiffel tower, a chandelier, and/or a fleur-de-lis pattern on bedding, drapes, or wallpaper. Try creamy vanilla and silver tones, complemented by pastels or rich wood finishes.
Contemporary Clutter-buster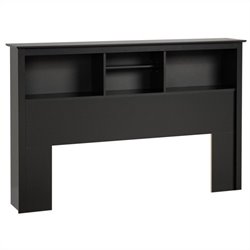 Anyone with a busy, urban-oriented lifestyle is usually on the lookout for organization and storage solutions for modern homes. Adding storage to your bedroom is an excellent and often overlooked strategy to help you find a home for your books, bric-a-brac, candles, extra blankets, lamps, and more. Bookcase headboards, combined with platform storage beds, storage benches, and nightstands with drawers can all work together to help you put even the smallest accessory in its right place.
Shabby-chic Sanctuary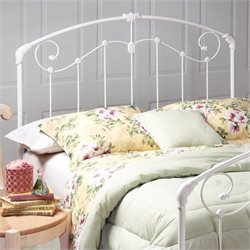 Achieve the cozy and simple charm of a shabby-chic décor with a simple metal headboard. Pair a bronze, pewter, or white metal headboard with pieces of similar, but mis-matched vintage-style bedding. Finish your room with appropriate pastoral wall art and a few extra pieces of modest accent furniture. Remember that less is more for this theme. A shabby-chic look could be ideal for a teen girl's room, a guest room, or your summer cottage. Use this theme anywhere you want to create a feeling of comfort, warmth, and nostalgia.
Bunk Beds On a Budget
Changing the look of a child's room is an exercise in playful whimsy, right? If you're updating a child's bedroom which includes a bunk bed set, you might feel the project is more of a challenge, and that the bed frame is off limits for quick design perks. Fortunately, Room Magic remembered bunk bed headboards when they created their lines of nursery and children's furniture. Room Magic bunk bed headboards fit standard twin bed frames, providing the opportunity for a more cost-effective update to just part of your bunk bed frame.