Home -> Bedroom Sets -> Bedroom Sets Buying Guide


Bedroom Sets Buying Guide
Finding Your Hillsdale Bedroom Set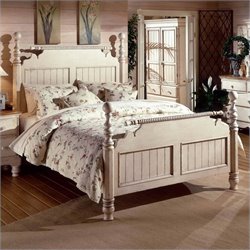 When you shop online, the number Hillsdale bedroom sets available includes dozens of designs, finishes, and styles to choose from. With so much selection, where do you start?
One of the best decisions to make early on is your material and finish. You'll find a quality Hillsdale bedroom set made of metal in espresso, nickel, pewter, silver, or white. If you prefer wood, Hillsdale finishes include cherry, chocolate, pine, and more. Chose the material you like in a color that best coordinates with your carpet, walls, and other furniture for a bedroom you'll love to sleep in.
If storage is a priority, you'll be looking for furniture with as many drawers and shelves as possible. Many Hillsdale platform bedroom sets combine built-in bed storage with the drawers and shelves you already have in the matching dresser and nightstand. For maximum storage, look at other Hillsdale bedroom furniture in the same collection to see if you have the option to add a matching vanity, bookcase, cabinet, or storage trunk.
Hillsdale

King Size Bedroom Sets
There's nothing more opulent than a king size bed. However, room size and budget sometimes rein us in. Hillsdale makes queen, full size, and twin bedroom sets, to help you coordinate your smaller bedroom, guest room, or your child's room.
Think carefully about the size of bed that will work best for you and remember that the only piece of furniture in the set that will change size is the bed. A Hillsdale full size bedroom set can serve your child's needs from adolescence all the way through college if he or she wants to take it with them. Then again, if you already know that your child will be travelling a great distance for college, save your money and choose a twin bedroom set.
For your own bedroom, are you willing to squeeze in a Hillsdale king size bedroom set and hang on until you upgrade to a larger home? Or do you already live in a home you plan to stay in for many years and want to permanently accommodate the space?
Bedroom Sets in Other Brands
If you like Hillsdale furniture, but still haven't found the right bedroom set, you might want to look at products from other similar manufacturers. By looking at popular brands like South Shore and Prepac, you'll increase your selection, but retain the quality and style you're interested in.
Like many Hillsdale models, many South Shore bedroom sets come in warm wood finishes and feature clean lines with innovative storage and layout options. The same is true of Prepac bedroom sets. Expanding to these other brands also increases the number of sale items you'll find – an important factor if your budget is limited.
Hillsdale Bedroom Set Discounts
Get discounted and cheap Hillsdale bedroom sets when you shop online and enjoy a great deal from the relaxed comfort of your computer chair. Remember that discounted Hillsdale bedroom sets are still the high quality you've come to expect, but at prices that won't last long. If you see the furniture set you want at a great sale price, don't hesitate to grab it!