Home -> Beds -> Beds Buying Guide


Beds Buying Guide
Finding Hillsdale Beds for Your Whole Home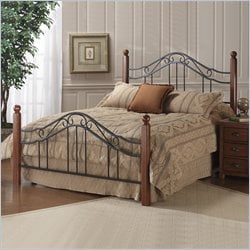 The product diversity offered by Hillsdale Furniture makes it possible to furnish your entire home without relinquishing your favorite brand. Bedroom furniture – and Hillsdale beds specifically – are no exception.
Your selection of Hillsdale beds can literally be completely coordinated. Not only can your children's beds match yours and the guest bed, you can add a matching daybed to your den or basement as well, depending on the collection you choose. You may not actually want every single sleeping space in your house to match, but isn't it nice to know you have the choice?
Hillsdale Queen and King Beds
Starting with your master bedroom can be a great way to coordinate your rooms without missing out on your own must-have features. Pick the Hillsdale king platform bed you've been dreaming about, and then look at the rest of the collection to see what you can find for queen, full size, and twin beds.
Or perhaps material is your priority. Hillsdale metal beds come in black, brown, tan, brushed silver and more – even red and green. Looking for an iron bed in particular will narrow your search substantially. Hillsdale beds also come in a virtual rainbow of wood, crafted in styles to match both your taste and your décor. You'll find warm woods with a fresh, natural feel or a lustrous antique charm.
Hillsdale Full Size and Twin Beds
In a family home of even modest size, you'll likely need to furnish several extra bedrooms. For a child's room, twin beds are the first, and sometimes best, option for putting a stylish bed into a small space. However, providing your child with a Hillsdale full size bed may mean you don't have to redecorate as your child grows into teen and possibly even college years.
You may also have a guest room, which more strongly calls for a full size bed. Although you'll be likely to host singles, children, and young adults alike, by far the most common is a couple. While extended stays will become uncomfortable for most couples in even a Hillsdale full size bed, it can be difficult to justify the expense or floor space a queen or king bed requires when you plan the budget for furnishing a guest room.
In any size, Hillsdale storage beds and storage beds are a great choice to de-clutter a busy bedroom. Whereas platform beds without drawers may only simplify your décor. You'll find that most storage beds are made of wood, but platform models use wood, metal, leather, and varied combinations. Although platform beds can be quite exquisite, a more basic design can be a great way to find a cheap bed.
A Cheap Hillsdale Bed
Choose an economical model or wait for a sale to get a great deal on the brand you know and trust. Remember that having a Hillsdale cheap bed doesn't equate to poor quality. Bargain-hunters with flexibility and the patience to watch the web regularly will be rewarded!
Look for a Hillsdale bed with free shipping to save even more.

Some models even come with a free mattress! When you shop online, the ways to achieve maximum value or just make your bed affordable to own will surprise and delight you.