Home -> Filing Cabinets -> Filing Cabinets Buying Guide


Filing Cabinets Buying Guide
File Storage in Style for Home or Office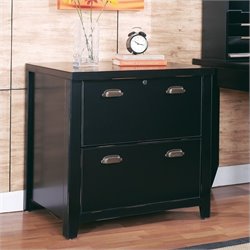 A filing cabinet is a filing cabinet, right? Aren't they pretty much all the same? Actually, searching for lateral file drawers or vertical filing cabinets will take you through a surprisingly broad selection of metal towers and wood cabinets.
Metal models can offer cheap solutions to file storage needs. Keep in mind that steel or silver tone vertical filing cabinets can be narrow and tall for crowded spaces. Broad lateral file drawers may be the better choice for a low ceiling. Finishes are also available in black, white, grey and beige to coordinate properly with the rest of your office.
Adding a filing cabinet to your finely appointed den or refined law office doesn't have to mean resigning yourself to a clunky or unsightly piece of furniture. Natural wood finishes include oak, cherry, maple and pine. You have choices that vary from small desk pedestal models that tuck in beside your chair up to elegant dresser-style lateral file drawers.
File Cabinets at Work
When furnishing a shared professional office space, you'll want to plan your file storage carefully, keeping an eye on both décor and functionality. The right choices contribute to the smooth, pleasant operation of your workplace.
In an established office, the challenge is more substantial. Are you adding more file storage or replacing a filing cabinet you've long outgrown? If you anticipate purchasing multiple file cabinets over time as your needs continue to grow, consider a basic finish and simple design to ensure you won't be too badly mismatched as product styles change each year.
Mobile file storage may be necessary as well. Products range from a lightweight caddy or file cart to a desk pedestal on wheels. If you're purchasing products for a workplace that demands regular inter-departmental file folder transfers, look for easy portability and a size that will best suit the volume you'll be handling.
File Cabinets at Home
If your home office is a space that houses little more than your computer and a desk, you might think you don't need to purchase a file storage product. Before you write off the benefits of having your own filing cabinet at home, picture your computer room in your mind – if you aren't sitting there already.
Is your desk cluttered with paper? Do you have to flick through a disorganized pile of letters and bills before you find the receipt for the brand new coffee maker that just flooded your kitchen counter. Think about those frustrating moments and you'll realize that file storage is about more than just business. You may not be running a business at home, but you might find a filing cabinet very helpful nonetheless.
If you are ready for a file storage product, think big. Not too big, but keep in mind that once you get organized, you'll want to keep going. Your file cabinet should be able to house much more than what you have on hand.
Think about the peace of mind you'll have when you hang on to important receipts and letters as long as you like without the frustration of desk clutter. Even small home offices or computer rooms can incorporate products like a desk pedestal or desk extension.
File Folder Protection
At home, many of the paper documents in your file cabinet are nice to have on hand, but could be replaced if needed. Your bank can send you another investment statement. Your strata board can replace a copy of last month's minutes.
But what about your birth certificate? Or your passport? If you choose to keep critical personal documents in your home filing cabinet, you may want to seriously consider a fireproof model.
At work, the potential to have sensitive, extremely important paper records is much higher. We still require original handwritten ink signatures for many legal documents and some workplaces prefer the limited eyes-only access a single paper record provides. Secure, fireproof file storage still matters, even in the digital age.
For your home office or busy workplace, finding the right file cabinet should serve your file storage needs for years to come. If you've selected a product that you'll want to buy again, expanding as needed will be an easy choice you'll embrace.