Home -> Bookcases -> Bookcases Buying Guide


Bookcases Buying Guide
Entertainment Centers Made Easy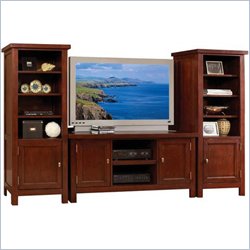 Purchasing an entertainment center is a big decision for several reasons. Firstly, you might be making a serious investment, relative to your budget for other shelving and cabinet purchases.
Secondly, entertainment centers, if selected carefully, can also be a fantastic storage and display solution you'll enjoy for many years as the centerpiece of a living room or media basement. Today's entertainment furniture selection can both accommodate varied tastes and serve the needs of a growing family home.
Also keep in mind that a TV entertainment center can be a dominant piece of furniture and in that event, a clash with your décor will be very noticeable. Browse through color and style choices as carefully as you measure available space and you should have a piece of entertainment furniture that will complement your room perfectly.
Storage and Style in Entertainment Centers
Your choices in combining cabinetry and open shelving with spots for your television and DVD player vary from fancy to simple and large to small. TV entertainment centers can feature a sophisticated wood design with ornate carvings, intended for nearly a whole wall of your living room.
Bold mahogany and cherry finishes are often a décor presence in most rooms, but the effect is magnified when applied to a large entertainment center. If a striking piece is not desired, refined oak and subdued maple may fit more comfortably with your other furniture.
Although wood entertainment furniture can be pricey, a Sauder entertainment center is a great choice for budget-conscious shoppers who still want a selection of wood finishes.
Typically placed in the living room, TV entertainment centers tend to be large pieces of furniture. Some of the largest models make an impressive design statement and can hold extensive libraries of all kinds of media. Smaller cabinet designs are available for urban or more compact living room layouts.
Entertainment Furniture for Smaller Spaces
Size becomes a concern on a whole new level when you're adding an entertainment center to spaces like a den, bedroom, or basement. Are you supporting a television? Or are you organizing your stereo and music collection?
Even in a music-only space, you might still want room for books and bric-a-brac. Does your music equipment include a turntable and multiple speakers? If so, your entertainment furniture needs several sturdy shelves and efficient storage of whichever formats you own including CDs, cassettes, and records.
To add a small television to a secondary room, you may only be looking for a basic cabinet or bookshelf. TV entertainment center models are available in small enough sizes to fit in to limited space while still safely supporting the weight of a television.
When supplementing a smaller entertainment center, an end table or pedestal is an easy storage solution. Other forms of entertainment furniture, such as book shelves and small cabinets are designed to be mounted on a wall and therefore fit more easily into tight spots.
Although it might not seem like it at first, the factors in selecting your entertainment center are worth considering carefully. Of course, the more you plan to spend, the more time you'll likely take while shopping.

However, even when the budget or the space is small, if you look carefully and consider all options.

You may surprise yourself with the value your entertainment furniture will provide over time.