Home -> Bar Stools -> Bar Stools Buying Guide


Bar Stools Buying Guide
Elegant Entertaining with Bar Stools at Home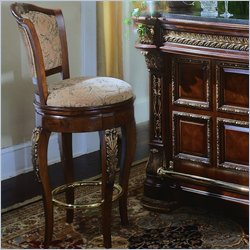 Building a bar at home is an exciting addition for anyone who loves to entertain. Having friends over to share your favorite cocktails and pleasant conversation is all the more enjoyable when the atmosphere is right. When you choose the right kind of bar stool to complete the look, you'll be proud to welcome guests for a night of lively fun.
Bar stools can coordinate with the built-in bar island or table you already have, or you can purchase a table and bar stool set. Selecting a pub set or bar furniture with a large table can be a great starting point for your home bar. The styles in sets and stools can give you a look that matches both your taste and décor. With or without cushions, made from wood or metal, bar stools are as varied as a bartending book.
If bar stools sound right for you, the array of shapes, sizes, colors, and design influences will surely meet your needs. If you're picturing traditional wood, you'll be pleased at what you find online. If your taste is modern or minimalist, you'll still have a great selection of bar furniture in sleek black lines with artistic concepts.
Bar Stool Chairs
If you'll spend lots of time on your bar stools, look for chair models with the back support to make them more comfortable. You may want a chair style regardless if you have back problems or if you simply prefer the look. You won't be disappointed in the selection of metal and wood chairs at bar height.
Bar Stools for Your Kitchen
Your typical bar height (28 - 32) inches, will apply to many kitchen islands as well. Bar stools are popular in kitchens today as more homeowners prefer to entertain in food preparation space when friends visit. Even during dinner parties, having bar stools in your kitchen is handy if you need a sophisticated space for extra guests.
Commercial Bar Stool Choices
If you're shopping for a restaurant, bistro, coffee shop, pub, or other food service establishment, bar stools are ideal if you have an island or bar. If you have bar height tables or counters, you'll need bar stools or bar chairs to go with them.
In restaurants where guests may want to wait at your bar and enjoy a cocktail before their group arrives or simply grab a quick bite or beverage, you'll want comfortable bar stools. Ensure that your customers are comfortable, and they're more likely to order a bit more.
Budget-friendly Bar Stools
You won't have to spend a lot to add bar stools to your basement, kitchen, or any room you have a bar height counter. Basic, backless wood bar stool designs come in many finishes, with very reasonable price tags. To save even more, look for a bar stool set and products with free shipping.
The versatility of bar stools makes them a great addition to your home, regardless of where you might place them. Whether you choose basic or lavish styles, or somewhere in between, buying online provides a great combination of selection and price. You'll move from the computer chair to a seat at your home bar in just a few steps.