Home -> Guest Chairs -> Guest Chairs Buying Guide


Guest Chairs Buying Guide
Decorating Your Office with Guest Furniture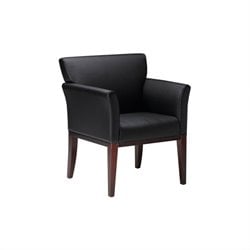 When furnishing your office, chairs for your employees are one of the first things that come to mind. But what is sometimes lost in the shuffle is the fact that eventually you're going to have guests at the office, and they're going to need guest seating. That's why it's important to make sure you have comfortable and stylish guest chairs, reception chairs and side chairs for those situations.
Match Your Guest Furniture to the Office
Depending on your office décor, the style of guest chair can vary quite drastically. It's important to match your guest furniture with the rest of the office. For instance, if your office furniture is quite practical, neon bean bag chairs in the lobby will seem wildly out of place.
Simple vinyl side chairs would fit perfectly in a high school lobby or at the dentist's office, but the reception room at a law firm might require something a bit more posh, like a leather guest chair or other modern furniture that will have the office looking sharp.
Who Will Be Using the Guest Seats?
Is your office quite busy, with large amounts of people going in and out? Are you constantly scheduling meetings or interviews with people from outside the workplace? If the incoming traffic to your office is quite low, then a few quest chairs in the lobby will probably be enough.
On the other hand, if there are a high number of guests circulating throughout your office, you'll not only need fair bit of waiting room furniture, but chairs throughout the rest of the workplace as well.
Guest chairs for your personal office are also a necessity. Whether you're conducting interviews or simply having a casual meeting with a co-worker, you'll need guest seats for people to sit in.
Cost
The type of guest chair you're looking to purchase might depend on how much money you want to spend. If you're on a strict budget, you don't want to use all of your money on guest seats when your employees need good office chairs. But if you have the money to spend, having quality, stylish guest chairs can go a long way in giving your business a successful appearance.
Some materials will cost more than others. Obviously a leather guest seat will be more than expensive than a vinyl one, so keep that in mind before making your purchase.
Why Do You Need Guest Chairs?
Remember that the first thing guests see when coming into your office is the waiting room, and making a great first impression with your reception furniture is always important. If your guests are impressed right off the bat, that positivity can have a trickle-down effect and last throughout the visit.
Having a great set of guest chairs might not seem important, but like everything else, sometimes the little things can have a big impact.